Fixed mortgage rates are low but they could go even lower as wholesale rates fall to record levels. In the meantime bank margins rise to top of the recent range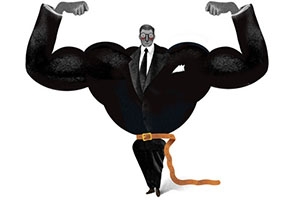 Bank margins to swap are rising.
They are doing so because wholesale swap rates are falling and banks are not following them down with their rate offers.
Margins have risen +30 basis points in 10 weeks, going from 1.95% on February 5 to 2.28% on April 8. (Update: the data in this para has been corrected from an earlier version.)
A sharp rise in June and July 2015 was followed by a correction when banks moved to pass on the reduced costs.
That has not happened this time - yet.
Over the past 15 months, banks have been living comfortably at or about a 2.1% margin-to-swap as the chart below shows for fixed two-year terms.
Over a much longer period, say from 2005 to 2008 that margin averaged just 1.0%. From 2009 to 2013 through the heart of the GFC it averaged 2.7%. Since then it has averaged 2.1%.
With wholesale rates at record lows you would expect fixed mortgage rates to be down there as well. But they aren't.
Demand is brisk enough for banks to set their carded rates to return enhanced margins.
It has been 'usual' for borrowing demand to have a seasonal pattern, falling away after the prime Easter selling period. But that did not happen in 2015 and appears to not be happening again in 2016. Demand for 'new' mortgages remains brisk, allowing all nine retail banks to participate profitably in this market without sacrificing margin.
In fact, this seems to be a period when margins are being enhanced.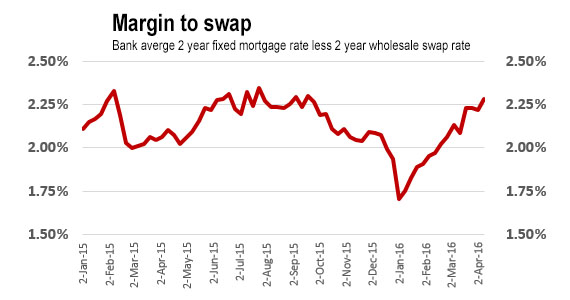 | | | | |
| --- | --- | --- | --- |
|   | 2 yr mortgage rate | 2 yr swap rate | margin to swap |
|   | [bank average] |   |   |
|   | % | % | % |
| 2-Jan-15 | 5.96 | 3.85 | 2.11 |
| 3-Apr-15 | 5.59 | 3.53 | 2.06 |
| 3-Jul-15 | 5.28 | 3.08 | 2.20 |
| 2-Oct-15 | 4.91 | 2.72 | 2.19 |
| 1-Jan-16 | 4.57 | 2.87 | 1.71 |
| 8-Apr-16 | 4.47 | 2.19 | 2.28 |
One thing that will be going on however is rising flexibility to negotiate. Bank loan officers will have wider discretion and savvy borrowers with good financials will be able to win fixed rates below carded rates.
But the temptation for one bank to reduce its carded offers will be rising. One or more will be tempted to break ranks, you would think.
However, some banks do have practical limits on how much new business they could digest. Kiwibank for one has well-known issues with its limited capital structure. But with the NZ Super Fund and ACC backing they may well come to a time when those shackles are less restraining. However that day is not imminent; their deal has not yet been finalised, having so far merely been publicised.
See this page for all banks' carded, or advertised, mortgage rates.