Documents show John Key's personal lawyer successfully lobbied him and Revenue Minister Todd McClay to stop IRD review of Foreign Trust regime, despite IRD concerns Foreign Trusts may hurt NZ's reputation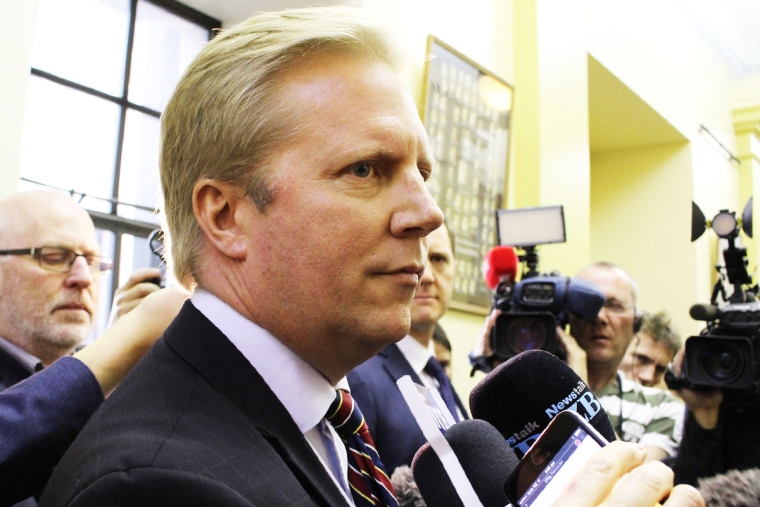 By Bernard Hickey
Official documents show John Key's personal lawyer, who runs a Foreign Trust law firm, successfully lobbied Key and Revenue Minister Todd McClay in late 2014 and early 2015 to stop an Inland Revenue Department review of New Zealand's Foreign Trust rules that the industry thought could shut it down.
The rear-guard action was fought out through a series of emails, letters and meetings between December 2014 and March 2015 between key players in the foreign trust industry, Key, McClay and Commerce Minister Paul Goldsmith. The partially redacted details from those documents were obtained from a series of Official Information Act requests from the Green Party, as published here.
The first documents disclosed begin with an email to McClay from Antipodes Trust, which is run by executive director Ken Whitney, who is John Key's personal lawyer.
The name of the Antipodes Trust correspondent is redacted in the document. Interest.co.nz has asked Whitney if he wrote the letter, but he has yet to respond. TVNZ has reported Whitney wrote the letter, along with Stuff and NZ Herald.
"I am writing to you on behalf of a group of industry professionals operating in the New Zealand Foreign Trust industry. We are concerned that there appears to be a sudden change of view by the IRD in respect of their previous support for the industry," Whitney wrote in the email dated December 3, 2014.
This followed the publication of a November 2014 document by the IRD signaling a full review of the Foreign Trust regime, given IRD's concerns about the impact on New Zealand's reputation caused by non-disclosure of trusts by 'rogue' operators. The issue blew up again earlier this month with the release of the Panama Papers, which showed Panama's Mossack Fonseca used New Zealand trusts in structuring the affairs of a Mexican property developer and a Maltese politician. The Government initially denied the foreign trust sector needed reviewing, but relented after a week and appointed former PwC tax partner John Shewan to review disclosure.
An industry-penned briefing on the issue that was sent to McClay in December said it was concerned about the review, saying: "It is perplexing that the IRD is now talking about 'shutting down' this industry, when it has carried out no investigation of the industry and its benefits to New Zealand, and has not consulted with the service providers, despite many offers from the industry to do so."
'John told me this is review will not happen'
Whitney broke through to the Minister's office by saying he had met personally with Key, who had told him the Government had no plans for a review.
"I have spoken to the Prime Minister about this and he advised that the Government had no current plans to change the status of the foreign trust regime applying in NZ," Whitney's letter to McClay said.
"The PM asked me to contact you to arrange a meeting at your convenience with a small group of industry leaders who are keen to engage to explain how the regime works and the benefits of an industry which has been painstakingly built up over the last 25 years or so," the letter said.
The documents show that McClay then asked IRD officials to be at a meeting on December 18, 2014 he was having with Foreign Trust industry representatives from Antipodes, Cone Marshall, OliverShaw, an unnamed barrister and Anchor Trustees Ltd. The names of those involved have been redacted, although Interest has asked Whitney if he was present. The meeting was held at Antipodes' offices at Forsyth Tower on Shortland St.
The industry group tabled an agenda paper that noted a potential review of the sector that could see income from foreign trusts taxed.
"This would close the industry down -- these investors can have their funds managed in many other countries that do not levy additional taxes on them," the industry paper said.
"The Group would like a commitment from Government as soon as possible that it will not conduct a public review of the foreign trust tax laws, but will instead direct officials to work with the Group to improve the existing rules and regulatory regime and ensure that in areas such as information sharing New Zealand meets its international commitments," it said.
In the earlier paper sent by Antipodes to McClay, it noted some families and companies who had set up trusts here were concerned: "The recent announcement by the IRD has already resulted in concern by those persons, especially some US family offices that were planning to relocate to New Zealand."
IRD explains why review necessary
For its part, IRD prepared a report for McClay ahead of the December 18 meeting that said the foreign trust sector in New Zealand had attracted criticism internationally, "along the lines that we are a tax haven."
It noted that New Zealand was not a tax haven because tax havens were all about secrecy and New Zealand had information exchange agreements, although it noted its disclosure arrangements for Australian settlors of New Zealand trusts were more robust than with other countries.
"Having said this, the perception that we might be a tax haven is damaging to New Zealand's 'clean' international reputation," an IRD official wrote.
"This can only get worse in view of future developments by the OECD on BEPS, harmful tax practices, beneficial ownership and AEOI (Automatic Exchange of Information)," the official wrote.
"In particular, although the OECD's Forum on Harmful Tax Practices (FHTP) and Global Forum on Transparency and Exchange of Information for Tax Practices and Glogal Forum on Transparancey and Exchange of Information for Tax Purposes (FHTP) have previously scrutinised our foreign trust rules, and identified no issues with the rules, the FHTP is currently redefining what the OECD sees as an unacceptable tax regime, and New Zealand will be subject to future review on the basis of the redefined criteria."
IRD then detailed its concerns, including around the adequacy of disclosure and record-keeping requirements, IRD's ability to ensure compliance and enforce the rules, and the increasing cost of enforcing the rules when there is no tax to be collected.
IRD worried about secret undisclosed trusts
IRD said there were 8,000 foreign trusts with New Zealand resident trustees that were currently active and disclosed to the IRD, although it said this was a significant under-estimate "because of the existence of structures whose purpose is to defeat the statutory disclosure requirements."
IRD estimated the fees collected by the industry at NZ$24 million per annum on average, with the contribution to the New Zealand tax take from income and GST receipts from trust providers estimated at NZ$3 million per year.
"The next step is for us to discuss with you the merits of adding a review of foreign trusts to our work programme," IRD concluded.
The email trail then goes quiet until a meeting is arranged between tax industry consultants OliverShaw and McClay on February 19, 2015, the details of which are largely redacted. Then a meeting between McClay and IRD officials is scheduled for February 24.
McClay says review won't happen
Finally, an email from May 11 makes clear that McClay has decided not to go ahead with the review and had directed IRD not to go ahead with the review.
A letter dated May 14 from McClay to an unidentified party, but which would appear to be the Trustee Companies Association (an industry lobby group), said he had stated in a mid-December meeting that the Government had no intention of conducting a public and general review of the sector and that it was now not on the IRD's work programme "and my understanding is that officials are not actively working on this matter."
McClay then refers to a meeting between the industry participant and Commerce Minister Paul Goldsmith in March over trust and disclosure rules.
"We have both agreed that, owing to wider Government priorities, we will not be considering regulatory reform of your industry at this stage," McClay writes, adding however that the Government had an ongoing responsibility to consider whether regulatory settings were fostering inappropriate behaviour in other countries.
"It is possible that, in future, this responsibility may require us to review the regulatory requirements applying to different types of investment or business vehicles that can be established under New Zealand law," he said.
"I trust that this provides you and your industry with the certainty needed to continue to do business in New Zealand," he concluded.
NZ Trustee Companies Association pleased with Minister
Another document released showed the NZ Trustee Companies Association wrote to Goldsmith on March 18 saying it held similar concerns to the IRD about 'rogue elements' who might use the New Zealand regime without complying with professional codes of conduct.
The Association warned that non-complying trust operators "could impose significant social costs on New Zealand and inflict damage on internationally competitive business located here."
It then proposed a register of foreign trusts operating in New Zealand and that those trust operators misrepresenting the registration of their trusts could have their tax-free status stripped.
The Trustee Companies document noted it met with McClay on December 16.
"The minister was sympathetic to the industry's viewpoint and assured us that, contrary to some media comment, the Government had no intention of closing the industry down and he was not persuaded that there is a need for a general and public review of the foreign trust tax rules and in particular the current exemption for overseas income earned by foreign trust on behalf of non-residents," the Association wrote.
The email trail ends on May 11 with an email from an IRD official saying that after a meeting with Goldsmith that they had decided that "owing to wider Government priorities, we will not be considering regulatory reform of your industry at this stage."
Greens call for wider review
Meanwhile, Green Co-Leader James Shaw said the documents showed how powerful vested interests could get the ear of the Government and change the plans of the IRD to suit the foreign trust industry.
"I want the Prime Minister to tell New Zealand whether he gave Mr Whitney an assurance that the foreign trusts industry would not be reformed and if so, why he hasn't been upfront about the assurances he gave," Shaw said.
"Ordinary people, those who care about child poverty or about the environment and want the Government to change its policies, do not get this kind of access or this kind of immediate response to their concerns," he said.
"Today's revelations point to the need for the new John Shewan investigation into foreign trusts to be broadened to include a panel of experts, and with the opportunity for the public to have a say."
Key acknowledges conversation with Whitney
Key said in statements through his office and to other media that he had met with Whitney, but did not know about the potential review. He denied any impropriety or that it was unusual to discuss the issue, or that Whitney should have relayed their conversation to McClay.
"No, because that happens all the time. There's nothing unusual about it. People ask me about particular issues. I don't live in a vacuum. I do what is absolutely the correct thing to do, which is send them off to the minister. There's nothing I wouldn't have done on a million of other occasions which was to direct them to the minister and let the ministers get on to do their work," Key was quoted as saying by Matt Nippert.
"There was a story in the Herald, he asked me about it, I said to go and see the minister. After that I never had any involvement. I didn't even know what he'd done. I just knew there weren't any changes as far as I knew," Key said.
Key's office later said Key was not involved in any subsequent discussions.
"People raise various issues with the Prime Minister all the time – at events such as school and business visits, and informal gatherings all around the country, as well as in written correspondence. It is common practice for him to refer them to the appropriate minister, where appropriate, or to answer if he is able to do so," a spokesperson for Key said.
"These are just more desperate claims from the Greens," Key was quoted as saying.
"Regarding whether the IRD should have continued to look into the issue of foreign trusts in 2013, as the Prime Minister has said the minister's view at the time was that this would have required IRD to dedicate significant resources to an area which did not affect new Zealand's revenue base and other issues were deemed more important. Also, there is already an ongoing OECD work programme looking into ways to address the issue, which New Zealand is participating in," the spokesperson for Key was quoted as saying by Tracy Watkins.
(Updated with more reaction, comment from Key)