PM and Finance Minister say they're open to RBNZ proposal for new Macro-Prudential measures, including debt-to-income limits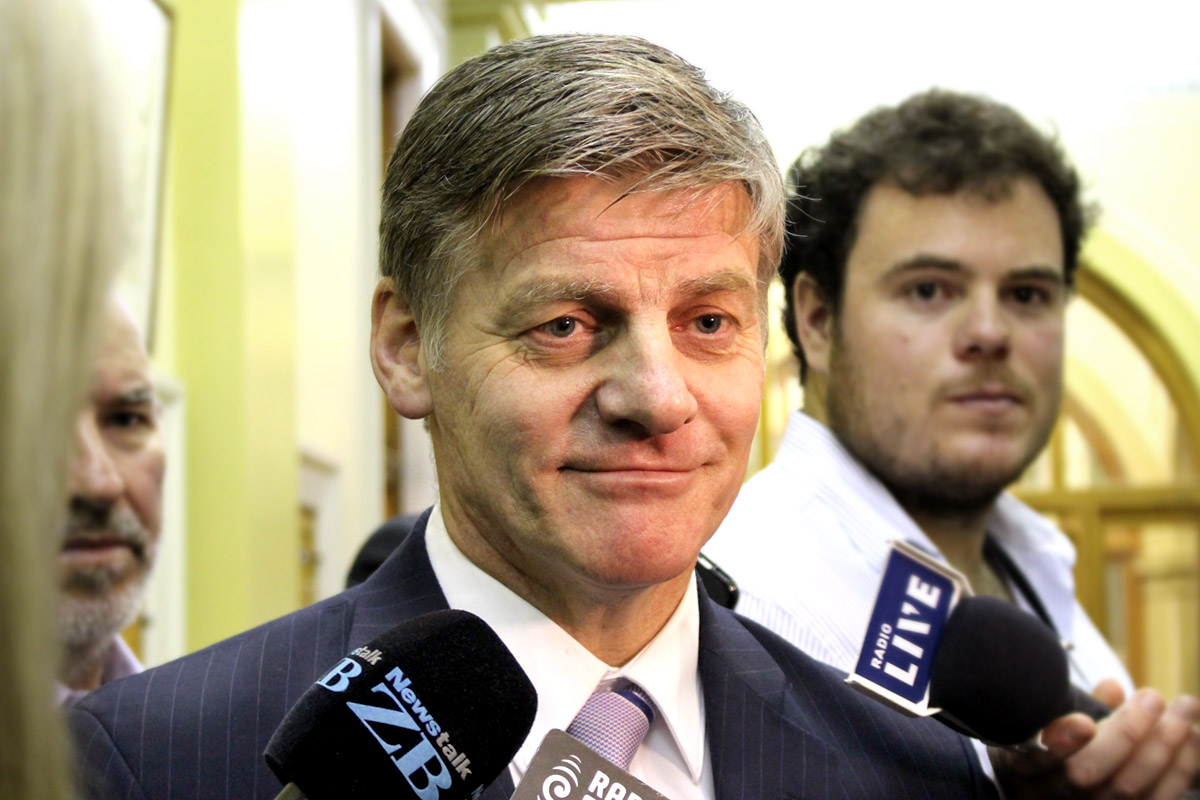 By Bernard Hickey
Prime Minister John Key and Finance Minister Bill English have signalled they are open to a potential Reserve Bank proposal to limit debt-to-income ratios, just as is currently done in Britain.
Reserve Bank Governor Graeme Wheeler and Deputy Governor Grant Spencer said at their news conference releasing the latest half-yearly Financial Stability Report that they were seriously considering new Macro-Prudential controls to reduce the financial stability risks growing in a resurgent Auckland housing market. They said one option being considered was the introduction of British-style limits on Debt to Income (DTI) ratios, which would require the agreement of English in an expanded memorandum of understanding for Macro-Prudential policy.
The Bank of England limited loans with a multiple of more than 4.5 times income to no more than 15% of mortgage flow from October 1, 2014, as detailed in this policy. Currently around 35% of owner-occupier mortgage lending in New Zealand is done with debt to income multiples of more than 5, while almost 60% of investor lending is done with DTIs of more than 5, as detailed in figure 5.15 of the FSR (page 45).
Key told reporters in Parliament when asked about the possible Reserve Bank measures that the Government did not want to see a bubble emerging in the housing market.
"And potentially if there are recommendations, the Government is not ruling out adopting those recommendations or allowing the Reserve Bank to do it," Key said.
"We've already done that before with LVR ratios and there are other options," Key said.
Asked if DTI ratio limits might block first home buyers from the market, he said: "One of the ways to make sure they can get into the housing market is to ensure that the rate of increase isn't too fast for too long."
English also told reporters he was open to the Reserve Bank's proposals, but noted when asked about the potential effects on first home buyers that there could be risks of unintended consequences, although he said he did not have a firm view.
"I haven't seen any analysis done on that," English said when asked about the possible effects on first home buyers.
"It is one aspect of the Macro-Prudential framework that it can have unintended consequences. It might have some impact on the house prices, and it may be short term and you may end up creating more complexity," he said.
"It's up to the Reserve Bank to do the analysis and put the proposition. We haven't seen any of that in detail. I don't have a strong view about it."
Earlier, Spencer was asked in a select committee hearing if the Reserve Bank would target any DTI measure at Auckland investors, rather than borrowers generally and regional areas. The Reserve Bank's first LVR controls in November 2013 were politically controversial because they were seen as hitting first home buyers and regional buyers as hard or harder than Auckland property investors. The second round in November last year targeted Auckland property investors.
But Spencer said the Reserve Bank was more likely to take a broader approach with any DTI measure because house price inflation was now spreading more broadly than it was last year.
'Disastrous unintended consequences'
Property Institute CEO Ashley Church said DTI limits would have disastrous unintended consequences for housing supply and rents, saying a UK-style limit of 4.5 times income would limit a typical Auckland family to a mortgage of less than NZ$400,000.
"The number of new homes being built – the very thing that Auckland needs most – would plunge as the number of people earning enough to buy them would dwindle to a trickle. So the policy could very well kill off the one thing that can fix the Auckland housing crisis – the construction of new homes," Church said, adding it would also dramatically increase rents.
"Most Landlords are currently showing restraint and choosing to accept lower returns because capital growth is so strong. But in an environment where every extra dollar enhances borrowing power – Landlords will want maximum rentals – and they'll be able to do it because the Reserve Bank policy will exacerbate the current housing shortage," he said.
He said DTI limits would fuel an artificial boom in apartment construction becuase most people would only be able to afford apartments and put up another barrier to first home buyers.
"There's a strong case to be made that the introduction of stricter 'Loan to Value' rules has already compounded the issue and dragged out the speed at which the market corrects itself. We understand the Reserve Bank want to protect the economy against the risk of financial shock – but doing anything which reduces the construction of new dwellings is a hollow solution because it will only delay an even bigger problem down the track," he said.
"The only sustainable way to fix the Auckland housing crisis is to build more homes as quickly as possible."