Central Government to create temporary fund to pay for roads and pipes in high growth cities such as Auckland, Christchurch, Tauranga, Hamilton and Queenstown; Councils will have to repay funds or buy back infrastructure after houses built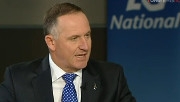 By Bernard Hickey
Prime Minister John Key has announced the creation by the central Government of a NZ$1 billion Housing Infrastructure Fund to pay for water and roading infrastructure in high growth areas to accelerate house building.
The contestable fund would be available for councils in Christchurch, Auckland, Hamilton, Tauranga and Queenstown to build infrastructure, but that they would either have to repay the funds or buy back the infrastructure after it was built and home owners were paying rates. The Government would create the fund by borrowing up to NZ$1 billion.
Key told the National Party's annual conference in Christchurch the announcement would ensure more houses were built faster in areas that needed them the most.
"The contestable fund will be open to councils in high growth centres – currently Christchurch, Queenstown, Tauranga, Hamilton and Auckland – and help bring forward the new roads and water infrastructure needed for new housing where financing is a constraint," Key said.
"We want more houses built so first home buyers can get a foot on the property ladder, so people who work hard can reward themselves with a place they are proud to call home and so tenants have more options for good rental properties," he said.
The Government was criticised after the May Budget for not addressing the infrastructure funding roadblocks to more housing developments, particularly in Auckland where the Auckland Council is up against its borrowing limits. The Government announced a National Policy Statement (NPS) on urban growth last month, which aimed to encourage Councils to free up land for more housing supply, but it did not address the problems some Councils have in funding the roading and water infrastructure needed to prepare that land for housing developments.
The NPS highlighted the current stand-off where the Government called on Councils to free up land and the Auckland Council pushed back by saying it could not fund the extra infrastructure needed. Today's announcement aims to break through that log-jam.
More details on Fund
Finance Minister Bill English and Housing Minister Nick Smith later issued their own statement giving more detail on the Fund.
English said the Fund would help bring forward the new roads and water infrastructure needed for new housing where financing was a constraint.
"The Government will invest up front to ensure the infrastructure is in place. But councils will have to repay the investment or buy back the assets once houses have been built and development contributions paid," English said.
Smith said the fund would only be available for substantial new infrastructure investments that supported more new housing, not to replace existing infrastructure.
"To access the fund, local councils must outline how many new houses will be built, where they will be built and when they will be available. Ideally, they will have agreements with developers on these issues," he said.
"Funding may also have other conditions attached, such as faster processing of resource consents. All of this will require close collaboration between central and local government."
English said infrastructure financing was one of the three key constraints to building houses, alongside land supply and consenting requirements.
"Councils have strict debt limits which means some lack the headroom to invest in infrastructure now and then wait for future development contributions to recover the costs. The fund will help provide more infrastructure sooner by aligning the cost to councils with the timing of revenue from development contributions," English said.
English said the creation of the Fund would require the Government to "temporarily" borrow up to NZ$1 billion, which would increase net debt until it was repaid. Smith and English said in a question and answer document issued with the announcement that the creation of the Fund would not affect the Government's capital allowance.
Any impact on the OBEGAL measure for the Government's surplus would depend on the nature of the infrastructure projects agreed, they said.
"Because it is intended to be repaid within 10 years, the fund is not expected to impact on the Budget capital allowance," they said Q&A document said.
UDAs also planned
Smith said the Government was also considering establishing Urban Development Authorities (UDAs) to help further speed up the supply of new housing.
UDAs had streamlined powers to override barriers to large-scale development, including potentially taking responsibility for planning and consenting and other powers, Smith said.
They were recommended by the Productivity Commission last year, including the potential for UDAs to have the power to compulsorily acquire land.
Smith and English said in the Q&A document that options for managing the funds were being worked through with Councils and that existing models were being considered.
"With roads, for example, we've already accelerated priority Auckland transport projects through NZTA. We could use a similar model for roading projects under the new fund. Another option is a special purpose vehicle along the lines of Crown Fibre Holdings, which was created to manage the roll-out of Ultra-Fast Broadband," the said.
The Government planned to call for applications later this year.
"In the meantime, councils can start identifying projects to put forward," they said.
Longer-term, councils would need to find new ways of funding infrastructure through existing funding tools or potentially coming up with new ones, Smith and English said.
"This is a short to medium term fund to enable the acceleration of new houses in high-growth areas rather than an on-going subsidy to councils," they said.