NZ Post says NZ Super Fund & ACC have completed Kiwibank due diligence, now seeking 'timely conclusion' of sale of 45% stake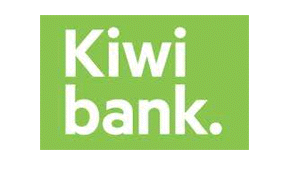 The slower than expected sale by New Zealand Post of a 45% stake in Kiwibank to the New Zealand Superannuation Fund and the Accident Compensation Corporation is progressing, NZ Post CEO Brian Roche says.
"A significant milestone has been reached on the Kiwibank transaction announced in April, with the New Zealand Superannuation Fund and the Accident Compensation Corporation having completed their due diligence. We are now actively engaged with the parties to reach a timely conclusion of this transaction," Roche said in NZ Post's annual results announcement on Friday.
Roche expects to have more to say within two to three weeks. Spokeswoman for both the NZ Super Fund and ACC had little to add to Roche's comments.
On April 6 NZ Post chairman Michael Cullen announced the State Owned Enterprise planned to sell 45% of its subsidiary Kiwibank to the NZ Super Fund and the ACC for $495 million, with the deal to be finalised by June 30. But NZ Post subsequently issued a brief statement on June 24 saying wrapping the deal up was taking longer than expected.
Under the proposed deal the NZ Super Fund would take 25% of Kiwibank and ACC 20%, in a deal valuing Kiwibank at $1.1 billion. The $495 million would go towards repaying debt NZ Post took on to support Kiwibank, funding operational requirements, and a special dividend to the Government.
Kiwibank profit drops
Meanwhile, Kiwibank has posted a $3 million, or 2.4%, drop in annual net profit after tax to $124 million from last year's record high $127 million. The bank is paying a $29 million annual dividend, up 32% from $22 million last year, which is equivalent to 23% of net profit after tax.
Kiwibank's upgrade of its core banking system continues, is about halfway through, and means ongoing investment and operating risk over another two to three years.
Here's Kiwibank's press release
Financial results for Kiwi Group Holdings (including Kiwibank) for the year ended 30 June 2016

Kiwi Group Holdings ('Group'), which comprises Kiwibank Limited and associated wealth management, insurance and lending businesses has achieved an after tax profit of $131 million for the year ended 30 June 2016 – down 0.8% on the previous year1. The bulk of the profit was provided by the Kiwibank Banking Group ('Kiwibank') which achieved an after-tax profit of $124 million2. 

Group Chief Executive Paul Brock said the flat result reflected the challenging environment following global uncertainty and increased funding costs for banks; all within a very competitive market and during a period of significant investment in bank infrastructure and services. 

In the last year, Kiwibank:
• Grew lending and advances to customers by 7.0% from $15.6 billion to $16.7 billion
• Grew customer deposits by 7.6% from $13.7 billion to $14.8 billion
• Saw a 15% reduction in impairment losses on loans and advances to $11 million Mr Brock said the last year was one of consolidation with significant progress in the integration of the new core IT operating system. 

"There have also been major changes to our retail network with branch upgrades and the opening of the first standalone Kiwibank branch in central Hamilton."

Kiwibank now operates over 1 million customer accounts, with 419,000 customers now identifying Kiwibank as their main financial institution. Market share in the personal mortgage market has been maintained at 7.0%, while the business banking team has expanded its presence in the SME sector to 8.4%.

Mr Brock also said Kiwi Wealth, New Zealand Home Loans and Kiwi Insurance had all grown their businesses; particularly the Wealth division, which now manages $3.9 billion of customer funds and over 158,000 KiwiSaver accounts. Overall, Mr Brock said profitability and rates of return for the Group were satisfactory in what is a very competitive environment.

"We continue to focus on improving our product and service offering, investing in making Kiwibank a better bank and spear-heading development of digital services." 

At a strategic level, Mr Brock said the most significant announcement during the year was in April when the Group's shareholder, New Zealand Post, announced it would seek to divest 45% of its ownership to the New Zealand Super Fund (25%) and ACC (20%).

1) Underlying, unaudited result of the KGH Group 
2) 30 June 2016 Disclosure Statement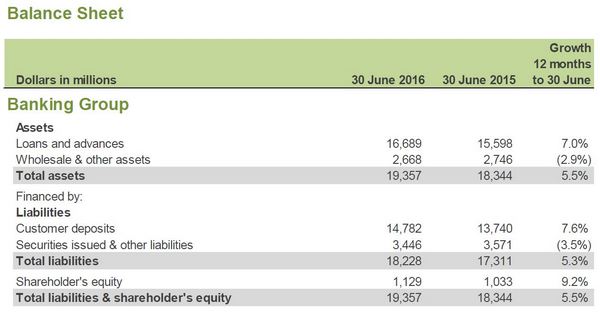 Banking Group - Key Ratios