Paula Bennett and John Key announce $303.6 mln package of spending on emergency housing, including buying and leasing motels and building pre-fab homes; also $100 mln loan for Housing NZ; but deny crisis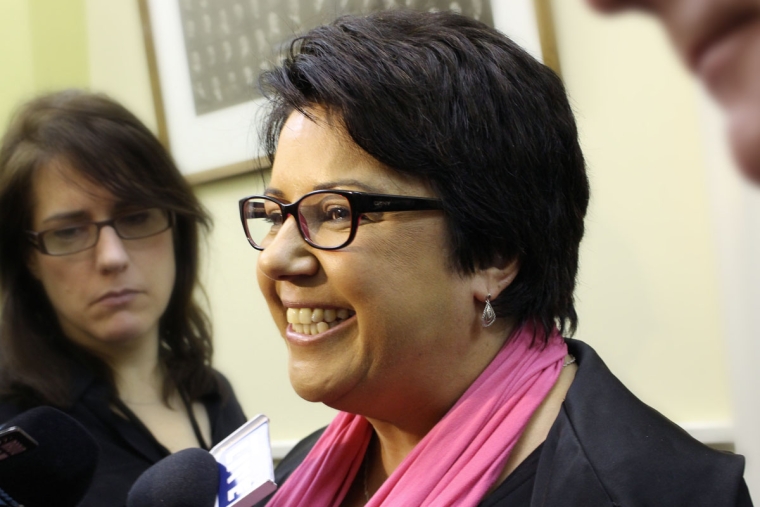 By Bernard Hickey
Less than six months after announcing a NZ$42 million plan in the May Budget to provide emergency housing, the Government has announced another NZ$303.6 million of spending to provide up to an extra 1,400 places at any one time, including 600 in Auckland.
Social Housing Minister Paula Bennett and Prime Minister John Key announced the package in the Beehive Theatrette in Key's weekly post-cabinet news conference. Their announcement follows an Opposition-led Inquiry into homelessness and a call by Labour in July for extra funding for 1,400 new places.
"There are certainly challenges out there and our most vulnerable feel them," Bennett said when asked if this announcement was an admission of a housing crisis in Auckland.
Bennett said the Government had set up a cross-agency team to find or build new properties, including potentiallly buying or leasing motels, and building pre-fabricated homes on Government land.
The NZ$303.6 million package of spending over the next four and a half years includes:
1. NZ$120 million in capital funding to build, buy or lease properties suitable for emergency housing, including NZ$100 million in a loan to Housing NZ.
2. NZ$71 million in rental subsidies.
3. NZ$102 million for Community Housing Providers to support, stabilise and help tenants into longer-term housing.
4. NZ$10.4 million for more dedicated frontline Ministry of Social Development staff to work with people who need emergency housing or are on the social housing register.
Bennett said some of the housing would be provided on vacant Crown land, including more than 40 homes to be built by Housing NZ in Otahuhu Auckland on land leased from the Ministry of Education and ready by early 2017.
"We'll also use vacant Crown-owned properties where they are available, purchase accommodation facilities and lease properties as needed in areas of high demand," Bennett said.
"These new places will be in addition to the more than 3,000 places per year and special needs grants for accommodation we have already funded to the tune of NZ$41.6 million in Budget 2016. In total, we're aiming for more than 8,600 places per year, as well as continuing to provide access to alternative accommodation when contracted emergency places are not available," she said.
Bennett said the Government was working on building modular housing on three sites across Auckland, while Housing New Zealand had bought a motel in Takanini.
'Auckland a big issue'
"Especially in Auckland, the strong market has made it hard to find new places, but with this funding we have made sure it's not money that's holding us back," Bennett said.
Bennett later said the NZ$100 million loan to Housing New Zealand would be fiscally neutral.
Bennett and Key said the NZ$303.6 million would come from the Budget 2017 allowance for new spending of over NZ$1 billion. The news follows Treasury's report on Friday that the Budget surplus was running over NZ$700 million higher than forecast in May because of stronger than expected economic growth increasing corporate income taxes and GST receipts.
The NZ$102 million of funding for Community Housing Providers would allow them to manage the tenancies of those in emergency housing, develop plans for more sustainable housing and then support people in their first three months of their new tenancy, Bennett said.
This would fund services to help up to 1,400 individuals and families at any one time, or 5,600 individuals and families per year.
The funds for extra staff would cover 41 additional staff to handle case management for those in emergency housing situations, including support to Marae and other community organisations.
Political reaction
Labour Housing Spokesman Phil Twyford said the Government had been shamed into action and he noted how the 1,400 places was the same as Labour's call for 1,400 places in July.
"Today's announcements won't solve National's housing crisis. Every week, there's a new announcement from National and all they show is how bad they've let things get.This announcement is an ambulance at the bottom of the cliff, but the real solution is to stop pushing people off the cliff in the first place," Twyford said.
"The heart of the housing crisis is a lack of affordable housing and state houses. There's no substitute for building houses. That's why Labour will build 100,000 affordable homes for first homebuyers to purchase as well as thousands more state houses, and lock speculators out of the market," he said.
"The Cross Party Inquiry on Homelessness found an extra 15-25,000 state houses are needed so 41,000 homeless Kiwis can all have proper housing. The massive increase in homelessness is a direct result of National's negligent mismanagement of the housing crisis, including its sell-off of state houses.
New Zealand First Leader Winston Peters said Bennett had panicked because of pressure from political opinion polls.
"National has got the drift that middle New Zealand is feeling uncomfortable that thousands of innocent Kiwis are in hardship. And no wonder, this Minister is making an absolute mess of the social housing portfolio," Peters said.
"She's flogging off state houses, and then wonders why the headlines are about people living in garages, on the streets, in cars and caravan parks," he said.