New PM Bill English talks up infrastructure, housing and ensuring benefits of growth widely shared in first news conference after being elected National leader; sworn in as PM with Paula Bennett deputy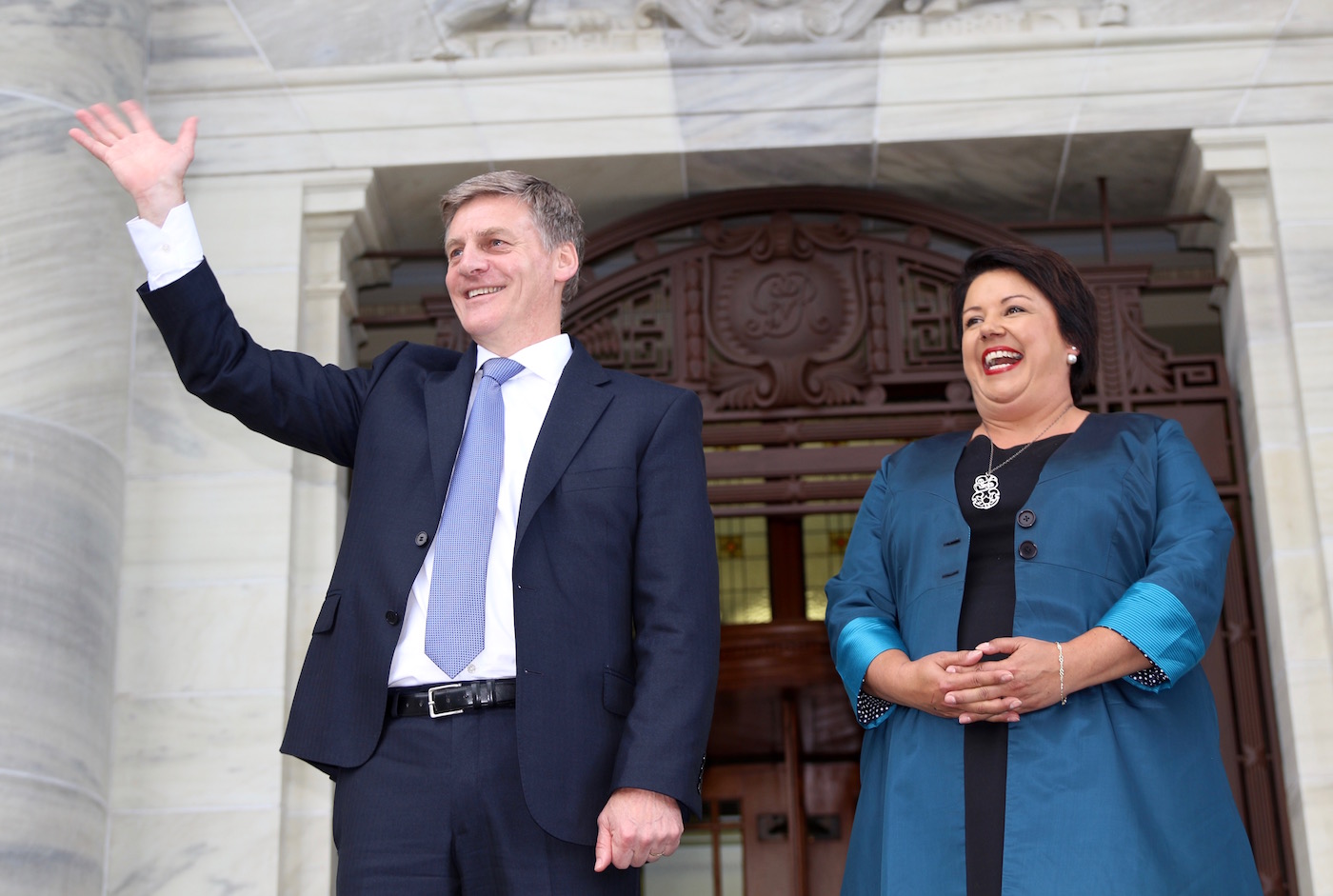 By Bernard Hickey
Incoming Prime Minister Bill English used his first news conference as National leader to talk up the prospects for extra infrastructure spending, house building and the need to share the benefits of economic growth widely, rather than talk about the need for big tax cuts that would benefit the wealthy most.
English made the comments after he was elected unopposed by the National Caucus of 59 MPs. Fellow leadership contenders Judith Collins and Jonathan Coleman withdrew last week. The same meeting elected Paula Bennett unopposed as Deputy Leader after Simon Bridges withdrew on Saturday. English was later sworn in as Prime Minister on Monday afternoon at Government House in Wellington.
"In the coming months and years we will focus on building the roads, public transport, schools and houses needed to support a strong economy and the growing population," English said.
"We will also focus on better incomes for our households, safer communities and smarter government support for the most vulnerable," he said.
"This will be a government supporting economic growth and ensuring that the benefits of growth are widely shared."
English said he would build on previous Prime Minister John Key's record of making New Zealand distinctive as "open to trade, open to investment and immigration."
No NZ Super pledge
Also, English repeated comments made last week that he would not copy John Key's commitment to resign if there were any changes to the New Zealand Superannuation settings.
"I am not making the same pledge as the previous Prime Minister did. That was a product of its time. There was a need to establish trust and I think it was a sound decision then, because the election was followed by a recession which could have caused real insecurity for older people," he said.
"I think now we have built credibility as a government that we will support those who rely on the government for income, we won't put them in a worse position, we will work to get them in a better position, and that will be maintained."
English also said he would continue to take an overview of his 'Social Investment' approach to spending on welfare, whereby the Government spent heavily up-front to help a beneficiary get off a benefit permanently.
"We need to be much more active, much more focused on those who have huge challenges  and government has enormous capacity to do a better job and I want to make sure that happens," he said.
Asked if the Government would have a policy re-think over housing and the Government building more housing itself, he said: "We will be doing stock take, but the government is  already pretty heavily involved and you will be seeing more rolling out over the next 12 months."
Asked if an English-led Government would focus more on the less fortunate than a Key Government, English pointed to the Government's record of increasing benefits for the first time in real terms since the early 1970s as a sign.
"So I think a few pegs have been laid down and we are signalling that we will be continuing down that road," he said.
Elsewhere, English was asked about how his Catholic faith would shape his role as Prime Minister on issues such as abortion and euthanasia, which he said he continued to oppose. However, he said he would probably vote differently now on gay marriage. He voted against the Gay Marriage amendment Act in 2013.
"I don't think that gay marriage is a threat to anyone else's marriage," he said.
Reaction
Opposition Leader Andrew Little congratulated English on his appointment, but said he was sceptical English represented real change, given he had been beside John Key for 8 years.
"When will young New Zealanders presently shut out of owning their own home get a chance to fulfil their dream?," Little said.
"Is the change in leadership really going to make this Government understand that thousands of New Zealanders don't have a roof over their heads, or can't get the hospital care they need, and that parents worry that their kids are not getting the education they deserve," he said.
(Updated with more detail, reaction, English and Bennett being sworn in)