Maori Party ready to put aside 'old-school' animosity towards Labour as it eyes alternative Kingmaker role; Alex Tarrant speaks to Marama Fox about coalitions, Labour's treatment of its Maori MPs, policy lines & Grandad Winston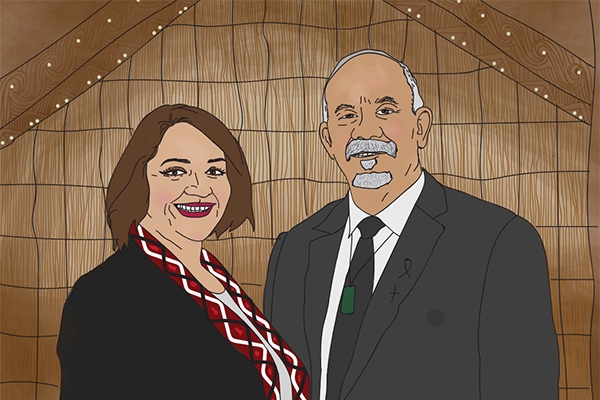 By Alex Tarrant
The Maori Party is ready to put aside the old guard's animosity towards Labour and help Andrew Little form a government if a "coalition of the willing" is possible after 23 September, co-leader Marama Fox says.
Don't take that as indicating a preference, though. A continuation of the current National-led coalition remains a central scenario. Key message: The Maori Party is positioning itself as an alternative Kingmaker to the Winston Peters-led New Zealand First.
A candidate drive in six of the seven Maori seats, and a party vote campaign aimed also at Pasifika and Pakeha on the general role, has Fox chasing a pipe dream of 10 or 11 candidates entering Parliament - eventually. She is grounded for now, saying four or five seats this time around would be a solid building block for future elections.
Four or five seats might just be enough to make the difference in 2017. They could cover a drop in National's vote of a couple of percentage points, meaning Bill English would be in position to form a government without Winston Peters.
The PM might have to agree to a few policies. Water, Whenua, housing, povery and Te Reo are likely to be the Maori party's key "negotiating lines." Compulsory Te Reo in classrooms might even end up as a bottom line - it's not certain yet.
On the other side of the ledger, Fox believes her party is ready to support a Labour-led government, as they turn away from the "old-school" animosity created by the 2004 foreshore and seabed saga which saw Tariana Turia break away from Labour. Indeed, the party with the closest policy platform to the Maori Party is Labour's partner, the Greens, Fox says.
That doesn't mean Labour is totally off the hook. Its recent treatment of its own Maori caucus shows the party has not learnt about the input those MPs could or should be offering. She even defends Willie Jackson for the treatment he received during Labour's list selection process. Jackson is someone she could work with. "He's the poster child of Maori Party policy."
The big question in the scenario of the Left is whether such a coalition could govern without New Zealand First. Peters' own animosity towards the Maori party and 'race-based law' has been well documented. That's his problem, not the Maori Party's, Fox says.
But, then again, it might just work. Who would have thought the Maori Party could spend nine years supporting a bunch of Tories? It shows they can work with anyone, and Fox says she personally gets along with Peters. It all depends on what mandate the party's leaders are given by their members after the election.
That last part is in fact why I headed over to interview Fox in the first place. Just how does the Maori Party decide who it might go into coalition with after an election? Do the co-leaders decide? a Party council? An Iwi council? I realised I didn't know.
I was one of those students for whom the foreshore and seabed hikoi was the largest protest we had ever seen. It was one of the two moments that made us realise we should at least show an interest in politics (the other was interest-free student loans). A key point that stuck in the mind was how the relationship between Maori and Labour hit the rocks so fast. Has it recovered?
Animosity the old-school way
There was some very firm animosity between the new Maori Party and Labour, Fox says. While she talks about how that was the old-school way of treating the situation, she still doesn't pull her punches.
"They took foreshore and seabed off us, lied to the nation – they said, 'don't give those Maoris the blinking foreshore, you'll never be able to go to the beach again.' And then one month after they closed the foreshore and seabed legislation, they signed out oil exploration contracts with people to come and have a look for oil in our waters," she says.
"And they did that over the Christmas break."
"There is animosity [among Maori] for sure about the treatment at that time. But I can't understand it. It's the old way. It's the old guard…that's the old way of doing politics."
So that means the party could work with Labour? How about throwing the Greens and New Zealand First in as well? "If they want to cobble together a Coalition of the Willing to take government then they're going to have to learn how to work with their friends."
It's not a no.
"I would genuinely work with them. We don't want to sit in Opposition. If they had the numbers, for sure we would go with them. If they needed our numbers, damn sure they would be knocking on our door."
Koro Winston
A Coalition of the Willing involving Winston Peters. He's not the biggest fan of the Maori Party. Just how is that relationship, then? "Well Koro (grandad) Winston is an enigma, isn't he? He's so charismatic and he's so dynamic. But we don't agree with his politics, and he doesn't agree on ours," Fox points out.
"I think he is also a man who will also want to get his own way. So, come the election, no matter where the numbers fall, if he wants to get into government and be the Prime Minister for a year maybe in the next Parliamentary term, then if they need our numbers, again I believe he will come and talk to us."
Then Fox really gets going. "Mind you, he's said: 'get all that Maori stuff out of the law, Ron Mark's mission is to destroy the Maori Party, don't give the Maori any rivers.'
"If we'd had control over the rivers and waterways of this country instead of allocating it to regional councils who ignore the crap out of everybody, then our rivers would not be in the state they're in now."
There is a problem. But it's Winston's problem. The Maori Party can work with anyone, she says. "Look, we can work with National. Who would have thought this Tory, right-wing government would allow us to come in and disagree with a few of their things – and support others of their things – and then challenge them in the House? But they do."
'Labour still haven't learnt – but we'd go with them'
It sounds like the Maori Party may have learnt its lesson then in terms of being open to a coalition with Labour, without the past playing too major a role. Does Fox think Labour has learnt as well?
"No. It's pretty obvious that Labour have not learnt their lesson. Look what they did with these [Matt McCarten] students. They are playing gotchya politics to try and snap people out and make them look silly, instead of providing a viable alternative governance model and platform for the country to trust in."
That's a strong critique of a party that you might be reliant on to form another government. But Fox dishes it out evenly. "Red-undies, blue undies, same skid marks 150 years."
Then, the Kingmaker pitch:
"Some people want a change. Maori want change, but they're not sure that Labour are the ones they want to give it to. If you really want a change, vote for us, because we just need to hold the middle. We don't need 50%. If we hold the middle ground, no one side can make a move without us," she says.
"A vote for Labour is a vote for three more years in Opposition at the rate they're going. They dis their own MPs. [Their current Maori MPs] have come off the list, which means they're down the back of the bus. They tell Willie J 'you can have number four, oh no you can't you can have number 21'. They ask Peeni Henare to stand down from his seat…
"They have treated [their] Maori appallingly. And they say we're not Kaupapa Maori. It's laughable."
Fox says she was more incensed when Labour opted to keep its current Maori MPs off the party list than they seemed to be. "It was a good tactical move – 'it's us or nothing' – but actually it doesn't look good for Maori, to take Maori off the list, which means they don't even appear in the top whatever. And it looks like we've been back down the bus, out the gate. They're not even on the bus," she says.
"It feels so disingenuous. Also, I always thought that MMP meant more Maori in Parliament. We could have had people come in both ways, so that we continue to rise, rather than to scrap with each other."
It was also what followed that hurt. "When Andrew Little came out and told Kelvin Davis out for going to the charter school hui? It's like, boom, back in your box. And here's an idea, 'what about a Kaupapa Maori prison?' Uh nah, 'back in your box. Please don't have any independent thought in our party.'
"If the writing is on the wall, they are a party of the past. New Zealand First are a relic of the past talking about let's go back to colonisation and stick you in the corner and please don't talk."
'Hoping Harawira does well, and we get the other seats'
Fox mentioned Kelvin Davis, who'll be up against Hone Harawira in Te Tai Tokerau. Harawira should get a boost from the Maori-Mana alliance. The Maori Party will call on its supporters give Harawira their electorate vote, but party vote to them – along with a two-tick call for the Maori Party in the rest of the county.
How does she think Harawira will go? "I hope that Hone does well. I view Hone as whanau. And every now and again whanau toss toys," she says.
"But I'll still always sit down and have kai with him. And I think that if I was in the Te Tai Tokerau, I would be voting for Hone. He's a fighter and a scrapper for the people. You know, not always classy - some people might say that about me too – but I think what's needed is independent voice not hamstrung by somebody else's party politics."
How many MPs?
Leaving aside Te Tai Tokerau, the Maori Party has designs on the other six Maori seats. It will be a tough ask – they only have one now (Fox is in on the list). But the party this time around is also standing Pasifika and Pakeha candidates in the general roll seats.
"We're looking to grab a hold of the party vote and shock people into an 8% party vote swing – nine-ish seats in the House," Fox says. "That might be my pipe dream – if we can get Pasifika swing in the party vote. What I heard in somebody's polling is 60% of the people who voted, who said they'd vote for the Maori Party, were non-Maori."
"I'd love to hold 10-11 seats. The reality is we might get four or five, and then just continue to grow term-on-term, and become a powerhouse in the middle with Maori independent thought and voice, and take our people forward."
'I'm pretty left-leaning but happy either way'
So, which side would she like the Maori Party's seats to be backing, if they had a choice to go with either Labour or National?
"If I'm honest, I'm pretty left-leaning. I've always been left-leaning. But the more and more I come in here and see what left-leaning does to each other..if they could get it together, that would be great. But right now, it doesn't look like that. I seriously would be happy either side."
It all depends on the outcome of the vote, though, not someone's pipedream beforehand. "After the [2014] election, we went around the country…and put the pros and cons up. Everybody got to have their say, some of those meetings were two, three hours long," Fox said.
"And who do we go with? Well it was easier last time - we couldn't go with Labour or we would have been in the Opposition," she said. "[But] that's exactly how we'd do it – we'd go around the country."
Fox then leans in close to the dictaphone on the table in front of us: "So, if you want to have a say in the direction and the future government of this country, then you should join the Maori Party because we generally come back to our people and ask them what they want us to do. And we put the pros and cons up, we probably would have had conversations with both sides if we sat in the middle, to say what one side was willing to offer and what the other side was willing to offer, and then take that to the people."
Policy platform
How about bottom lines? When do we hear what the Maori Party would demand if they were to help either National or Labour form a government?
The current agreement with National is a good blueprint – there are five conditions to the relationship: No surprises, Ministerial warrants, the ability to command budget for those warrants, punting up the odd party budget, and confidence and supply.
Those are the high-level principles. The party is now going through a process developing policy to take to the electorate. "Water will be a priority, Te Reo Maori will be a priority, Whenua would be a priority, housing would be a priority, and really doing something about poverty," Fox says.
It's a bit of a task. "We don't have a machine. There's no Greenpeace supporting our party; there's no big Labour machine union/activist/movement supporting our party."
Any policies they'll stand their ground on? "We won't have bottom lines; they'll be negotiating lines."
No bottom lines? Really? "Well I'm considering one," she lets on. "Te Reo. If we make Te Reo Maori a core subject in all schools, we would eliminate institutionalised racism within a generation of time. We would, because you'd just grow understanding about our history – our shared history – the Treaty, the Maori world view."
"Kaupapa Maori model's a practice and not something to be scared of. Who says the investment model's the only way to do stuff? Or the Victoria model of education's the only way to do stuff?" Fox says.
"Red undies and blue undies have had equal amounts of time in this country to operate over the last 150 years, and it's the same skid marks left behind. If we really want to change then we're about the change. We're about trying new models that work, where we are all valued in this nation.
"When we dismiss disparities then we are all successful."