National, Labour battle over how to fix Auckland's traffic congestion problems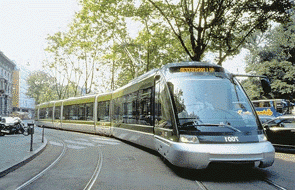 Labour and National on Sunday afternoon both announced plans to help fix Auckland's traffic congestion problems. Read releases from both parties below:
Also see Alex Tarrant's Sunday article on Auckland transport being the next election battleground here.
Labour:
A world class city needs a rail connection from the CBD to its international airport – that's why Labour will build light rail to Auckland Airport as a priority, says Leader of the Opposition Jacinda Ardern.

"Let's get Auckland moving by building a light rail network and accelerating investment in heavy rail and bus rapid transit. This is crucial to Auckland's future growth.

"A world-class city in the 21st century needs a rail connection from its CBD to its airport. Auckland needs this now. Labour's going to accelerate the solutions to Auckland's transport problems.

"I believe Labour's plan is a game-changer. It will reduce the $2 billion a year that congestion costs Auckland. It will realise Auckland's potential to be a truly world class city.

"Labour will build light rail to Mt Roskill in four years, to the airport and West Auckland within a decade, followed by a line connecting the North Shore to the CBD.

"We'll also build a Bus Rapid Transit service connecting the airport and East Auckland, and a third main trunk rail line to serve the commuter and freight rail traffic.

"We'll free up funding by getting better value for money from the East-West Link, and give Auckland the ability to fund its share of the investments through a regional fuel tax, infrastructure bonds, and targeted rates.

"Investing in high quality modern public transport is the best way to unclog our roads. This will ensure Auckland can grow and meet the needs of all who live and work in this great city.

"It's time to get on with it. It's time to get Auckland moving. Let's do this," says Jacinda Ardern.

Labour will:

Build light rail from the CBD to Auckland airport. This will be part of a new light rail network that will be built over the next decade with routes to the central suburbs, the Airport, and West Auckland, and will later be extended to the North Shore.
Build a new Bus Rapid Transit line from Howick to the Airport, starting with a bus service which will connect Puhinui train station to the Airport in one year.
Invest in more electric trains and build a third main trunk line urgently between Wiri and Papakura,
Allow Auckland Council to collect a regional fuel tax to fund the acceleration of these investments, along with infrastructure bonds and targeted rates.
Scale back the East-West Link to a reasonable cost with better value for money.
National:
National is committing up to $267 million of investment over the next three years in the Auckland and Wellington commuter rail networks to support future passenger growth, National Party Transport Spokesperson Simon Bridges says.

The package includes the electrification of the Papakura to Pukekohe rail line, adding a Third Main Line from Wiri to Westfield and double-tracking the Wellington commuter network between Trentham and Upper Hutt.

"Commuter rail has experienced strong growth in Auckland and Wellington. The National-led Government is continuing its already considerable investment in public transport with a further $267 million investment in commuter rail," Mr Bridges says.

"In Auckland we will invest $130 million to electrifythe track between Papakura and Pukekohe to support these important growth areas in the south and provide a more reliable and efficient services for commuters.

"Electrification is a key element of the National led government's focus on supporting a cohesive, efficient transport system for Auckland.

"Auckland's population growth has meant more commuter trains using the rail network around Auckland and competing with the growing number of freight trains using this important corridor.

"We're committing to invest $100 million for a Third Main Line from Wiri to Westfield providing a dedicated freight line. This will increase the efficiency of this important corridor, allow for greater frequency, improve travel times and provide more reliability for commuters.

"We've worked closed with Council to come up with a long-term, fully costed plan to deliver the transport system Auckland needs over the next 30 years.

"This means we're investing in the right projects, at the right times. Projects like the City Rail Link which will deliver a step change in Auckland's commuter rail network.

"We are also announcing a $37 million Wellington Commuter Package. This will further enhance the reliability of Wellington's commuter rail network and builds on Budget 2017's $98.4 million investment in Wellington's commuter rail network.

Wellington's commuter rail package includes:

A full double track on the Hutt Valley Line between Upper Hutt and Trentham - $22 million
A third platform for Porirua Station - $3.5 million
A turn-back facility at Plimmerton - $2.5 million
Upgrade of bridges and slopes - $9 million
Upgrade of 'Park and Ride' facilities for the Kapiti and Hutt Valley Lines
A programme to integrate and optimise rail and bus services.

"The Wellington commuter rail package will enable a more reliable, efficient and frequent commuter service in Wellington. These improvements will support the growing the patronage of these services, Mr Bridges says.

"Together these projects represent a $267 million investment in commuter rail in our biggest cities commuter rail networks.