Auckland transport set to be next election campaign battleground as Labour gears up for rail announcement; National's also making moves; Could they end up in agreement come 23 September?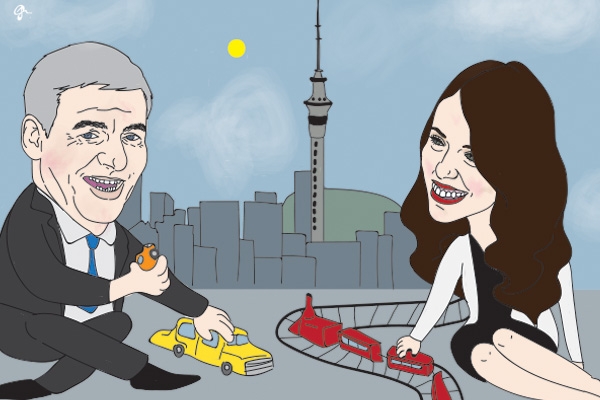 By Alex Tarrant
As house prices in Auckland start to fall, Election 2017 attention turns now to Auckland transport as the next National vs Labour battleground.
Transport Minister Simon Bridges on Friday announced a bunch of National Party plans for improving the city's transport network that are being worked on with Auckland Council.
It was perhaps not coincidental that Bridges was 'forced' to reveal the plans, given Labour was giving everyone and their dog a wink and a nudge that they were gearing up for a big Sunday announcement.
The newly invigorated lead opposition party will try and turn the conversation into one of trains versus cars, rapid transit versus congestion this weekend as a vision for a twenty-first century rapid transit system is touted by Jacinda Ardern and Auckland MPs including Michael Wood and Phil Twyford.
It'll be a case of rail, rail, rail, rail, bus projects as Labour seeks to overtake National and the Greens on leading the conversation of how should we get around Auckland in the future, and how can we come up with a city-wide light rail network.
Light rail from the CBD to the airport will be a major plank – not in the four-year timeframe that the Greens are promising – but we'll at least get to Mt Roskill within that timeframe, with a promise for the remaining link within the decade. A new bus connection to the closest train station to the airport will help until then.
A number of other projects (the South-East will get trains!) will seek to leap-frog promises of busways and extra roads and go straight for the rail option which will invariably arise over the next 20 years or so. Sunday afternoon you'll get the full details.
Meantime, National also sounds likely to counter this on Sunday with an announcement themselves. This was precursed by a statement from Bridges' office on Friday stating that "the Government is working closely with Auckland Council on new ways to accelerate and deliver significant ATAP projects." These include:
Mill Road ($955 million)
North Western Busway ($835 million)
AMETI ($616 million)
Extending electrification of rail from Papakura to Pukekohe ($130 million)
The 3rd Main Rail Line (Wiri to Westfield) ($100 million)
Total Investment - $2.636 billion
"These projects will help close any funding gap (of up to $7 billion) of the $27 billion worth of investment in Auckland transport projects over the next decade. Ultimately the projects mean more Government money will be invested in Auckland," Bridges says.
"They will help with growth occurring and being enabled by other partnerships recently announced by Government and Council, the Housing Infrastructure Fund and the Crown Infrastructure Partnership.
"These are substantial projects involving substantial new work across the city. We will be substantially completing these over the next decade. Further details have to be worked through with Auckland Council and we'll have more to say in the coming weeks."
Labour will aim the "nine long years" criticism at any policy movement like this from National between now and the election. Those in the party who remember the Clark/Cullen government being showered with the phrase in 2008 are relishing the opportunity to give it back a bit. I wonder if we'll see any resumption of the "nanny state" line that also contributed to the Fifth Labour government's downfall?
Labour will say it has found a way to make all its Auckland transport promises pay – some roading projects could be tapered back as they emphasise the need for funds to expand Auckland's light rail system.
We already know Twyford is a fan of the targeted rate, and also of value uplift taxes. To be fair, Bridges is too, but there's a Mexican stand-off going on between the government and Auckland Airport regarding who moves first on this.
Aucklanders should be encouraged by the fact both sides appear to be listening to concerns and remedies. There will be some differences, but each side has another seven weeks to keep trumping the other.
Wouldn't pre- and/or post-election cross party agreement on Auckland's transport solutions be nice? Perhaps a pre-cursor to a grand National-Labour coalition if Winston doesn't come through on that Kingmaker status? Just for a month or two, while game-changing legislation and plans are drawn up for Auckland?
Well, it has been a long week.