Where's all the inflation gone, and where's it going to come from? Alex Tarrant chats to RBNZ Deputy Governor Geoff Bascand about importing low global prices, the need for domestic inflation to pick up, and whether he's going for the top job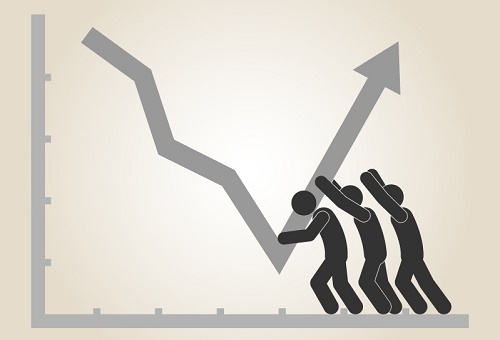 By Alex Tarrant
Where's the inflation going to come from?
Reading the Reserve Bank's annual CPI inflation expectations for the next year and you'd be excused for wondering whether March's 2.2% reading was all a dream.
Forecasts of 1.6% in the year to September down to 0.7% in the year to March 2018 indicate a great deal of head-scratching must be going on at the Bank's Terrace high-rise as economists there try to figure out just where the price pressure will come from to help them remain at that 2% target.
"Structural" now appears to be one of the most-used words around the bank. "Yellen" and "when" are also likely to be pretty popular – often in the same sentence. Just as earlier this year the Bank was talking about its struggles on figuring out where the Output Gap was at, inflation is this quarter's topic du jour.
Particularly, weak tradables inflation and how to encourage non-tradables inflation back to its long-run average to cover for its partner's shortfall.
I sat down with RBNZ Deputy head-scratcher, sorry, Deputy Governor, Geoff Bascand after the RBNZ's August Monetary Policy Statement (MPS) was released. It was the first time I'd really spoken to him at length – he seems relaxed, and calm in that the Bank is doing what it should (and can) in the face of a number of greater forces outside its control – namely rate decisions by the US Fed and global spare capacity.
I began asking about the domestic situation though. A rising currency, a weak inflation outlook over the next year, an output gap that might still be negative, a fall in the employment rate last quarter and inflation expectations that don't look like taking off. How did the bank manage to keep its neutral OCR stance?
"Forces moving in both directions," Bascand says. On balance, the outlook hadn't changed significantly enough to allow for a change of policy stance. There are some uncertainties, but we need to see if they unfold further over time before any moves. There are also positive factors weighing in the other way.
"Yes, we've seen in the last six months probably a slightly weaker domestic economy than we'd expected, and slightly lower inflation, but when you're setting monetary policy with a forward-looking dimension, how much is that going to carry on?"
The Bank reckons a good deal of the weaknesses we're seeing is temporary – for example the agriculture sector is starting to show a more sustained pick up now after a wet spring and summer.
New Zealand's terms of trade are strong, and the government's tax changes and 'families package' should put more money into consumers' pockets to spend. Migration remains strong, and globally the growth outlook is broadening. "We put all that through [the models], and we think, actually, the next two years has still got quite solid growth in it."
All in all, everything still feeds into the Reserve Bank's key 'neutral' message: "We still think we're two years away from an OCR tightening," Bascand says. Then he repeats just to make sure I've got it. "The biggest message overall is that we don't see a tightening for two years."
He says global growth is broadening. But our exchange rate keeps rising – this wasn't supposed to happen when the US started tightening, I say. I ask whether the Bank has been pushing out its expectations for a global pick-up?
"Maybe inflation, not so much growth," Bascand says.
It's an important distinction. While global growth has been more stable since being revised down in the first half of 2016, inflation hasn't picked up in tandem. While key indicators like the US unemployment rate (4.3%) are signalling tightness, that hasn't fed through into wage demands. Bascand says this could be a case of workers not bargaining so hard because they haven't experienced too much inflation recently. Also, perhaps they're trading wage growth for job security.
Weak global inflation and spare capacity across the developed world is key for us in little, open New Zealand. Import prices. Central to the answer to, "where has all the inflation gone and where will it come from?"
Structural impact on tradables inflation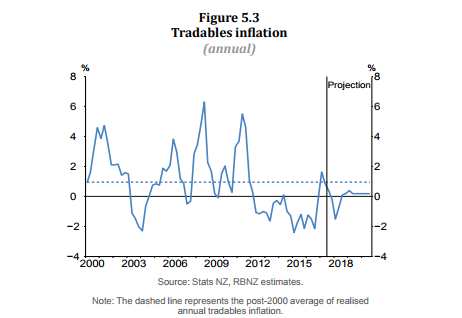 If you're out tramping this weekend then be sure to check under all the rocks you come across in case there's some tradables inflation out there. The Reserve Bank's offering a reward to whoever finds it first.
CPI inflation is divided into two components. Non-tradables and tradables. Tradables goods and services are those we import, or which face competition from imports. Non-tradables relates to domestic goods and services that aren't in competition with imports. Local government rates are a favourite. Education and healthcare have also fit the description along with other services industries (which by the way account for over 60% of NZ's GDP).
Until now.
An increasing number of goods and services formerly known as non-tradables have switched sides it seems. The internet is largely to blame. Increasing global competition for non-tradables goods and services has opened a can of tradables worms.
The simple fact is that there's still a bunch of spare capacity around the world meaning not much inflationary pressure. New Zealand has been importing lower and lower prices for more and more goods and services thanks to our higher and higher exchange rate and increasing global competition for what once were domestic, non-tradables markets.
No, it's not a new phenomenon, Bascand acknowledges. We've known about retailers here coming under increasing competition from the likes of Amazon. We've seen expansion of such technology over the past 20 years.
A big question being asked in the US right now is when will the phenomenon stop accelerating so fast. US Fed governors are starting to argue when and whether the downward price pressures from technologies like wireless telecoms will ease off. "Now two different governors have said [different things] – one said that'll reverse, but the other said it'll continue."
"It's certainly having longer-term structural impacts on import prices and potentially on non-traded goods prices," Bascand says. "I don't think we're through it," he adds. "We've still built in some ongoing downward trend."
The Bank has import prices falling 0.7% in the year to March 2018. This isn't as bad as 2012-2015 when import prices fell in a range of 1.7% to 3.9%. But it shows that mildly positive readings in 2016 and 2017 didn't mean that the corner had been turned. One problem also is the sensitivities to import prices being just 3% higher or lower than expected, Bascand warns. That can really through things around.
Managing the trend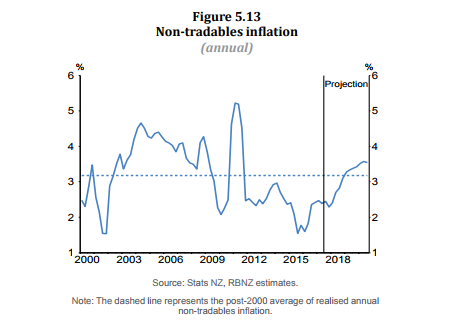 So, with tradables inflation looking to settle in as potentially negative for a while, the Bank's inflation driver eggs are in the non-tradables basket. It shouldn't be too difficult, should it? Before the GFC and even through it, non-tradables inflation was enemy of the state numero uno.
"Annual non-tradables inflation was 2.4 percent in the June 2017 quarter, and has been persistently below average levels, reflecting weak price-setting behaviour," the Reserve Bank says in the August MPS.
Below-average. How do we encourage it, then?
"We do need strong growth," Bascand says. Basically, if we're not going to get price pressures from offshore, then it needs to come from onshore. "We need residential investment, consumption activity. If we have growth of 3-3.5% we still think that's faster than the economy can grow without raising some price pressure, so we will see prices pick up," he says.
The Bank's Governors seem to be telling us that we need to be careful though. If import prices rise 3% while non-tradables inflation also takes off, then we'd be in of trouble. If import prices fall 3% while residential investment tapers off, we're in trouble on the other side.
The Bank's job is to manage the underlying trend, manage the cycle, Bascand reminds me. The Bank has to work out where it thinks the trend is going – if it looks like we're heading back to where we need to be, then that's good.
And the Bank is predicting a return to 2% annual CPI inflation by the March 2019 quarter as the exchange rate falls and non-tradables inflation starts to strengthen on the back of rising capacity pressures, residential construction work and greater consumption. Population growth should also help, the MPS says.
There's always an if, though, with monetary policy. The MPS contains an interesting study about firms' price setting behaviour – basically the driver of non-tradables inflation. Generally, businesses are assumed by monetary policy economists to set prices using a combination of past inflation outcomes and future inflation expectations. However, in recent years New Zealand businesses appear to have been placing a larger emphasis on the past.
The implication here is that perhaps monetary policy should be more accommodative. Unbelievably low inflation in recent years has led to businesses really thinking that this will continue – so they're not pushing up prices as much. The risk on the other side is that businesses shift again to not placing as much weight on past outcomes and place more on the future, indicating tighter monetary policy is required.
Luckily, it might not be so bad – we might just be in a rut until we see domestic and global prices start to gently pick up in together. The Reserve Bank's inflation expectations survey suggests longer-term expectations remain around 2% and that we expect this to come in about a year's time. We still believe the Reserve Bank when it says it's trying to get back on trend by targeting 2% CPI inflation (hey, it got there in March didn't it?).
It might just be that the trend is a bit more modest, Bascand says. "You don't want those cycles to get too hot, because then it gets away; you don't want them too soft – prices would fall. It's that job of moderating around the trend."
The message seems to be, we'll get there. It might take a bit longer than we'd thought, but we'll get there. If we try and get there too soon we could set something off. If we try and get there a bit later then we might not set anything off for a long while.
Seeking the top job
Gosh. Who'd be a central banker? More importantly, who'd want to take on the top job here when faced with such a period of uncertainty about the structural drivers of inflation here?
Actually, Bascand would. He's put his hat in the ring for the Governor's job. It's been rumoured that he'd be the front-runner among the insiders if he wanted to stand, and now he's confirming that he is going for it.
"The Reserve Bank matters to New Zealand's economic performance and ultimately therefore to people's welfare, and I'd like to be part of continuing to make this an excellent and strong institution, and to lead it in a way that it would be really successful for the next five years," Bascand says.
If he doesn't get it, then fair play to whoever does. Bascand says he'd like stay on in the Financial Stability role he's about to take over when Grant Spencer moves into the Acting Governor position for six months starting late-September.
What would he bring to the Governor's role? "Well it's not appropriate to have this as a job interview, Alex." Fair enough. And good luck finding that inflation, Geoff.
*This article was first published in our email for paying subscribers early on Monday morning. See here for more details and how to subscribe.