Labour's Grant Robertson hits back at National over tax, says cuts at this time are irresponsible, calls out Joyce for lying about Labour's intentions; Labour releases families package calculator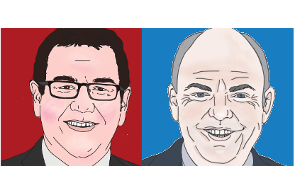 Labour Party finance spokesman Grant Robertson has launched a broadside back at National calling out Steven Joyce for scaremongering with his latest campaign ad, dubbed 'let's tax this.'
Robertson said National's planned tax cuts from April 1 next year were fiscally irresponsible and reckless. Read his statement below.
Labour on Wednesday also launched a 'families package' calculator to back its argument that 70% of families with children will be better off under Labour's policies than National's plan.
"Families can go to www.labour.org.nz/calculator and see how much better off they will be with Labour thanks to our Families Package," Labour Party leader Jacinda Ardern said.
"Labour's Families Package, which we released in July, is carefully targeted to deliver for families, especially those with young kids. We want our children to get the best start in life without poverty. That's why our Families Package includes a $60 a week Best Start payment for families with babies and toddlers," she said.
"This targeted approach means that a family on $50,000 with a new-born and a three year old with is $131 a week better off. The same family gets just $39 from National. We can do this, with a less expensive package overall, because we aren't giving tax cuts that deliver $400m a year to the top 10 per cent of earners."
Read Grant Robertson's statement below:
It is time for Bill English and Steven Joyce to stop the scaremongering and lies, and front up to New Zealanders about the impact of their tax cuts, Labour's Finance spokesperson Grant Robertson says.
"Bill English has no credibility on tax issues. He was the Finance Minister in a Government that increased GST after specifically ruling that out in the election campaign.
"National has introduced 18 new taxes, levies and charges, including one on the capital gain from an investment property within two years. Again, National never talked about this in an election campaign.
"Today National have an advertisement saying Labour will increase personal taxes. This is completely untrue.
"Let's set the record straight: Contrary to National's patently false scaremongering about income tax, Labour's families package makes 70 per cent of families with kids better off than under National.
"What we will do is reverse the tax cuts proposed by Bill English and Steven Joyce that will see $400 million a year go to the top ten per cent of New Zealanders.
"Those tax cuts are reckless and irresponsible at a time when so many of the big issues facing New Zealand are getting worse.
"How can tax cuts be responsible when homelessness is at record levels and the OECD have said we are the worst in the world?
"How can tax cuts be responsible when hospitals are putting up the house full sign, and our mental health system is collapsing under hugely increased demand?
"How can tax cuts be responsible when our schools are so stretched that they have to ask parents for more and more money to just do the basics?
"New Zealanders know these tax cuts are wrong and that National have got their priorities badly wrong. Even the majority of CEOs in yesterday's Mood of The Boardroom said now is not the time for tax cuts.
"The reality is that after nine years of National Government the basic services that New Zealanders rely on are running on empty, and many families are being left out.
"We can be better than that and Labour has the plan to make this happen, by rejecting National's tax cuts and investing in our targeted families package and in the public services Kiwis rely on," says Grant Robertson.
National launches campaign ad
Earlier, Steven Joyce launched National's new campaign ad, taking aim at Labour over tax:
National's newest campaign ad "Let's tax this" highlights the tax burden Labour would impose on hard working New Zealanders, National Party Campaign Chair Steven Joyce says.
"New Zealand's economy is growing strongly. As a result we're creating more permanent jobs and growing family incomes," Mr Joyce says.
"With a strong economy we have the opportunity to meet long-term challenges as with the Prime Minister's commitment to lift 100,000 more children out of poverty and give 80,000 more Kiwis the chance to get into their first home.
"Labour wants to stall our economic success through heaping at least seven new taxes on New Zealanders just when they're starting to get ahead.
"New Zealand currently has a broad-based fair tax system. We simply don't need to impose a Capital Gains Tax, Land Tax, Regional Fuel Tax, extra Income Tax, Water Tax or an Inheritance Tax. We also don't need to bring farming into an ETS when no other farmers worldwide are included.
"Labour needs to front up and be honest about its tax agenda. It's quite obvious they have one and they don't want to talk about it. Real transparency is the least that hard-working New Zealanders deserve.
"Voters are becoming aware of the clear choice facing them this election. It's between continuing to go forward with Bill English's strong National team or backwards with Labour and its very different economic agenda."
The new ad will be running on TV and online, and is available at: www.national.org.nz/letstaxthis