NZ First's Winston Peters warns of global risks facing the NZ economy; Says something will go wrong at some point, and we had better be prepared; Are there any clues as to which way he might go?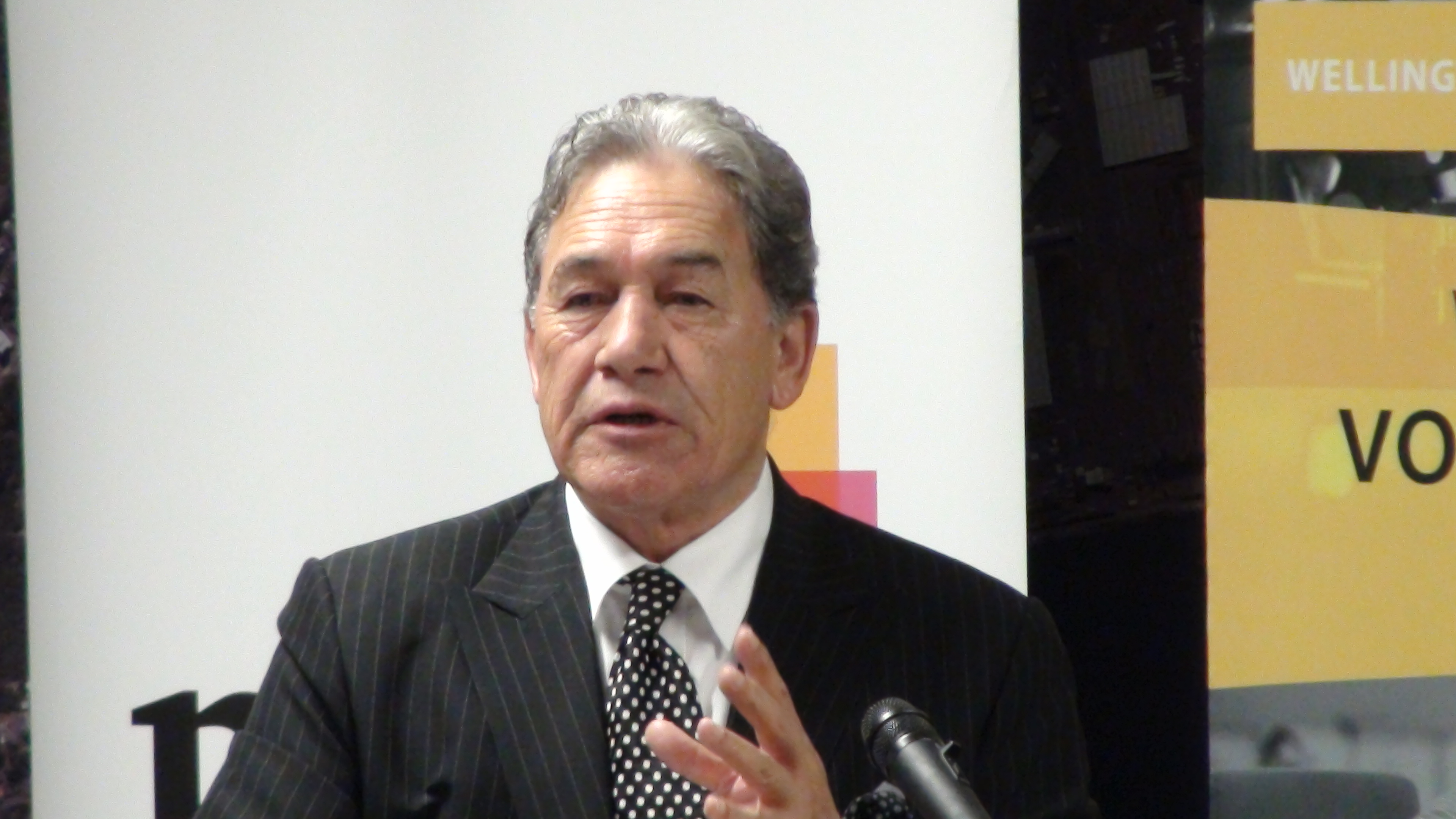 By Alex Tarrant
He may not be holding any more press conferences until 7 October, but Winston Peters is certainly keeping the PR machine ticking over in the meantime.
Thursday's Official Cash Rate decision by the Reserve Bank - on hold at 1.75% - provided the backdrop for a warning on New Zealand's economic vulnerabilities. Peters later used coverage of the tax paid by the Super Fund (which he doesn't want it to pay) to highlight his views on where the Fund should be targeting its investments more: New Zealand infrastructure projects.
Economic risks
"Today's announcement that the Official Cash Rate (OCR) will be left unchanged at 1.75 per cent maintains the tone of complacency on New Zealand's economic outlook," Peters' release on potential economic risks began on Thursday morning.
"Beneath the veneer of stability large risks are lurking in the global economy," he said. "The prolonged era of ultra-cheap money has created expectations that this unprecedented period will continue forever."
"Fed by cheap money, share and property markets are at record levels and have a long way to fall. In particular, the US share market has had an amazing run with barely a hiccup. In China, debt levels are staggering.
"Irrational exuberance rules. It is impossible to predict when, but something will go wrong and New Zealand should be prepared," he finished.
Any clues?
Regarding which way he'll turn? No. That Peters is a fan of economic nationalism? Well that goes without saying, really.
While the comment that "irrational exuberance rules" might be read as an attack on National's economic management, it could equally be argued that National has merely carried on with the status quo from the previous Labour government. Peters has been rounding on the two major parties as being in one bloc when it comes to economic management.
"New Zealand should be prepared," is clearly a reference that New Zealand First's economic influence is required - no matter which major party is in charge of a coalition, or minority government. Warnings about the US and Chinese markets are a call out for a return to the economic nationalism that Peters favours which we had in New Zealand before the 'neo-liberal experiment' of the 1980s and 1990s.
Interestingly, in a release which touches on monetary policy, there is no mention of New Zealand First's preferred change to a Singapore-style model, where the exchange rate is the tool for influencing inflation outcomes, rather than a base interest rate.
Could this be an acknowledgement that Peters is coming around to Labour's position where unemployment is added to inflation as a Reserve Bank target, while keeping the OCR? We know that Peters favours that the Bank should be required to take into account unemployment, exporters, the exchange rate and growth, more explicitly in the Finance Minister's policy targets agreement (PTA) with the RBNZ Governor. 
Could it be a hint to National that Peters will drop his call for a Singapore-style model in favour for policies or PTA wordings which lean towards greater economic nationalism?
Could it be a call for greater impetus on local funding of New Zealand banks?
Is it a cry for New Zealand First's deposit insurance scheme to be offered up in negotiations ("something will go wrong and New Zealand should be prepared"). (A quick aside on this - National's Steven Joyce has signalled that he would look at allowing for a 'de minimus' exemption of $10,000 under the RBNZ's open bank resolution scheme. Could something like this hold Peters over while deposit insurance is studied?)
Any thoughts that this release favours one side, could equally be applied to the other. Remember, while NZ First appears to have a better policy fit with Labour, the flip side of this means it could be seen to force greater policy concessions from National.
As I wrote earlier this week, the decision could come down to whether Peters feels comfortable and independent enough effectively helping Labour's policy platform through, against being seen to make National change direction in the way it manages the economy. And as we know from Wednesday, sitting on the cross-benches and taking an issue-by-issue approach is also part of his thinking.
Expect these kind of press releases to continue to trickle out over the next week or so from the NZ First machine.
'Super Fund should put more money into NZ infrastructure'
On Thursday afternoon, Peters then called for the Superannuation Fund - or Cullen Fund - to put more of its money into funding New Zealand infrastructure projects. His press release is below:
National should apologise to New Zealanders for robbing their NZ Super nest egg.
"Taxing the NZ Superannuation Fund, and not making taxpayer contributions for 10 years is a serious economic loser," says New Zealand First Leader Rt Hon Winston Peters.
"The magnificent 20.7 per cent return achieved by the fund in the year to June 30 will help meet future demand for NZ Super, but the nest egg could have been so much bigger if the National government had kept its hands off it.
"In 2015, then Finance Minister Bill English said: 'Over time, along with the other funds, it will become a more and more significant part of the economy'.
"That's ironic given he started taxing it in 2014.
"New Zealand First would encourage the fund's managers to invest in infrastructure in New Zealand so it works for New Zealand's long term interests," says Mr Peters.