Reserve Bank leaves Official Cash Rate unchanged at 1.75%; reiterates view that monetary policy will remain accommodative for a considerable period; notes recent construction sector weakness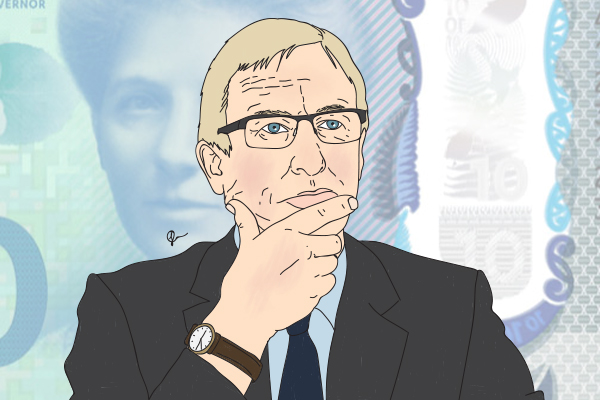 By David Hargreaves
Different Governor, same outlook. Well, maybe a little less optimistic about economic growth prospects.
The Reserve Bank on Thursday kept the Official Cash Rate unchanged at 1.75% and reiterated the view that monetary policy would remain accommodative for a considerable period.
The decision was the first presided over by Acting Governor Grant Spencer, who will be in the job for six months till a permanent replacement is found for Graeme Wheeler whose term ended this week.
Spencer's first OCR statement was virtually unchanged from the last one issued by Wheeler in August. There was some slight tweaking of the language around expectations on the NZ dollar, with the statement this time around saying a lower valued dollar would "help", which was a change from the word "needed" used in the August statement.
Also, the RBNZ appears more cautious now about growth prospects for the economy and has paid attention to recent weakness in the construction sector.
The dollar was little changed after the announcement, trading at a little over US72c.
The RBNZ has forecast no rises in the OCR till late 2019 and there's nothing in the latest statement to suggest that view has changed.
ASB chief economist Nick Tuffley said the RBNZ had retained a "neutral stance".
"The growth comments [in the statement] hinted at a little more caution.  Construction's recent weakness was noted, and GDP growth was noted as being expected to maintain its current pace. With [second quarter] growth of 0.8% [quarter-on-quarter] and the August [Monetary Policy Statement] forecasts showing 0.9%-1.0% qoq through to mid-2018, the RBNZ may have shaved its growth outlook slightly," he said.
Westpac senior market strategist Imre Speizer said there was not much for markets to react to in the statement, "apart from a hint of a possible downgrade to its construction activity forecast".
"We suspect markets will need to wait until the November MPS, when the RBNZ comprehensively updates its forecasts, to learn of any changes in the RBNZ's thoughts."
Kiwibank chief economist Zoe Wallis and senior economist Jeremy Couchman said the "most significant change" in the latest statement was around the RBNZ commentary on the outlook for growth.
"The Bank now expects growth to 'maintain its current pace going forward' - this was a downward revision from the August MPS, which noted that 'growth is expected to improve'. While the statement noted that same growth drivers as were highlighted in the August MPS - population growth, stimulatory monetary policy, fiscal stimulus and a high terms of trade - it suggests the Bank's growth forecasts maybe pointing toward a slightly lower growth profile in coming years," they said.
"This isn't a surprise given the constraints we are currently seeing, particularly in the construction sector."
This is the statement from Spencer:
The Reserve Bank today left the Official Cash Rate (OCR) unchanged at 1.75 percent.

Global economic growth has continued to improve in recent quarters. However, inflation and wage outcomes remain subdued across the advanced economies and challenges remain with on-going surplus capacity. Bond yields are low, credit spreads have narrowed and equity prices are near record levels. Monetary policy is expected to remain stimulatory in the advanced economies, but less so going forward.

The trade-weighted exchange rate has eased slightly since the August Statement. A lower New Zealand dollar would help to increase tradables inflation and deliver more balanced growth.

GDP in the June quarter grew in line with expectations, following relative weakness in the previous two quarters. While exports recovered, construction was weaker than expected. Growth is projected to maintain its current pace going forward, supported by accommodative monetary policy, population growth, elevated terms of trade, and fiscal stimulus.

House price inflation continues to moderate due to loan-to-value ratio restrictions, affordability constraints, and a tightening in credit conditions. This moderation is expected to continue, although there remains a risk of resurgence in prices given population growth and resource constraints in the construction sector.

Annual CPI inflation eased in the June quarter, but remains within the target range. Headline inflation is likely to decline in coming quarters, reflecting volatility in tradables inflation. Non-tradables inflation remains moderate but is expected to increase gradually as capacity pressure increases, bringing headline inflation to the midpoint of the target range over the medium term. Longer-term inflation expectations remain well anchored at around two percent.

Monetary policy will remain accommodative for a considerable period. Numerous uncertainties remain and policy may need to adjust accordingly.