National loses 2 seats after special votes, Labour and Greens gain 1 each; NZ First unmoved - Peters keeps Kingmaker position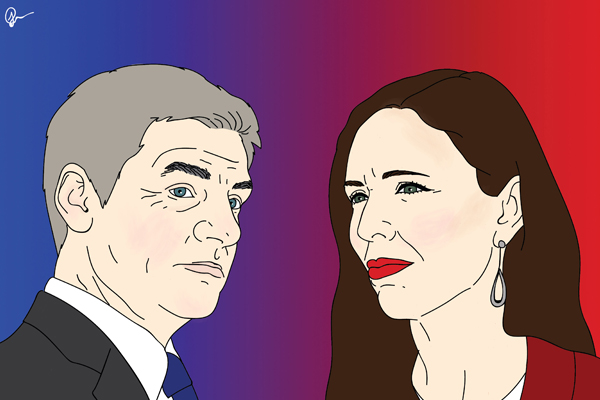 New Zealand First remains the Kingmaker, although Labour and the Greens have closed the gap with National to two seats after the Electoral Commission announced special votes results.
National lost two seats compared to election night results to sit on 56 seats on Saturday. Labour gained one to 46, the Greens gained one to 8 seats. New Zealand First remained steady with its 9 seats. ACT had its 1 seat. The Parliament will comprise 120 seats.
In terms of the final vote count, National came in at 44.6%, Labour 36.9%, NZ First at 7.2%, the Greens at 6.3%, ACT 0.5%, TOP 2.4% and the Maori Party 1.2%.
The two-seat swing between the Left bloc and National was expected. It would give a Labour-Greens-NZ First government 63 seats - a buffer of two above the 61 seat majority required. Meanwhile, a National-NZF government would command 65 seats.
Green Party leader James Shaw was first out of the blocks in terms of commenting on the results, saying they increased the case for a Labour-Green-NZ First government. Labour Party leader Jacinda Ardern issued a press release saying the final results strengthened the Left's mandate for change.
Meanwhile, National Party leader Bill English said the results showed National 10 seats ahead of Labour and still ahead of the combined Labour-Greens bloc. He said National would seek to form a strong government with New Zealand First.
Read further comments from all three further below.
17% of the vote
The special votes - 446,287 of them - comprised about 17% of the total vote. They included ballots from New Zealanders overseas who had been out of the country for less than three years (61,524), and those made by people in New Zealand who enrolled at the same time as voting ahead of election day.
In terms of government formation talks, they are the final piece of the puzzle required before New Zealand First enters serious talks with both National and Labour. NZ First leader Winston Peters has said he is aiming to have a decision by the time the results are presented to the Governor General on 12 October - within a week of today.
This might not be all we hear about the specials, however. Peters on Thursday questioned whether the results could be fully relied upon. Speaking to media in Parliament after his initial talks with National and Labour, he made the following comment:
"You do know that, even before the election they were running out of ballot papers, even though there was special voting happening before the election, running out of ballot papers on election day and a whole lot of people being misinformed about their rights, and I want to know that they are capable of completing the count properly – that's the operative word – properly by two o'clock, Saturday."
The comment may well have been Peters positioning himself for the possibility that the Labour-Greens and National votes ended up so close that a recount could be called for to determine the biggest bloc.
Based on the final counts today, National attracted 1,152,075 votes against a combined Labour-Green count of 1,118,627. There is a difference of 33,448 votes between the two blocs. The Electoral Commisison said 27,484 votes had been disallowed, while there were also 10,793 party informal votes - together 38,277.
It has also been noted that a shift of about 5,000 votes from National to Labour would result in a seat-change between the two, giving the two blocs 55 seats each.
Shaw: Time for a mature MMP government
Green Party leader James Shaw was the first leader to comment on the results. He said they increased the case for a Labour-Greens-NZ First coalition. Jacinda Ardern is set to speak at 3pm, and Bill English at 3:30pm
Shaw said a lot had changed since Peters had ruled out working with the Greens in government in 2005 - the Greens were now looking at areas of policy overlap with New Zealand First.
Interestingly, Shaw said he was pushing for a "mature form of MMP government" where Labour, the Greens and New Zealand First were all included under a coalition deal. He said there was potential now for New Zealand to have its "first true MMP government". He said such a combination would be stable.
Shaw maintained the line that talk of a tie-up between the Greens and National was "smoke" and "noise". He wasn't expecting a call from Bill English, he said.
Meanwhile, Shaw told media in Auckland that while he hadn't had much to do with Peters, he got on well with New Zealand First MPs Fletcher Tabateau and Tracey Martin.
Ardern: Mandate for change
Labour Party leader Jacinda Ardern issued the following statement after the results were released:
Today's final election count has strengthened the mandate for change, and for negotiations to continue in earnest, says Leader of the Opposition Jacinda Ardern.

"We congratulate Angie Warren-Clark on becoming Labour's 14th additional MP, which expands the Labour caucus to 46 MPs.

"Angie brings valuable experience to our team through her role helping the most vulnerable in her community as manager of Tauranga's Women's Refuge. She will also strengthen Labour's presence in the Bay of Plenty.

"The final vote tally shows how this election galvanised people to enrol and vote with the highest turnout since 2005.

"Today's result lifts Labour's final vote to 37 per cent, and the left block of seats to 54. The majority of people voted for a change to the status quo.

"This reinforces the mandate for negotiations to form a stable, durable and progressive Labour-led government, a government I would be proud to lead.

"Over the coming days, Labour will focus all its efforts on completing negotiations," says Jacinda Ardern.
Speaking to media in Auckland Saturday afternoon, Ardern said the final result gave Labour a strengthened mandate to continue coalition negotiations, arguing that the majority of New Zealanders had voted for change.
In a much more up-beat performance compared to her election night speech, Ardern said she would be proud to be Prime Minister of a Labour-led government. She said Labour could deliver "durable, stable coalition government" with the Greens and New Zealand First. She said a 63-seat reading for the three had her feeling more comfortable than the 61 seats on election night.
Asked about getting negotiations completed by Thursday, Ardern said talks would now begin in earnest this weekend, although she wouldn't say whether she'd talk to Peters over the weekend. Labour would move as quickly as it was able to and hold separate talks with NZ First and the Greens during the process, she said.
However she added that Labour would hold talks in a responsible manner, indicating she would not rush things. Having said that, she said her expectation was that talks could be completed by 12 October.
Ardern again repeated that Peters would not be given the Finance Minister role by Labour. She talked about how Labour had worked well with Peters and New Zealand First between 2005 and 2008 to deliver stable government.
She said Labour and New Zealand First had similar policy platforms both aimed at delivering better outocomes for New Zealanders.
English: voters chose National over Labour
National Party leader Bill English issued the following statement:
With all the votes now counted it is clear that National has finished ten seats ahead of the Labour Party and also ahead of the Labour/Green grouping, says National Party Leader Bill English.

"I want to thank the more than 1.15 million voters that placed their trust in the National Party, and I remain as determined as ever to lead a strong, stable government for the next three years that will deliver on the hopes and aspirations of all New Zealanders".

"Not since 1969 has the National Party finished ahead of the Labour opposition at four successive elections, and I want to thank everyone involved in this historic achievement.

"Now that the special votes have been counted it's time for political parties to get on with the job of forming a strong government to take New Zealand forward, and I look forward to engaging with Mr Peters and New Zealand First over the coming days to achieve that".

"Voters had a clear choice at the election between the two major parties that had a realistic prospect of leading the next government.

"They signalled very clearly that they wanted National to perform that role and we will now get on with the job of trying to give effect to their wishes."
Speaking to media in Arrowtown, English said the results confirmed National as the largest party, 10 seats ahead of Labour and the Labour-Greens combination.
He said National was looking forward to forming a stable and enduring government, with negotiations with New Zealand First to proceed at some pace through this week.
English said it would have been nice to keep the two seats that National lost, but that this didn't fundamentally change the equation. National was significantly the largest party, he said.
He said the result didn't weaken National's negotiating position "significantly at all." The fundamentals hadn't altered, he said. Negotiations would focus on the economy and issues raised by New Zealand First and voters, than on the final seat counts.
English was asked whether bigger concessions might now be required to get Peters on board, such as Finance Minister or co-Prime Minister. He said the result didn't fundamentally change the negotiations. National were negotiating with NZ First on the basis of a strong election result, with 10 seats more than Labour.
The focus of the negotiations would be around how to maintain the positive direction New Zealand was heading, and dealing with issues raised during the election campaign. The numbers reflected a desire for the New Zealand economy to stay on track, he said.
"This is the result MMP has given us," English said. MMP had delivered successful governments for the last three-or-four elections he said. He expected National would be able to form an enduring government in these circumstances, he said.