Cooling housing market could continue as Labour seeks to ramp up KiwiBuild, reduce demand pressure, Ardern says; Maintains goal is for existing values not to drop, though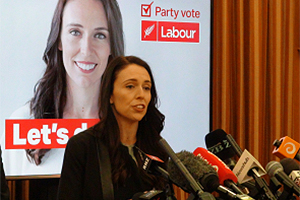 By Alex Tarrant
The housing market may continue to cool as Labour seeks to ramp up the building of cheaper homes and demand pressures weaken, Prime Minister-elect Jacinda Ardern says.
But she maintained that policy would not lead to a dramatic drop in people's existing values – saying that Labour's intention was to try and deliver without existing values falling.
Whichever outcome, it's an interesting admission from the Labour Party leader. Ardern, her predecessor Andrew Little and housing spokesman Phil Twyford in the months leading up to the election all repeatedly sought to keep the conversation away from the possibility that increased supply – all else equal – puts downward pressure on prices.
Ardern made the comment on Newshub programme The Nation Saturday morning in a pre-recorded interview on Friday. She noted the housing market had already started to cool ahead of the election.
Asked about Labour's KiwiBuild policy, Ardern said that would go ahead, with building phasing up to 10,000 a year, with the target of 100,000 affordable homes to be built under the policy over a decade.
Of course, it might be that KiwiBuild displaces some existing activity – the construction sector is at capacity. Twyford said this year that Labour would seek to have KiwiBuild homes included as part of private developments – for example representing 30% of any planned development. At 30,000 homes nationwide a year currently, there obviously is room for private activity to continue.
Ardern repeated that too many new homes at about 200 square metres were currently being built, and that Labour would seek more 100 square metre homes. 
She also reiterated that demand dynamics could continue to weaken – although questioned whether that would continue to be to the current extent. She said Labour's immigration policy – targeting reductions of 20,000-30,000 student and temporary work visas – was the one that survived the negotiation process.
Below is the transcript from the section of the interview relating to Housing and Immigration - the bold is interviewer Lisa Owen:
Another issue that mobilised voters, arguably, was housing and the lack of affordable housing. Another thing Mr Peters said in his speech when he announced he was going with you is that building affordable houses would be a priority for him. So when do you intend to start construction on KiwiBuild?

And, look, we do need to get started right away, of course. We spoke over the election about the fact that this would phase up over time. And it's not just KiwiBuild. For us, it's also making sure that we start building those state houses again; we've lost stock. And we've set ourselves a goal of at least 1000 a year. First step for us is getting a form of affordable housing commission up and running.

And you have committed to that in your first hundred days?

And that's the first step. Before you are able to start getting the hammer out, you've got to make sure that we're able to do the overall planning that will be required.

So how long after that, do you reckon?

I haven't got a date to give you, but if you set yourself a target, as we have, of, on average, 10,000 houses across 10 years, then we need to get started pretty quickly.

So how many do you think you will build in your first year, then?

Over my recollection over the first three years is that we are scaling up. My recollection is that we moved up to roughly 20,000 over the first few years, and beyond that it will then move at great pace and at scale.

So also around foreign buyers, part of the motivation for shutting down foreign buyers of our houses, is to bring the price down of housing. So do you have an ambition for how much you want to bring that price down and over what period of time?

That was about making sure that we had measures both on supply and demand. But the point that I've made continuously during the election is that one of the reasons that the average house price sits where it is is just the nature of the housing stock we have. We in Auckland, for instance, are just not building affordable houses. The average house that's being built in Auckland, so where we're increasing our stock, are houses that are closer to 200m2 than 100m2.  We can make sure we bring on-stream affordable housing without having the effect of dropping significantly the value out of people's existing homes. It's all about the nature of the stock that we're building and the fact that we are under-producing the houses we need the most.

But if you build more stock and there is more supply, there will be an adjustment in house prices overall. You know the basic economics of it. So what do you anticipate that that drop in housing– that price that you might be trying to achieve?

I have an expectation that there'll be a cooling in the existing market. But as I say, our view that we absolutely maintain is that we're bringing on-stream a section of the housing market that is undersupplied and that we don't expect to see a dramatic drop in people's housing values.

So it's cooling, like, 1%, 2%?

Yes. Yeah, and at the moment it's cooling because we're seeing potentially that easing off by meeting the fact that we're easing off a bit of demand. It's not clear whether or not that will be sustained. We believe that if we want to make sure we're addressing the issues we have, it is about addressing supply as well.

OK. So part of that is also immigration numbers, the number of people coming into the country and demand. And you and your coalition partners are kind of at odds on that when you look at the policies. Winston Peters wants a considerably higher drop in numbers than you have specified, and the Green Party actually withdrew their policy around immigration at one point. So where's the sweet spot? If Winston Peters wants 10,000 people a year – and we've got about 73,000 – and Labour were saying maybe cut it about 30,000, where is the sweet spot?

The sweet spot is acknowledging that we have pressure on our infrastructure. And I think, actually, that is common ground between all parties that will form this government because there is undoubtedly strain based on the fact that we have had a government that's entire growth agenda has been based on population growth rather than focusing on making sure that we move to a productive economy.

But when your agreement comes about–

Our view is that it is about the settings. It is about making sure that we are meeting the skills gaps that we have – and we do have them in New Zealand – meeting those skills gaps by making sure that we are undertaking those work tests, by making sure that our export education industry isn't exploiting people, and by making sure that people on temporary work visas aren't exploited either. That's the area we're focused on, and there's agreement there.

So when the deal comes out and we look at it, will there be a number? Will we look through those papers and there's a number that you've agreed on?

You'll see that Labour's policy remains.