The latest RBNZ survey of house price expectations brings a sharp dive in those seeing gains in the future. In fact capital gains may have vanished; the risk is now to the downside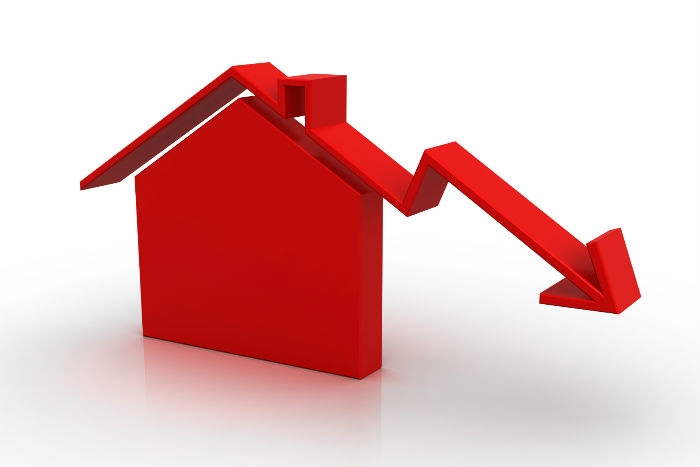 Each quarter, the RBNZ conducts a survey of household expectations.
(Well, actually they take data from the UMR Research "nation-wide telephone omnibus survey".)
The questions the Reserve Bank is interested in relate to consumer price inflation and also house price inflation.
Specifically, the questions about expected house price inflation are:
"In one year's time do you think house prices overall will have increased, decreased or stayed the same compared to now?"
and
"By what percentage do you think they will have increased or decreased?"
The data for the December quarter of 2017 has now been released (H/T Cowpat), and on average house prices are expected to be unchanged from now in one year.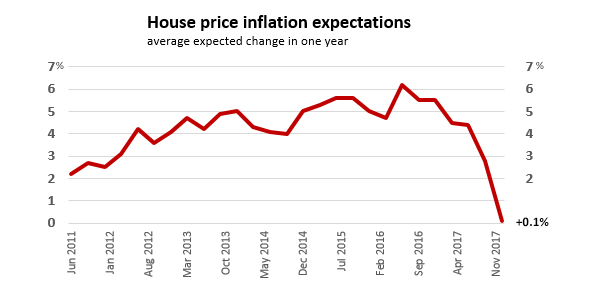 Optimists are still around however; the number of people in the survey expecting prices to be higher in a year than now is still positive, but only just.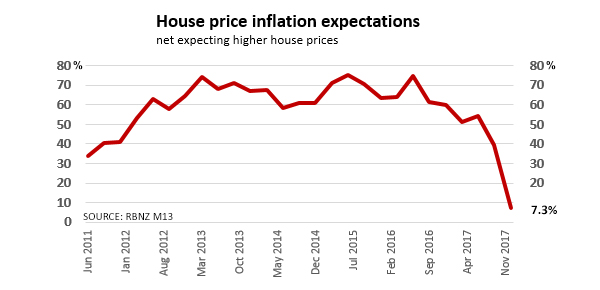 The main takeaway from this latest survey however is the sharp, sudden fall in optimism.
This survey has only been going for house prices since June 2011 but the latest data is the lowest on record.
And it is changing very fast, negatively.
It would be fair to ask how accurate people responding in the survey are in assessing what house prices are likely to change by in one year.
And of course we can test that by looking forward a year and seeing what the change actually was.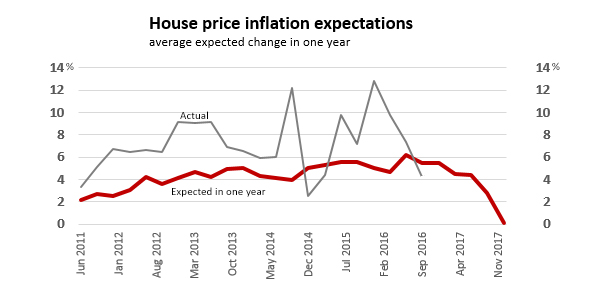 This view compares what the survey responses were with what actually transpired in one year. So the Q3 2016 expectation of a +5.5% gain actually came in at a +4.2% gain in Q3 2017.
Respondents see the future as relatively stable, which of course it isn't. They also clearly underestimate what will happen.
And that underestimate can cut both ways. In a period of optimism and growth their views respond slowly to the actual lift in market prices.
If that is true on the way down, this chart may be a warning that even as they now see no price growth the reality may again be an underestimate.
One thing is clear from the RBNZ survey: the immediate future is unlikely to see any house price growth.
Capital gains may have vanished; the risk is now to the downside.
(The RBNZ survey data is not available by Region or City.)