Prime Minister Jacinda Ardern hits back at criticism over the Government's refusal to release the 33 pages of 'notes' on its coalition agreement with New Zealand First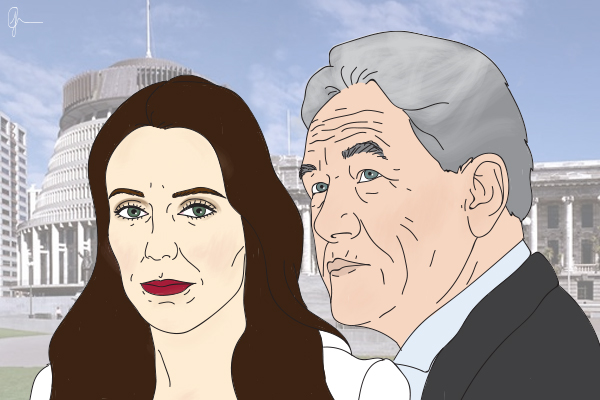 Prime Minister Jacinda Ardern is swatting away claims her refusal to release "notes" on what Labour and New Zealand First explored when entering into a coalition agreement, shows a lack of transparency.
The Leader of the Opposition Bill English on Monday morning had a go at the Government for declining an Official Information Act request to release the document, which Deputy Prime Minister Winston Peters told journalists about the day after Labour and New Zealand First signed their official coalition agreement last month.
Yet speaking to journalists at a post-cabinet press conference on Monday afternoon, Ardern said: "We're certainly not leaving it in the shadows."
Ardern explained the Government had made public the things it had formally committed to and budgeted for, but has the right to keep quiet on the issues it is exploring and doesn't yet know whether will be feasible.
"Every government has a work programme - things that they look in to. The moment that we see some benefit and that it's something that will progress, that's the point at which it will be made public," she said.
"It is not a formal document. It is not a government document. It's a document of elements that we may progress and we may not."
Ardern said the document hadn't been officially signed off on or been distributed to ministers.
While Peters on October 25 reportedly told reporters it was a 38-page document, he today confirmed it was more like 33 pages long.
The official coalition agreement between Labour and New Zealand is eight pages long, as is the confidence and supply agreement between Labour and the Greens.
Peters previously said the more detailed document contained directives to ministers, media strategies and the appointment process for diplomats.
While it was still being completed when he talked to journalists last month, at the time he said it would be made public, noting it was "for the province of the Prime Minister to release".
However on Monday afternoon he supported Ardern at the press conference, elaborating on her explanation of the situation by giving examples of what was in the document.
He said the document included a discussion around how the measure of gross domestic product (GDP) used in budgets should be per capita, to make it more relatable.
He also mentioned the document included a proposed change to the way unemployment is measured.
Yet Ardern was resolute every government maintained the right to keep quiet on matters it was considering, but hadn't yet finalised.
Separately, Ardern said Grant Robertson will make his first major speech as Finance Minister on Friday, announcing the date of the Half Year Fiscal Update and Budget Policy Statement.
"This will incorporate our 100 Day Plan and set us on the road towards Budget 2018. It will show our investment and spending plans are responsible, affordable and in line with our Budget Responsibility Rules." Ardern said.
"The update will also spell out the renewed contribution to the New Zealand Superannuation Fund after nine years of a contribution freeze. This is all about safeguarding super for future generations."
Below is a press release issued by Ardern on Monday afternoon.
Full steam ahead on 100 Day Plan 

The next four weeks will mark further significant progress for the Labour-led Government on our 100 Day Plan, says Prime Minister Jacinda Ardern. 

"When my government was sworn in just over four weeks ago we promised action and we've made huge strides on many issues already. 

"By Christmas we'll make further important progress, putting families at the heart of everything this government does. 

"On Thursday we will pass legislation extending Paid Parental Leave – lifting it to 26 weeks by July 2020. This will be of huge benefit to working families and the well-being of their young children. 

"The Healthy Homes Guarantee Bill will be passed by the House in the next two weeks, underlining our commitment to ensure all New Zealanders can live in warm, dry homes. 

"On Friday Finance Minister Grant Robertson will deliver his first major speech where he will announce the date of the Half Year Fiscal Update and Budget Policy Statement. This will incorporate our 100 Day Plan and set us on the road towards Budget 2018. It will show our investment and spending plans are responsible, affordable and in line with our Budget Responsibility Rules. 

"The update will also spell out the renewed contribution to the New Zealand Superannuation Fund after nine years of a contribution freeze. This is all about safeguarding super for future generations. 

"We will also shortly be introducing legislation to give effect to the Families Package. This includes Best Start, the Winter Energy Payment and increased payments to parents with children under Working for Families. This package will make a huge difference to low and middle income earners.

"We promised to make post-secondary school education and training more affordable and accessible. Last week's increase of $50 to student allowances was the first stage of that plan. In the next weeks we will outline our policy on making the first year of post-secondary school education and training free from 1 January, 2018. 

"There's much more for this government to do, but I'm proud of the progress we've made and the difference we're making to the lives of many New Zealanders," says Prime Minister Ardern.

Note: Progress to date on 100 Day Plan 

· Minimum wage to rise to $16.50 to take effect from April 2018
· Student allowances and living cost loans to increase by $50 from 1 January 2018
· Extension of Paid Parental Leave – legislation introduced and to be passed this week
· Healthy Homes Guarantee Bill – legislation introduced and to be passed shortly
· Ban on overseas speculators buying existing houses – legislation to be introduced shortly
· Tax Working Group - establishment underway
· Pike River Recovery Agency – establishment underway