BNZ's chief economist Tony Alexander says New Zealanders are too used to high growth and points out a myriad of potential economic issues he calls 'blind spots'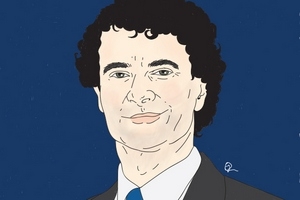 BNZ chief economist Tony Alexander says Kiwis have become too complacent about having a strong economy and is warning of multiple "blind spots" that could disrupt economic growth.
Alexander says no one is expecting New Zealand's economy to struggle much in the coming years, bar a nuclear or a large-scale trade war.
"Factors supportive of New Zealand growth are numerous and the talk is of growth, growth, growth."
Despite recent Gross Domestic Product (GDP) figures showing economic growth last year was slower than expected, at 2.9% it was still higher than the OECD average of 2.6%.
The Reserve Bank expects growth to average 3.2% over the next four years.
Alexander says even Finance Minister Grant Robertson appears complacent and is "rashly contemplating spending anticipated extra surpluses."
Despite the talk of economic strength to not end, Alexander has identified a number of blind spots – things which a person probably does not realise can go wrong – lurking beneath the surface.     
Pricing power, whereby local New Zealand companies are at the mercy of overseas players when it comes to setting prices, is a major concern, Alexander says.
This is especially prevalent for farmers.
"Their incomes can go up and down massively and when this happens, especially in dairying, the whole economy can feel the effects."
As technology develops, he says this phenomenon is extending to other parts of the market too.
"These days when we consumers don't like the price of something, see it go up, or just feel like seeing if there is something cheaper, we go online."
He warns businesses increasing prices, "don't expect the same complacent response as 10 years ago."
Employment and corruption
Alexander also picks up on a theme many economists have been talking about recently, New Zealand's tight labour market.
Unemployment has been gradually falling since 2010, with the most recent data showing the jobless figure at 4.5%, the lowest level in nine years.
That number is expected to drop further, potentially below 4%.
Alexander says although businesses are lobbying the Government to loosen restrictions on immigration to bring in more workers, unless it's a special case, "forget it."
"A centre-left Government is not going to undermine the bargaining power of unions and average Kiwi workers by facilitating more competition for new and their existing jobs."
This will lead to a tight labour market that may produce higher wages but will also increase labour costs as businesses compete for the best talent.
"Businesses need to seriously question their ability to maintain current output levels as staff availability worsens."
He suggests the best response in this new paradigm may be to cut output and focus on the highest yielding customers and products.
Alexander also puts honesty on his list of potential blind side risks to the economy.
He says since New Zealand has quite a trusting culture, its status as the world's least corrupt country could be at risk.
"But since altering immigration rules in the late-1980s to allow in a lot more people from non-traditional sources, and especially in recent years, we have seen an influx of people from countries where corruption is rife."
In these countries, he says, there is often little sympathy for someone who is ripped off and in many cases, the victim is considered foolish for letting themselves be tricked.
He says some immigrants have brought these practices to New Zealand and the Government has yet to catch up with the need for more inspections of work premises on "businesses employing people from countries with high corruption problems."
Alexander says businesses need to keep an eye on this.
"Risk of loss of reputation from engaging with businesses engaging in corrupt practices has risen. Greater questioning needs to be undertaken of why perhaps a quoted price looks so good."