NZ banks' mortgage market shares vary from region to region with some banks making significant moves in some parts of the country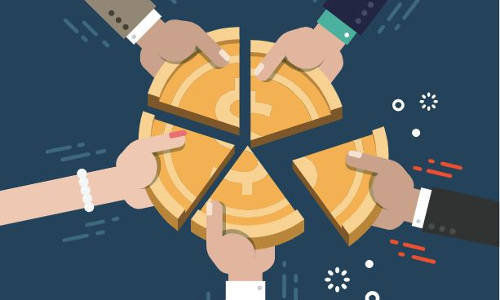 By David Chaston
A few weeks ago we looked at mortgage market shares to December 2017. It was a review that assessed mortgage values, and also looked at transaction volumes by property type.
Now we want to look at how the main banks compete for regional markets, where they are successful and where they are not.
This time however, with later data, we are going to use the twelve months to March as the base, the most up-to-date data available.
And this data is only available for transaction volumes, not values.
Firstly, here is the over-riding national volume data changes to market shares: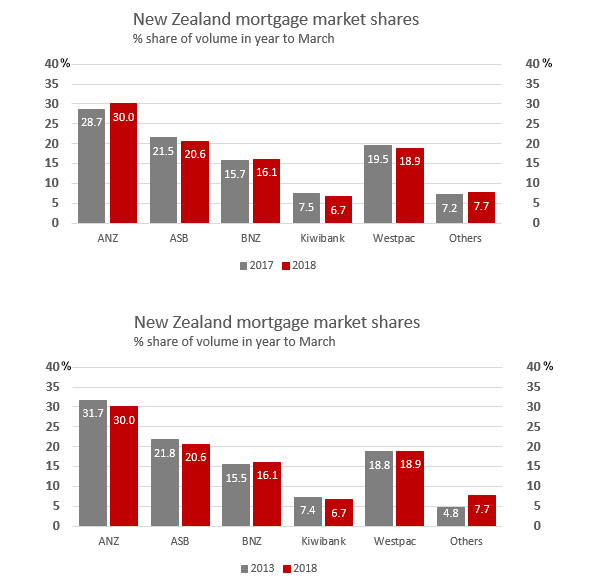 There are two perspectives here. For the year to March 2018 compared to the year to March 2017, it is clear that ANZ has made some good market share gains.
But the view over the past five years from 2013 is not so positive. Their 2018 gains are apparently just making up for share losses over that longer period.
The other institutions basically held on to most of their share, although ASB might be annoyed about some small backtracking, Kiwibank too. And the challenger banks look like they are gaining traction. In fact, all of them have made good five year gains, especially SBS Bank and TSB. In fact, as a group, the locally-owned challenger banks have now grown larger than Kiwibank.
But the perspectives are different regionally which some notable variation of strengths and weaknesses.
In Auckland, BNZ has made consistent gains, Kiwibank some slippage, the challenger banks recorded good gains, but it is the slippage at ASB that stands out. They are certainly one step behind in the Queen City.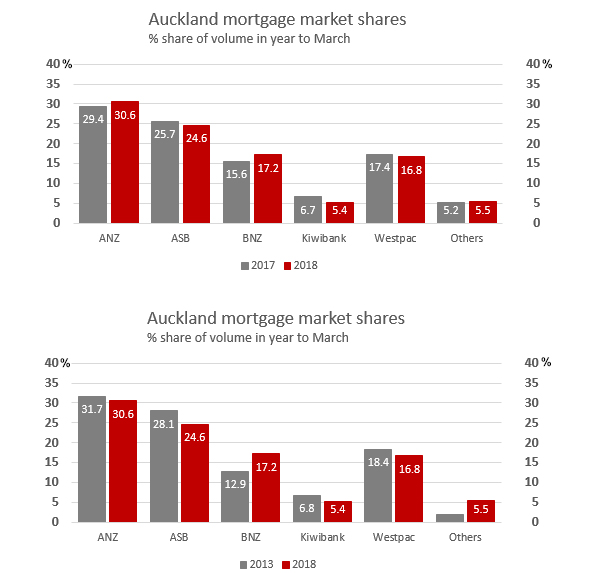 In the Waikato, the challenger banks have been winning an increasing share and together command about what Kiwibank has slipped to. Both HSBC and TSB have made good gains
The 2017 to 2018 slippage by ANZ is also a notable move.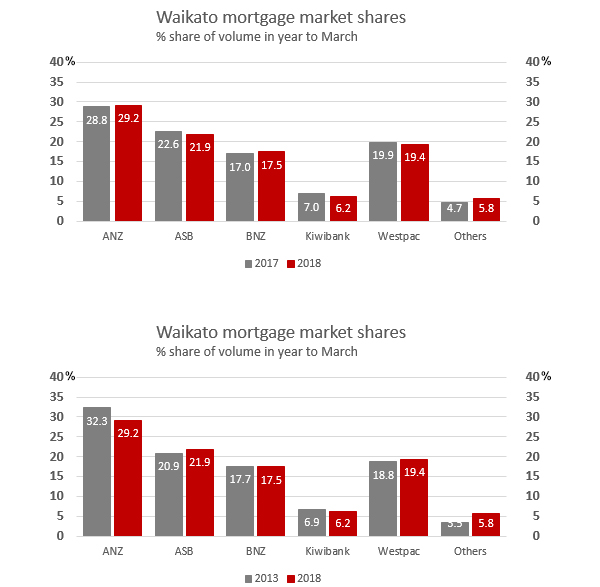 The shifts in the Bay of Plenty are even more pronounced, surprisingly so.
Both ASB and BNZ are both one step ahead. Westpac's performance in the region is highly variable, while the challenger banks are making small progress.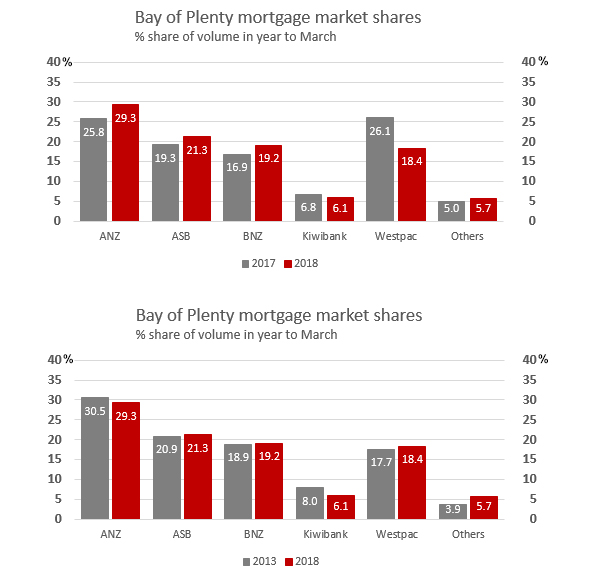 Wellingtonians are attracted to ANZ and to a lesser extent, Westpac, in a big way. And that love-affair is growing. Surprisingly, home-town based Kiwibank is not attracting growing support. But the Co-operative Bank and TSB are, but surprisingly their's is the smallest combined share of any of the main centres.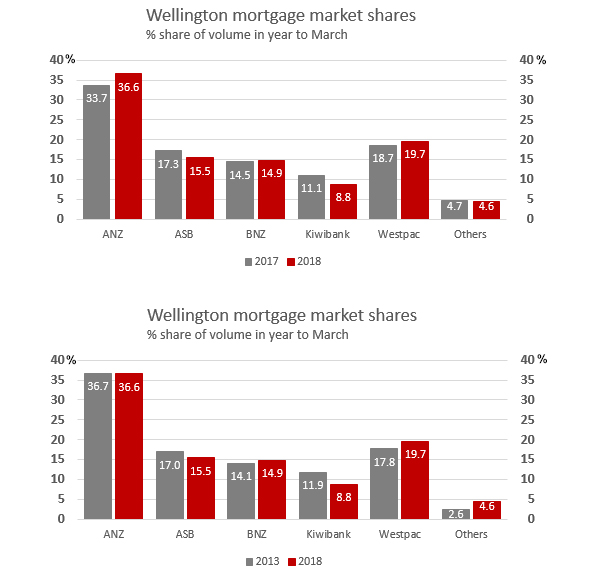 Cantabrians however love Kiwibank and the challenger banks. They, along with the Co-operative Bank, SBS Bank, and TSB, these smaller institutions are gaining serious shares off the four big Aussie banks. Over the past five years, BNZ looks like it is shedding the most, but so is ASB. Only ANZ looks like it has stemmed the flow recently.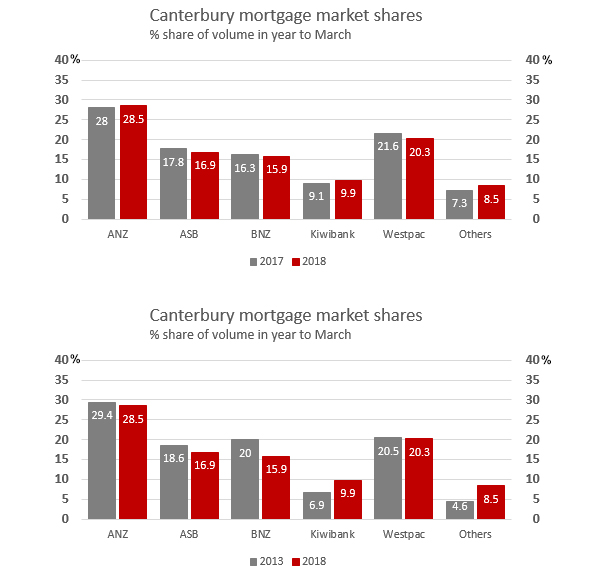 *Thanks to Paul Hughes for the analysis behind these perspectives.
The real level of mortgage market share is a difficult thing to measure. In fact each bank approaches it slightly differently, and of course they have the advantage of knowing their own internal regional levels.
And there is the 'understanding' issue - mortgages are more than home loans. Most people jump to the assumption they are the same thing but of course they are not. Mortgages on commercial propery, on rural property for rural business, and on business property itself, are all key aspects to a bank's mortgage portfolio.
Here are some links to our extended analysis of the overall mortgage market. For ANZ, here (subscriber only); for BNZ, here, and about the RBNZ watching the growth of the small banks, here.