The FMA and RBNZ's top brass to brief MPs on Wednesday following their probe into NZ bank conduct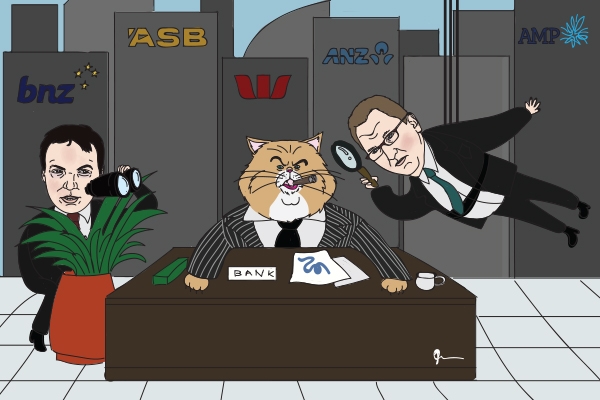 Top officials from the Reserve Bank and the Financial Markets Authority (FMA) will brief MPs on the outcome of their investigation into banking practices in New Zealand on Wednesday.
Reserve Bank Governor Adrian Orr and FMA CEO Rob Everett will give an overview following their demand New Zealand banks prove they're free of the sorts of misconduct that has surfaced in Australia's Royal Commission into financial services.
Financial and Expenditure Select Committee Chairman Michael Wood says this will be the regulators' first opportunity to brief MPs on their findings.  
"We want to hear really clearly what has come out of that process, what steps they will be undertaking and what issues we as Parliamentarians should be aware of."
Although Orr has said there is no need for a Royal Commission here, he says the onus is on the banks to prove their behaviour is different from their Aussie parents.
Finance Minister Grant Robertson agrees, saying the issue is "so significant, there is an obligation on New Zealand banks to show that evidence," given the dominance of Australian owned banks in New Zealand.
Wood says MPs are going into the meeting with an "open mind."
"[The regulators] have gone through the process of engaging with the banks and we have deliberately timed this hearing to give them some time to absorb what they have heard from the banks, so we can talk meaningfully about that."
He does not have any indication of the RBNZ and the FMA's findings yet but points to an article by Orr, released last week, detailing where it sees its role in banking conduct and culture.
In the article, Orr says the Reserve Bank aims to have "the best regulator-regulated relationship in the world built on mutual respect."
After the briefing from the regulators, MPs will decide if it's necessary to summon banking and financial institution bosses to testify in front of the committee.
"We have explicitly said we will leave the door open to a request that financial institutions might appear before the committee if we think there are further questions we think justify that," Wood says.
"We will listen to the evidence we hear from the regulators, then take it from there."
Orr and Everett will brief the committee at 2pm on Wednesday.