FMA's CEO Rob Everett & RBNZ Governor Adrian Orr tell NZ's big bank CEOs to prove their banks are different to their Aussie parents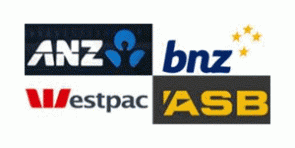 The Financial Markets Authority (FMA) CEO and Reserve Bank Governor have told New Zealand's big bank CEOs to prove their banks are different to their Australian parents in the wake of the damning revelations from Australia's Royal Commission on Financial Services.
FMA CEO Rob Everett told RNZ on Wednesday morning  he and Reserve Bank Governor Adrian Orr spoke individually to the big bank CEOs on Monday. ANZ NZ, ASB, BNZ and Westpac NZ, which dominate NZ's banking industry, are all Australian owned.
Everett said his and Orr's message was; "It's not credible to just say that New Zealand is different. You have to demonstrate why either the business structures here, or your business practices here, lead to different outcomes. Now we at the FMA, we see some of that. But actually we think the banks need to front up and really explain why it should be different. And that's the process that we're going through with them now."
In terms of whether NZ should hold its own Royal Commission, Everett said not at this point.
"I don't think so at this point. The government is looking at insurance law, the government's looking at consumer credit, there's a financial advice bill going through select committee right now, we've got a very transparent work programme as to where in the industry we're looking for issues. I would rather let that work progress before anyone leaps to any conclusions about whether or not to have an inquiry,"Everett told RNZ.
"We haven't seen systemic evidence along the lines of what has been highlighted in Australia," Everett added.
Below are excerpts from Everett's RNZ interview released by the FMA.
On the impact of the Royal Commission:
"What's been highlighted in the royal commission in Australia is really ugly. I think it's devastating for the industry, the stories that are being told. Most of the issues that we've heard are issues that were well known to the regulators, they are issues that have surfaced before. So we have been spending time here in New Zealand making sure that our work plans react to that and where we're looking is somewhat driven by the experience in Australia.
To date we haven't seen any evidence of systemic abuses along the lines of the Australian industry, but as we've said to the New Zealand banks, we can't afford to be complacent, we really have to up our game to make sure that those same issues aren't being replicated here."
On the banks:
"I have spoken individually to all the chief executives of the big banks, Adrian Orr and I called the banks together yesterday to basically have this conversation with them. Which is really to say to them, it's not credible to just say that New Zealand is different. You have to demonstrate why either the business structures here, or your business practices here, lead to different outcomes. Now we at the FMA, we see some of that. But actually we think the banks need to front up and really explain why it should be different. And that's the process that we're going through with them now."
On what the FMA is looking to see from financial institutions:
"we're asking them to give us assurances, including in writing, as to the processes they've followed to check themselves against what's coming out of the Royal Commission. And as I say, a lot of those issues were well known so they're not new issues, they should have been checking against them already, we've asked them to provide assurances to us, the RB and the FMA, that they have scrubbed their business models and that they have a basis for being confident that these issues don't exist here."
On how the FMA is responding to what's emerging from the Royal Commission:
"There's a balance for a supervisory regulator like us in terms of influencing the industry to do things better in the future and there's a need as law enforcement agency to go in and hammer conduct that we think is beyond the pale or is a clear breach of the legislation. So I think it will depend on what we see. We've been doing this for a while now, the messages are pretty clear. I think the Australian RC ups the temperature for New Zealand, and puts people on notice that we really need to get this right. So if we see areas where we think the law has been breached or the conduct is really poor, we will go after it. We are also spending a lot of time pushing and influencing and urging the providers just as a matter of best practice to think harder about what the customers need and less about their bottom line."
On whether we should have a Royal Commission/public inquiry in New Zealand:
"I don't think so at this point. The government is looking at insurance law, the government's looking at consumer credit, there's a financial advice bill going through select committee right now, we've got a very transparent work programme as to where in the industry we're looking for issues. I would rather let that work progress before anyone leaps to any conclusions about whether or not to have an inquiry. I'd also add the Australian inquiry has only been going a few weeks. The initial report isn't out until September the final report isn't out until February. I think rather than rushing to conclusions I'd like to let the work that's currently underway make more progress before conclusions are reached."
On the level of cooperation:
"Yes, they are. I think If the penny hadn't dropped before yesterday I think with Adrian Orr and I it was pretty clear certainly to the banks we spoke to yesterday that this was a game changer. The royal commission, the stories that it's telling people about what's gone on in Australian financial services, as I said before really ugly, and I just don't think NZ can be complacent just because we don't think we've seen it here, I think we've actually got to be absolutely sure it's not happening."
On how the FMA might react to a poor response:
"If they do that, they'll see more of us in court and less of us doing the education. I will say is that we have urged the bank CE's and the insurers and the fund managers not to be complacent. Trust is absolutely damaged in Australia, it was damaged in the UK, you can see it is damaged in the US. To date the trust levels in NZ have been better, but it will only take one or two big blow-ups for that to be damaged beyond repair. So we are urging the industry whilst they have the chance to get this right."