The Government will spend $50 million on an 'investment package' in Northland which includes funding for potentially 'upgrading and expanding' the Northland rail line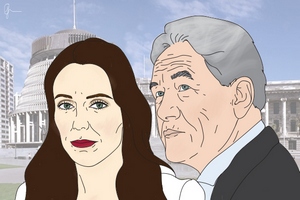 The Government will spend half a million dollars investigating a potential upgrade and expansion of the rail line from Auckland to Northland.
It comes as part of a near $50 million government "investment package" into the region.
The move is yet another big win for New Zealand First, which campaigned strongly on bolstering the Northland economy during the election and upgrading the rail line to the region.
"This Government believes that rejuvenating and expanding the North Auckland rail line could help unlock the region's export potential," Transport Minister Phil Twyford says.
This will be tested by a business case which will determine if rail is a viable option for freight transportation in and out of the region.
"[The Government] will also investigate whether the upgrade could include a new spur line to Marsden Point to support Northport's growth," Twyford says.
In July last year, NZ First Leader Winston Peters told The Nation that the Northland rail project at Marsden point was a Coalition deal bottom line.
"I can say for the people of Northland and Whangarei this is going to happen.
"We've got the corridor, it's been designated – the only thing it lacks is the commitment from central Government, and that's one of the first things we're going to be doing straight after the election."
The cost for the business case, which is $500,000, will come from the Provincial Growth Fund.
As well as this, the Government will spend $46 million on an "investment package" for Northland, Prime Minister Jacinda Ardern revealed on Friday.
Almost half of that funding, some $20 million, has been allocated for "projects that create jobs," but there is little to no detail on what that entails at this stage.
Just under $10 million has been earmarked for art centres, including New Zealand's first curated Maori art gallery, in Northland.
A further $8.7 million will be spent on social and state housing projects and a trial of a "rent-to-own" scheme.
Some $6.2 million will be spent on a "transport businesses cases" which will be used to upgrade some of the roads in the area.
"The region is on the right track, but there is still more work to be done and this government will continue to work hard and form genuine partnerships to further support Northland's growth," Ardern says.
The funding comes from the Provincial Growth Fund.