Mayor Phil Goff says Auckland Council's share of the $1b City Rail Link project cost blowout can be paid for without increasing council debt or rates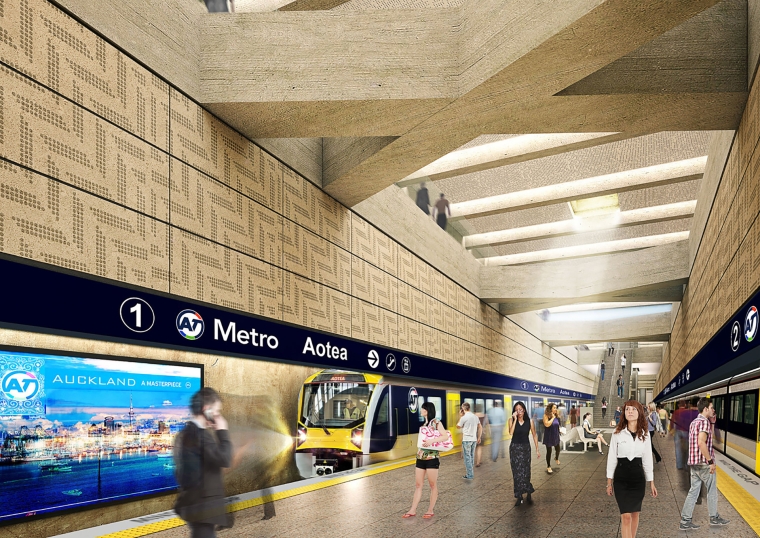 Auckland Mayor Phil Goff says Auckland Council can pay for its share of the City Rail Link project's $1 billion cost blow out without increasing the city's debt or rates.  
The project is being jointly funded by the Government and Auckland Council, and was originally expected to cost $3.4 billion and scheduled for completion in 2024.
But at a press conference on Wednesday City Rail Link chief executive Sean Sweeney announced the new revised estimate for the project has ballooned out to $4.4 billion and it will have to ask the Government and Auckland Council to pay for the shortfall.
The CRL project is a 3.45 km twin-tunnel underground rail link connecting the Britomart Transport Centre with new stations at Aotea Square and Karangahape Road. It will make Britomart a through station and will provide quicker travel times for many people and will also allow better access for train users to parts of the city centre with the new stations near mid-town and Karangahape Road. (See analysis of the City Rail Link business case here).
Goff says council officers have presented him with a plan outlining $500 million in cost savings it can make. But the Auckland Council will still have to sign off the proposal at a meeting next month.
"They have come up with a plan that enables us to manage that extra cost without either putting any extra pressure on the ratepayers, or breaching our debt to revenue ratio," he says.
Goff says the Council will look at the sale of some its non-strategic assets, including the Fanshawe Street, Victoria Street and Downtown carparks, as well as negotiating a long term lease arrangement for the Civic Carpark.
"We are also looking at the way in which we manage our cash, we currently have about $200 million in cash on hand. Our financial advisors, both internal and external, say that's more than we need and we could reduce that by $100 million dollars."
Goff says the council can also save about $120 million through renegotiating a number of its short terms loans. While it will also be looking at how it finances a number of its longer term contracts.
He says the Council is also keen to reach an agreement with government to allow it pay for the CRL project over a longer period of time. 
Goff says the new savings proposal means the Council will have to manage its finances carefully.
"There won't be money to splash around on some other projects that might have been desirable, but not essential."
But he says the cost saving plan will free up enough money to enable it to meet the increased cost of the project.
A decision was made last year to increase the scope of the project to accommodate longer, nine-car trains at the stations. This was to allow for more of commuters to use the train network. But coupled with the increasing costs in the construction sector it has led to a $1 billion cost blow-out.
Goff says the original cost estimates were done five years ago with incomplete information and were based on unproven assumptions.
"What we looked at when we considered the cost increase was 'is there an option of not continuing with the City Rail Link' and the answer, very clearly, to everybody and I think to all the councillors, was that that's not an option. We've invested $600 million in this project, but more than that this project is critical to the future of Auckland." 
The Brown-Bridges sign-off
Goff says under the original proposal the network would have been able to carry 36,000 passengers an hour, but within eight to 10 years the system would have reached its limit.
He says he's confident the latest costings are more accurate than those that were signed off by former Mayor Len Brown and then Transport Minister Simon Bridges.
"Absolutely, they've been peer reviewed independently by two separate organisations and they both came back with an estimate that was within 2% of each other."
And when asked about whether the Council was concerned about future cost blow outs in the project he's quick to respond.
"I expect CRL to deliver on the timing and the cost of the project as it's currently set up."
Government still committed
Transport Minister Phil Twyford says the re-costing of the project has shown the previous government hadn't set aside enough money to account for inflation and escalating costs.
"On top of that, competition created by a surge in large-scale infrastructure projects throughout Australasia has driven up construction costs," Twyford says.
But he remains committed to the City Rail Link project.
"The Government will match Auckland Council's contribution and we're committed to seeing this project through."
Auckland Council's latest financial update shows its projected debt will be less than the $9 billion target it had set for this financial year.
But with just $1.2 billion of debt headroom to play with to remain within its debt-to-revenue ceiling of 265% and the project's cost blow out topping $1 billion, the Council's ability to absorb the costs by taking on more debt would be a squeeze.
And if it did a credit downgrade by S&P Global Ratings and/or Moody's could be a real possibility. Something Goff is more than aware of as he seeks to avoid taking on more debt.
Auckland Council currently has an AA credit rating from S&P and an Aa2 rating from Moody's. (See credit ratings explained here).