David Chaston can't wait for December 5 to see how committed the RBNZ is to ensuring bank shareholders play their role properly as responsible investors, rather than rent-seeking leverage merchants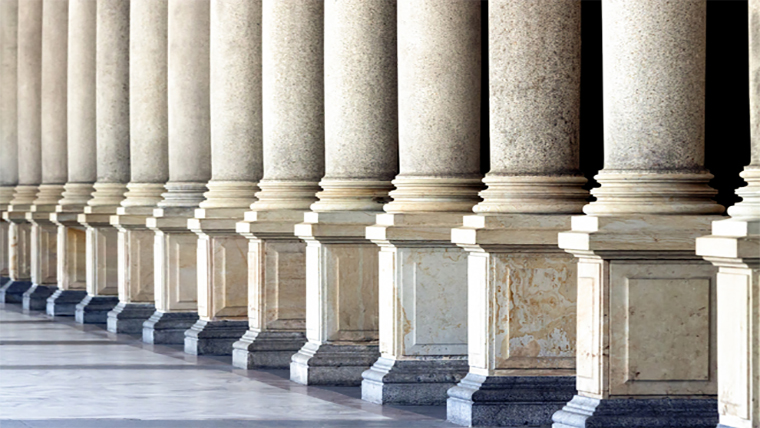 By David Chaston
I am looking forward to learning how much bank pressure has moved the RBNZ objective to get banks to hold more equity. Hopefully not much.
It is an issue I have been writing about for more than eight years.
The lack of shareholder support for banks got to extreme levels in 2010, but they have not been adequate for more than 20 years. And the issue actually goes back further. Historical RBNZ data goes back to 1992 and nowhere in that time have bank shareholders stumped up adequate support for their businesses. The worst leverage was in December 1996 when it reached an industry average exceeding 26 times. That is, bank assets exceeded shareholder funds by 26.7 times. The 'best' was in March 2014 when it was 11.6 times.
Think about that for a moment; the time banks had the most support from their owners was when they only had 8.6% of their assets (loans, advances and other banking assets) supported by their shareholders. The heavy lifting has been done by depositors and other creditors. But the profits have been taken by the one party that has the least skin in the game.
And that high leverage allows out sized returns in institutions that are essentially regulated utilities.
It is an excess leverage situation that has been going on for so long, that long term extreme levels have been normalised. Even today, average leverage exceeds 12 times.
High leverage equates to high risk. But the risk isn't being faced by the shareholders. It is the depositors who are taking the risk, and because they are so disbursed and so numerous just about everyone understands that for the large institutions, ultimately it will be the taxpayer who will assume the risk of failure.
It should be an unacceptable trap that our economy has fallen into.
Things must change.
There are ironies aplenty here.
First is the obvious fact that bankers themselves would never lend to any other borrower with such extreme leverage.
Second is the equally obvious fact that this situation and its high risk environment only works with active government regulation. The regulators are enablers of low support by shareholders.
And thirdly, it only works because of the implicit guarantee from taxpayers. It's parasitic in that regard.
But even though it has been going on in a twisted version of 'normal' for more than a generation, finally our regulators are pushing back.
Shareholders need to expect lower returns, and invest more in their businesses.
It won't be hard for them to invest more. They are highly profitable and foregoing dividends for just a few years would bolster their investment quickly. The four big banks paid about $3.8 bln in dividends in the past year*, so they could reduce their leverage by 1.0x each year. In less than four years, overall bank leverage could be down to about 9x. In six years it could be reduced to under 8x. That is not an impossible standard - Rabobank NZ is already at that level and so is Heartland Bank. Yes, that would involve profitability without dividends (in other words, bank profitability wouldn't be degraded) and returns would fall from 13% tax paid to just under 9% after tax, and still high for a regulated utility. Dividends could then resume at the historical dollar level. (Or they could just add capital.) Of course investors would squawk. They would threaten, they would pressure, they would warn the-world-will-end. But I doubt there would be capital flight, or even an internal pause in enterprise capital investment, because these banks would still be returning out sized results that investors can't get in any other industry for the low risks they are taking.
Banks have tried to instil a fear among customers that the cost of debt will rise if they have to hold more capital. Of course, that is on the basis that they can continue to impose their currently high return on equity on their clients. This is weaponising fear on customers who are naive. If risk falls when more capital is retained, there is no need to extract such high returns. Bankers and investors need to revisit Investment 101. And regulators need to ensure normal competitive forces apply so that rent-seeking from an imbalance of pricing power doesn't happen.
That imbalance is longstanding, and another public policy challenge. Banks are, or should be, enabling utilities. They have social obligations to ensure our economy is lubricated efficiently. Their behaviour needs to respond to the social licence they have to operate at this choke point. Any kidnapping of economic efficiency is unacceptable. But operating in this space without sufficient equity investment is a form of economic kidnapping. Which is why I am hoping the Reserve Bank capital review is the start of a new effort to re-balance something that has been out of balance for far too long.
Better capitalised banks will more likely result in a better credit ratings. Better credit ratings bring expanded access to funding and lower funding costs.
Here is how the main banks have changed their leverage. One takeaway is that none of them have been reducing it in the year or so that the RBNZ capital review has been underway. That is the type of attitude the regulator is up against.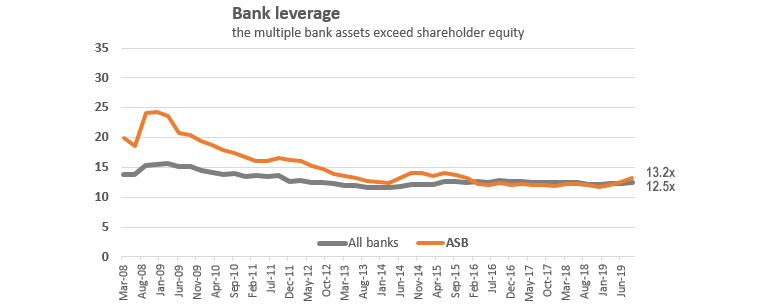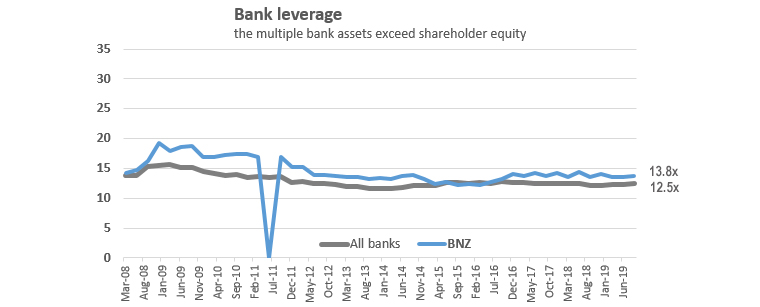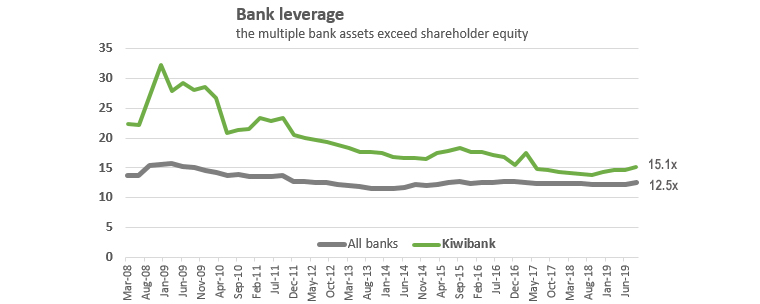 There's a long way to go. Let's hope the RBNZ makes a clear start on Thursday, December 5, 2019.
---
* This total excludes the dividends that ANZ and BNZ declared which were simply converted into shares in the New Zealand subsidiary in 2019. The comparative dividend total for 2018 was $3.6 bln.