Tom Coupe on coronavirus. The quest for accurate statistics, misjudging risk, panic buying and the economic impact of pandemics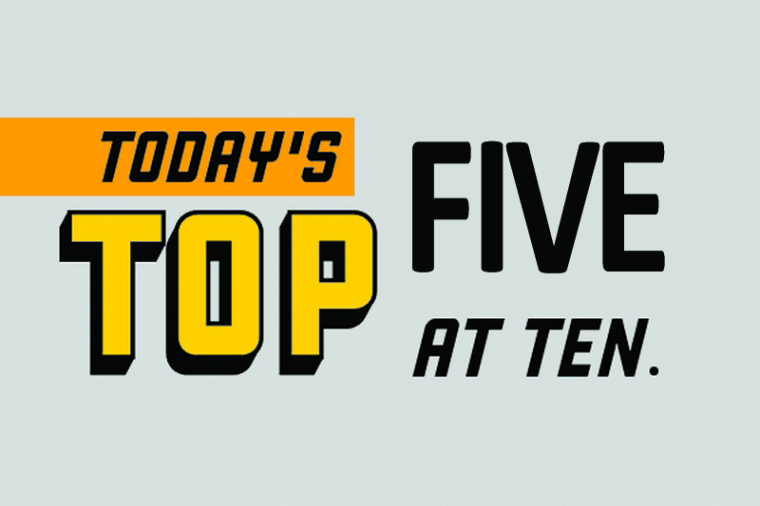 Today's Top 5 is a guest post from Tom Coupé, an Associate Professor in the Economics and Finance Department at Canterbury University.
As always, we welcome your additions in the comments below or via email to david.chaston@interest.co.nz.
And if you're interested in contributing the occasional Top 10 yourself, contact gareth.vaughan@interest.co.nz.
I tried hard to resist, but given the SARS-CoV-2 virus [also known as coronavirus and COVID-19] has been dominating world news lately, I could not stop it from spreading to this Top 5. Here are some SARS-CoV-2 virus related articles I found particularly interesting and enlightening.
1) The quest for accurate statistics.
The discussions about the SARS-CoV-2 virus clearly illustrate the importance of having good statistics (and the consequences of lacking good statistics). Everybody wants to know the rate of infection and the mortality rate.  While many numbers can be found, it's unclear what the 'right' numbers are. A comprehensive discussion, with updates about estimates and clarifications about the difficulty of computing mortality statistics can be found here:
"At present, it is tempting to estimate the case fatality rate by dividing the number of known deaths by the number of confirmed cases. The resulting number, however, does not represent the true case fatality rate and might be off by orders of magnitude [...]

A precise estimate of the case fatality rate is therefore impossible at present."
2) Misjudging risk.
Having accurate statistics (and being aware of them) is important as without them, we are great at misjudging risk as this New York Times article outlines.
"But there is a lesson, psychologists and public health experts say, in the near-terror that the virus induces, even as serious threats like the flu receive little more than a shrug. It illustrates that unconscious biases in how human beings think about risk.

"Our feelings don't do arithmetic very well," Dr. Slovic said. That can be especially true when judging low-probability, high risk threats like nuclear war, terrorism – or dying from the coronavirus or the flu. Our minds tend to either "round down" the probability to "basically zero" and we under react. Dr. Slovic said. Or we focus on the worst-case outcome, he said, "which gives us a strong feeling, so we overreact."
At the beginning of February this year, a YouGov poll estimated that 39% of US adults were very or somewhat concerned about personally experiencing the coronavirus For comparison, in October 2014, a similar survey found that 38% of US adults were very or somewhat concerned about personally experiencing Ebola. Ex post, only two people in the US, both nurses, became infected with Ebola and recovered.
YouGov also has an interesting survey comparing the fear across countries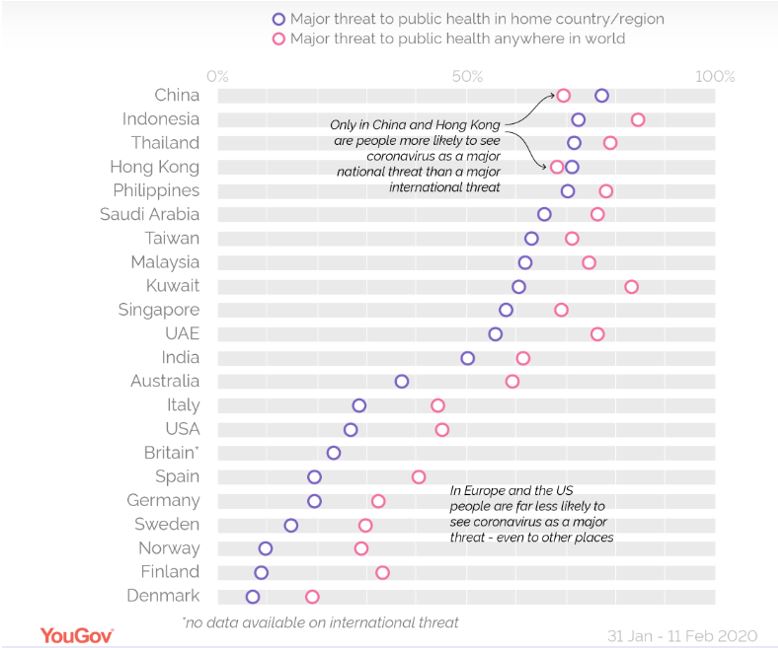 3) Panic buying.
Like the virus, fear is contagious as is illustrated well by this video about empty Australian supermarkets: a person decides to buy extra food because he observed others buying extra food.
An interesting Insead article discusses the psychology behind the Coronavirus panic buying more generally:
"With tens of millions of people now under quarantine in China and COVID-19 rapidly spreading, it is unlikely that purchasing handwipes, instant noodles or even face masks will keep people completely safe. However, just purchasing the goods may help to keep them calm and give them a sense that they still have some control over their lives."
4) How pandemics affect the economy.
Pandemics affect the economy in various ways, through sick employees, fearful customers and broken supply chains.
A good micro example is this article from The Washington Post with the title "With chefs idle and vegetables rotting, China's virus hit restaurants say their goose is cooked"
"If people don't eat at restaurants, that doesn't just affect the restaurant but also the seafood supplier or farmer. If people don't shop for clothes, that affects the silkmaker and weaver," said Dai Ruochen, a Peking University economist who helps lead the survey group. "The economic impact isn't contained; it sends ripples up level by level."
A more general primer can be found here.
"The main factory for assembling iPhones in China, for example, has been shut down all month rather than reopening as expected at the end of the Lunar New Year celebrations. Apple can't sell iPhones they can't manufacture, so their share price has been especially hard hit. The new problem for companies like Apple is that their supply chains are so sprawling and complex that they have multiple points of failure and are at risk of needing to repeatedly shut down even if the pandemic is successfully controlled in particular places."
And with a focus on New Zealand, here.
"Covid-19 will affect the health of New Zealanders and the economy. It presents the government with some unpleasant trade-offs. The more the government does to protect Kiwis' health, the larger the cost to the economy."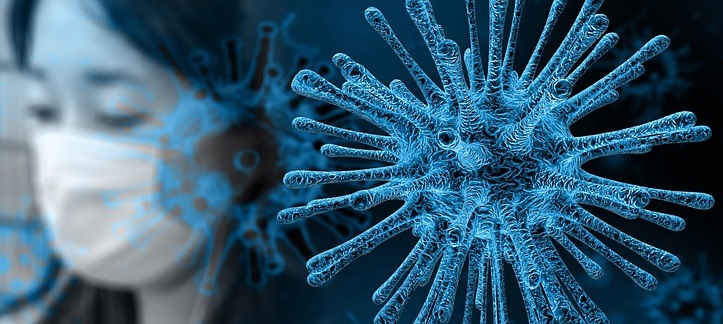 Image sourced from Pixabay.
5) The economic impact of pandemics – some estimates.
Given the absence of clear statistics on the health consequences, it's hard to predict the overall economic consequences of the SARS-CoV-2 virus. There are studies, however, that have simulated the economic impacts of hypothetical large scale pandemics, using scenarios based on past pandemics. Not surprisingly the range of estimates these studies show is very wide, reflecting the uncertainty. One such paper reviewing several studies shows estimates of -0.4 to -9.1 % drops in GDP.
That paper also concludes:
 "Those studies that predict that a pandemic would have large negative impacts usually do so because they assume that large indirect effects would result from fear of the disease and consequent efforts by individuals to avoid infection. Fear is hard to measure, but we can measure how people respond to stressful situations. It is likely that people would be fearful during a 1918-type pandemic, just as they likely were in 1918. Some studies seem to assume that fear by definition implies widespread behavioural changes, with economies breaking down as people become dysfunctional from fear of infection. There is ample evidence that people do not respond to fear in this way. An emerging literature that merges insights from psychology and economics suggests that people engage in strategies to effectively manage fear and avoid becoming paralysed by it. Furthermore, it is not absolute risk that determines behaviour, but rather the perceived relative risk and cost of a particular behaviour relative to an alternative. Perceived relative risks may be much smaller than absolute risks, particularly if a risk is pervasive.
If a pandemic were to occur, human suffering and loss of life would outweigh economic concerns. GDP impacts are not necessarily the best measure of the effects on people of a virus or other natural disaster.
Consistent with the above, so far, international organizations' growth forecasts have been revised fairly modestly. :
"2020 growth for China would be 5.6 percent. This is 0.4 percentage points lower than the January WEO Update. Global growth would be about 0.1 percentage points lower.
Even under a best-case scenario of containment to China and limited outbreaks in other countries as we see today, the OECD expects a sharp slowdown in world growth in early 2020. We have revised our projection for the year from an already low 3% in November to only 2.4%, lower than in any year since the financial crisis. In a downside-risk scenario where epidemics break out in some other countries across the globe, the slowdown will be sharper and more prolonged. Our modelling suggests that the level of world GDP would fall as low as 1.5% this year, halving the OECD's previous 2020 projection from last November of 3%.
Donald Trump is a model of restraint and self awareness. pic.twitter.com/PFSVHWyCvT

— Parody Boris Johnson (@BorisJohnson_MP) March 4, 2020