Tony Burton reminds us that while Covid-19 loads us up on public debt, there is little that is 'kind' about repaying debt. But it is what has to be done for kindness to be more than a gesture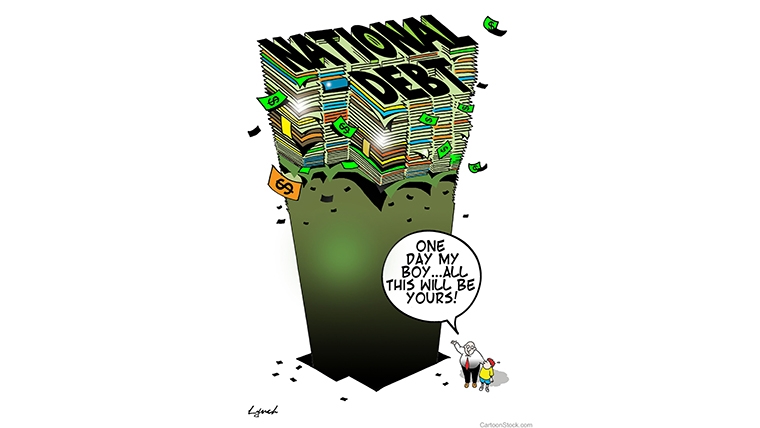 Is it kind to bequeath debt to your children?
The theme of New Zealand's approach to the pandemic Covid-19 is "be kind".
It motivated a prolonged lockdown requiring $22 bln of government spending commitments and a further contingency of $39.3 bln. Since borrowing is a core part of this policy, it is reasonable to ask if kindness will determine how we deal with the debts the policy creates?
Living in interesting times
The government approach to the Covid-19 pandemic prioritised the lives of the elderly over economic activity. To do this they required most people in work to go on leave and offered them an advance on future wages funded through additional government debt. An academic industry is undoubtedly forming to understand if this and other responses were optimal.
Currently all we can say with confidence is that the New Zealand government's approach appears to have worked on its own terms. The cost was that it left the country with substantial extra debts.
Graph 1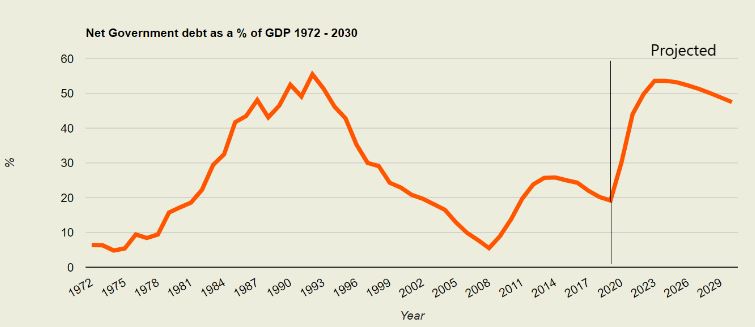 Source: Politik using NZIER and Treasury data.
Debt is just a tool of government policy. The tool can be used badly of which Robert Muldoon's fight to maintain New Zealand's as a colonial economy that drove the increase in the 1970s and 80s being a good example. 
It is hard to think of a better reason for taking on debt than tackling a once in a hundred years global pandemic. 
Does the government debt matter?
Sometimes personal intuitions do not work well when thinking about government finances. (If the government prints money it's called quantitative easing, if you do it's called forgery.)
Government debt is more intuitive. Debt matters to governments because after the initial capital is spent, the debt limits what they can do.
In the short term this means diverting income to finance the debt. Thus, even in what now seems like the good old days of 2019, debt financing cost $4.3 bln, or more than triple the $1.2 bln spent on Oranga Tamariki, the child protection agency. 
As with individual borrowing, if government debts are not repaid they accumulate and lenders tend to charge more.
While these lenders do not threaten to break our fingers, the price they charge can be extortionary. The graph below shows the proportion of national income the New Zealand government spent on debt financing and compares it with spending on education and health. You are not reading it wrong. Between 1984 and 1991, New Zealand spent more on financing government debt, basically bonds the relatively wealthy use to improve their savings and pensions portfolios, than it was spending on either health or education. Debt can be useful, but lenders are rarely kind. 
Graph 2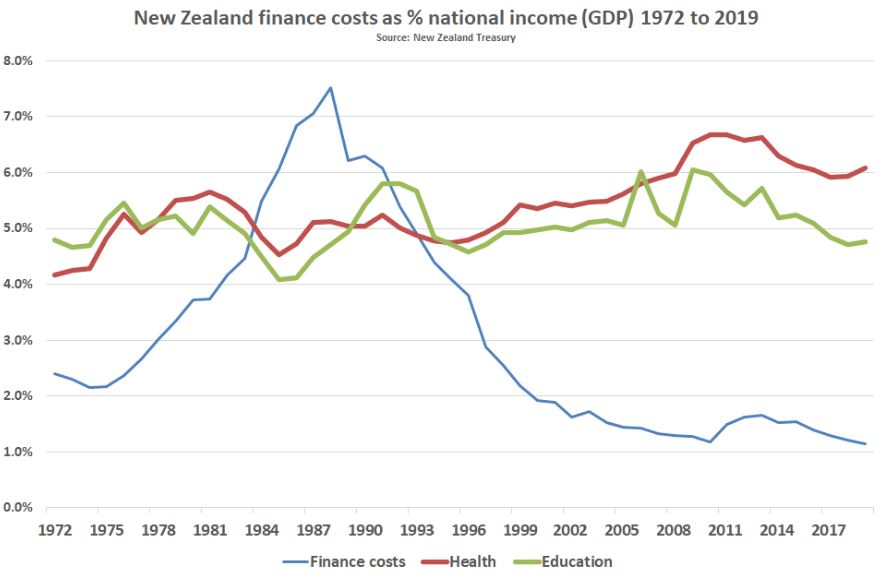 Source: https://treasury.govt.nz/publications/information-release/data-fiscal-t…
What can we learn from the last time we flattened a curve?
One of the few silver linings in the long grey cloud of Muldoon's premiership is we learned how to reduce debt from over 50% of national income to around 5%.
The reduction had two components: running a balanced budget while the nominal value of the economy grew and directly repaying the debt. From 1992 until 1998 the government did both, leading to an average annual reduction of more than 5.1% per year. If we had continued at that rate we would have reached the minimal debt achieved just before the GFC by 2002/3 and had the entire debt paid off by 2004.
Graph 3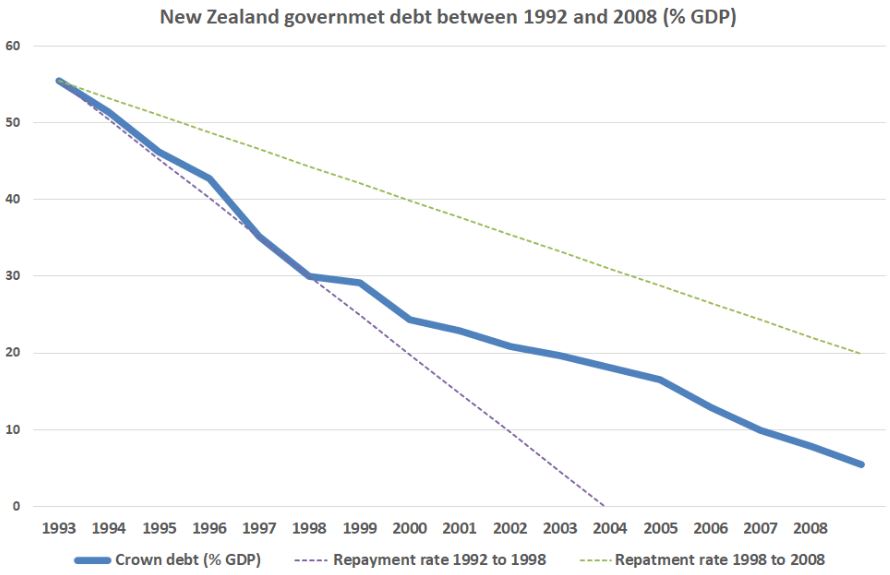 Source:NZIER ( https://data1850.nz/) with calculations by the author
This did not happen because policy softened and balancing the budget became the main instrument. Reductions in debt as a proportion of income between 1999 and 2008 were at 2.2% per year, less than half those in the first phase. Had this been the policy from 1992, the debt level when the GFC struck in 2008 would have been around 20% of GDP, or close to its peak after the GFC. The Covid-19 response would have taken New Zealand government debt to more than 70% of GDP. It is unlikely our current leaders want to hear this, but the ease with which they could be kind in 2020 is largely due to Ruth Richardson's budgeting in the early 90s.
One important difference between now and the 1980s is that finances costs worldwide are considerably lower and falling. This means we are in the counterintuitive position that short run finance costs will fall as the amount of debt triples. The Treasury budget modelling predicts this happy coincidence will unwind over the next fifteen years, with costs increasing from the current 1.3% of GDP to 3.2% by the mid-2030s.
A less benign difference is greater uncertainty about New Zealand's economic growth. The Treasury predicts two years of contraction followed by a, frankly, non-credible real GDP growth of 8.6% in 2021/22. (This is not far short of China's growth during its boom years.) In fairness, the speed at which the once in a century pandemic emerged gave no realistic chance to improve the model in time for the budget. Their model is one for normal times, based on the economy suffering a shock and going "back to normal". The BEFU is very clear about the uncertainty. 
Graph 4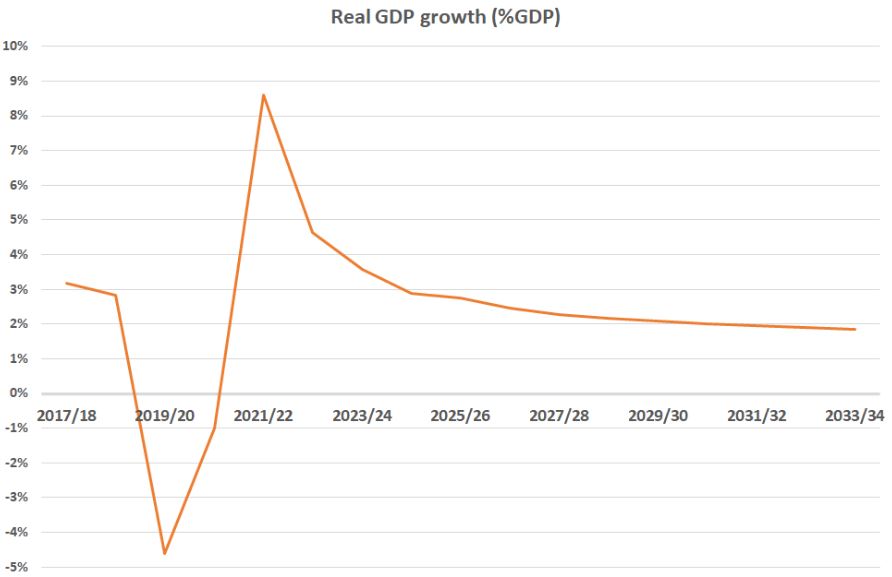 Source: https://treasury.govt.nz/sites/default/files/2020-05/fsm-befu20.xlsx
The most important lesson from previous experience is that debts from the Covid-19 response can be repaid before a new crisis. This time we will have less immediate financial pressure, but we will probably have to rely more on politically difficult direct debt repayment. 
How are we going to prepare for the next crisis?
My daughter is in the latter years of primary school. Assuming she gets a tertiary education and does the traditional kiwi OE, she will be starting her career in around 15 years. How fast we repay the debt from this crisis is a decision on how much we want her and other primary school children to carry the financial risks associated with Covid-19 when the next crises come along. The 2020 Budget had nothing to say on this. 
Like any other debt, the weight of government debt can be reduced by some combination of minimising the debt to be repaid, increasing income and decreasing expenditure. These are considered below. 
Minimising the debt
In the 2020 budget the government set aside a contingency of $39.3bn. That would let them deal with one new national outbreak and several local outbreaks. In itself this seems completely sensible. However it will be a test of will to remain sensible in the face of pressures to spend that money if those contingencies do not arise. Virtue will have one reward: it is unlikely the government will muster the close to 90% support they had for their Covid-19 strategy for any other approach to debt reduction.
One more unpopular strategy has a potentially greater impact. The New Zealand Superannuation Fund (NZSF) is a government owned fund intended to make New Zealand Superannuation (NZS) more affordable when population aging increases the cost of NZS later this century. Those people it is meant to help are also those currently in the workforce at risk from the current economic downturn. Contributions are continuing and by 2023 this fund is projected to be worth around $60bn. It is frankly bizarre the government is still budgeting to contribute to the scheme over the next few years. This feels a little like saving money while not paying off your credit card bills.
More ambitiously, funds already saved could be used to pay for the Covid-19 response. Clearly this is a different use for the fund, but used in this way it is helping the individuals it was designed to help, just earlier than was foreseen when the fund was set up. Spending in the spirit of an initiative's intent rather than following the bureaucracy of its setting up would seem a kind thing to do.
Increasing government income and decreasing expenditure
In an ideal world, the one where lions lie with lambs and all dog owners clean up the mess their pets make on the pavement, even in a crisis we would protect spending on the poor, the sick and children. The crisis response would be funded by removing palpably bad spending, such as abolishing sinecures like the State Services Commission, or ending subsidies to multinational corporations that use so much electricity to smelt aluminium they inflate the power costs of household consumers. Our next priority would be to consider cutting nice-to-have budgets, such as the culture and heritage spend. Only if this was insufficient would we decrease other spending or increase taxes.
It is difficult to imagine the Covid-19 crisis being a better opportunity than the GFC for us to see this ideal world. Kindness will probably go the way of austerity as a means to change the power of vested interest over government spending. With the honourable exception of the 1984-90 Labour government, governments that wish to cover new costs tend to increase taxes, have across the board sub-inflation increases in spending, or cut transfer payments. 
The suggestions below are a compromise. They avoid the core welfare system but are biased to putting the cost on those with greater resources. The point of the suggestions is to provide a sense of the scale of initiative needed if politicians, of whatever political beliefs, are to replicate the stable financial base to deal with future crises created by their predecessors. 
To start, the table below uses an adapted version of the Treasury Fiscal Strategy Model to assess the impact on the current government debt of previous approaches applied consistently. All assume that repayments do not start until 2023/24:
 
Direct debt repayment
(% GDP per year)
Year debt <10% GDP
Year debt is zero
Balanced budgets alone
0
Indefinite
Indefinite
Clark / Cullen approach
1%
2040
2045
Historical average
1.5%
2037
2041
Richardson approach
2.5%
2033
2036
Source: Treasury Fiscal Strategy Model adapted by the author  
Note that these estimates do not include the incentive impacts on economic behaviour so should be treated as underestimates.
To make this more concrete, an initial assessment was made of the impact of the follow policies and compared to the goals of three approaches requiring additional policies:
Capital Gains Tax proposed by the Tax Working Group chaired by Michael Cullen (page 67 of the final report). The group assumed a ten year year implementation period and more prosperous economy than is likely while we recover from Covid-19.

Income Tax rises are targeted at middle and upper incomes ( those currently paying 30% tax over $48 000 and 33% over $70 000, respectively), with an equal percentage increase in both bands. (Treasury tax reckoner, % of GDP in 2019/20)

Goods and Services Tax uniform increase (Treasury reckoner as previous).
Increasing the age of eligibility New Zealand Superannuation from 65 to 67 modelled by Treasury for the 2013 Long Term Fiscal statement, averaging 2% of GDP annual saving when implemented.

Convert student loans into a grant targeted at those from low income households and the remainder used to pay the government debt. (Figures adapted from 2020 BEFU)
 
Increase government income
Decrease government spending
 

Capital Gains Tax

Income tax

Goods and Service Tax

Convert student loans
to targeted grants
Increase eligibility age
for NZS
Clark / Cullen approach

Requires other policy for 8 years. After 8 years would cover the cost.

36% tax on incomes over $48 000 and 39% tax on incomes over $70 000

2% rise in GST

Average of 50% of loaned value converted to grants and 50% for debt repayment

Phase in increased eligibility age to 67 over 10 years would cover the cost.

Historical average

Requires other policy. After 10 years a CGT would cover four fifths of the cost

38% tax on incomes over $48 000 and 41% tax on incomes over $70 000

2.5% rise in GST

Average of 30% of loaned value converted to grants and 70% for debt repayment

Increase in eligibility age to 67 would need to be phased over 5 to 10 years to cover the cost.

Richardson approach

Requires other policy. After 10 years would cover a half of the cost.

44% tax on incomes over $48 000 and 47% tax on incomes over $70 000

4% rise in GST

All the loaned value used for debt repayment

Unphased increase in eligibility age to 70 would cover the cost.
Who will be asked to pay for the Covid-19 response?
There is little that is kind about repaying debt. It is what has to be done for kindness to be more than a gesture.
The approach to repaying the debt will involve many seemingly small and technical decisions so the analysis above provides a benchmark for testing the seriousness of decision makers. The particulars will be different, but the scale of any strategy needs to be similar to the ones outlined above.
If nothing is done it means whoever is in New Zealand when the next crisis strikes will be dealing with the consequences of Covid-19 and the new crisis.
That does not sound particularly kind.
---
Dr Tony Burton was formerly Treasury Deputy Chief Economist and is now is an independent economist and writer. He can be contacted through: www.linkedin.com/in/Tony-Burton