TOP leader Geoff Simmons rips into the Greens' wealth tax policy, arguing it would be disastrous for New Zealand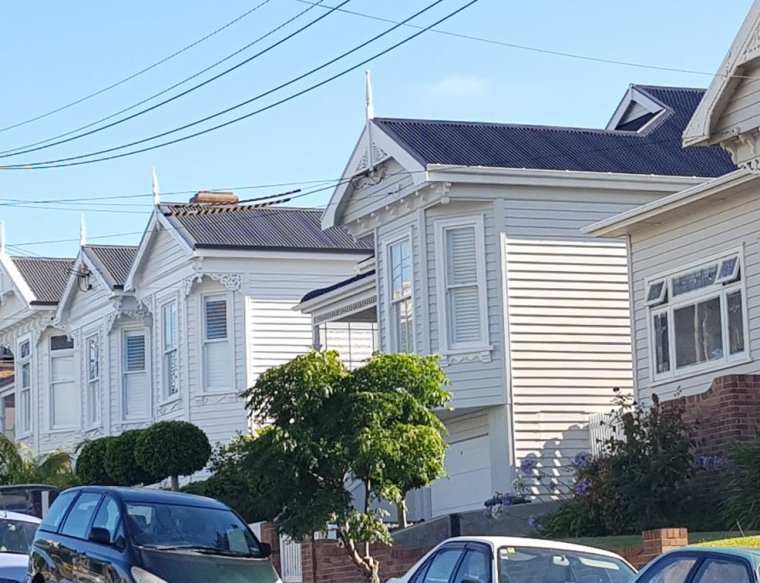 By Geoff Simmons*
The Green Party is proposing to pay for their welfare reform by increasing the top marginal tax rates on income and putting in place a wealth tax.
This package would be disastrous for New Zealand. Their claims about higher income taxes being normal overseas are wrong when it comes to investments.
Meanwhile the wealth tax would remove the incentive to invest in business, including investment in greening the economy. The super rich are likely to take their money overseas, as happened in France. The wealth tax also does nothing to solve the crucial issue around the favourable tax treatment of property.
Higher income taxes
Increases in the top rates of income tax alone are unlikely to raise much money. A few wage and salary earners will pay, because they can't avoid it. Anyone that earns their money in other ways can rearrange their affairs to avoid the tax.
In particular higher income taxes mean that speculation in housing - New Zealand's only tax-free asset - is likely to rise. The use of businesses and trusts as tax shelters will also rise. All this happened under the 39% tax of the last Labour Government, and will happen again.
The Greens argue that top tax rates of 42% are common overseas. And when it comes to income taxes they are right. But in New Zealand income taxes apply to the income from investments also.
This is not the case in places like Europe that the Greens love to compare themselves with. There they have payroll taxes which allow high income taxes but keep the taxes on investment income down. In the case of retirement savings, many countries exempt it entirely.
Here in New Zealand we tax the returns for most investments - bank deposits, shares and KiwiSaver - at the marginal tax rate. This can be as high as 33%, which is very high compared to similar taxes overseas. Even the inflation component of investment returns is taxed, which means that effective tax rates can be very high indeed.
Take the most extreme example - current bank deposit rates. If you have money in the bank currently you are lucky to get 2% interest. Some of that will get taxed, leaving you with roughly a 1.4% return - not enough to cover inflation. The effective tax rate is over 100% - people are currently losing money by keeping it in the bank.
If you increase the top marginal tax rate this problem gets worse. Which brings us to the wealth tax.
Wealth tax
Adding a wealth tax on top of that will mean anyone with more than $1m in the bank will be going backwards every year. More than $2m? No chance. Effectively it would become a cap on wealth.
Even business investment will struggle. The long term average return for investment in businesses is widely considered to be 7%. After tax that is about a 4.5% return. After inflation it is 2.5%. After a wealth tax of 2% it would be close to zero.
Some businesses earn more than that, but others earn less. Why would anyone bother to invest in growing their business past $2m? Might as well go fishing and enjoy your money. Or send your money overseas.
In short, the Greens proposal taxes both the returns a business makes (income tax) and also the means of making that return (wealth tax) every year. It is anti-investment economic sabotage.
Left wingers might rejoice at this idea but the fact is that wealthy people do most of the investing. New Zealand businesses are already capital poor compared to overseas countries thanks to our obsession with housing. We also have a cultural problem with our business people retiring once they have the boat, bach and BMW rather than growing the business. With the Greens wealth tax that problem will only get worse.
Here is the Green Party's ultimate own goal. In coming decades, businesses will need to invest billions to transition to a low carbon economy. With this wealth tax in place, why would they bother?
This lends a hint of truth to the parody view of the Greens. With these sorts of incentives in place, the only way we are likely to transition to a low carbon economy is by returning to being peasant farmers.
Housing
Worst of all the wealth tax does nothing to correct the biggest hole in our tax system; property. Remember New Zealand has the most distortionary tax system towards property in the OECD, which is one reason prices and rents are so high.
Marama Davidson was quoted in a RNZ article, saying: "We hope to see less incentive for using houses as merely tradable commodities, and start to see investments into more productive and sustainable industries and trades."
This is pure economic illiteracy. The Greens wealth tax taxes all wealth indiscriminately, including the wealth already being used productively. It does nothing to address the differential between how property is taxed compared with other investments (shares, businesses, term deposits) that has pushed house prices ever higher.
The incentives to invest in property compared with other investments will remain the same. The current tax rates on investments at the moment is illustrated below. The Greens wealth tax would lift all these bars equally.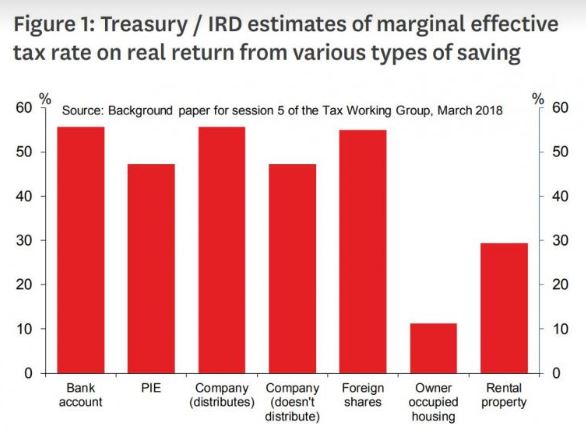 Housing - especially owner occupied housing - will still be the best place to put money from a tax perspective. Perversely the Greens wealth tax could lead to even bigger mansions. There is also likely to be less rental housing, driving up rents. This is how a well meaning idea like a wealth tax ends up shooting itself in the foot.
TOP's proposal is to ensure all investments are taxed equally. This is the only way to realise Davidson's vision of driving investment into businesses that create jobs and exports rather than speculating on property.
---
*Geoff Simmons is leader of The Opportunities Party.