David Hargreaves has not changed his view that the Government got things the wrong way around with its changes to the Residential Tenancies Act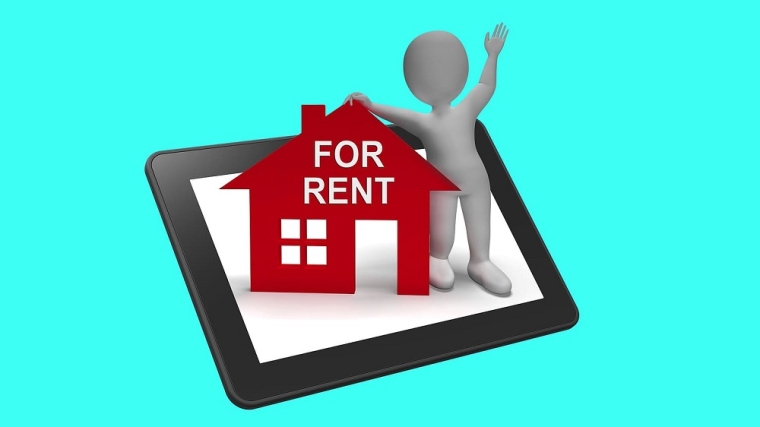 Well, the Government has gone ahead with its proposed changes to residential tenancy rules and the expectation is most of these will come into force in six months time.
So, we will find out what happens.
This is a useful summary of the changes.
I've opined on the subject before and my views have not basically changed. I thought and still think that the Government got its emphasis the wrong way around. I think promoting fixed term rentals in the legislation - rather than open-ended ones as it has done - would have been more advisable.
I thought the timeframe for getting the amended legislation through was in any case tight, and it became ridiculously so after the intervention of Covid-19 and the lockdown.
Rushed legislation often comes with a price and I suspect this legislation may yet do so, but clearly this was one of those philosophical 'statements' Labour wanted to make so it pushed ahead regardless and got the legislation through before this Parliamentary term ended.
I've included in the text of this article, directly below, the key points of the legislation as highlighted on the Ministry of Housing and Urban Development's website.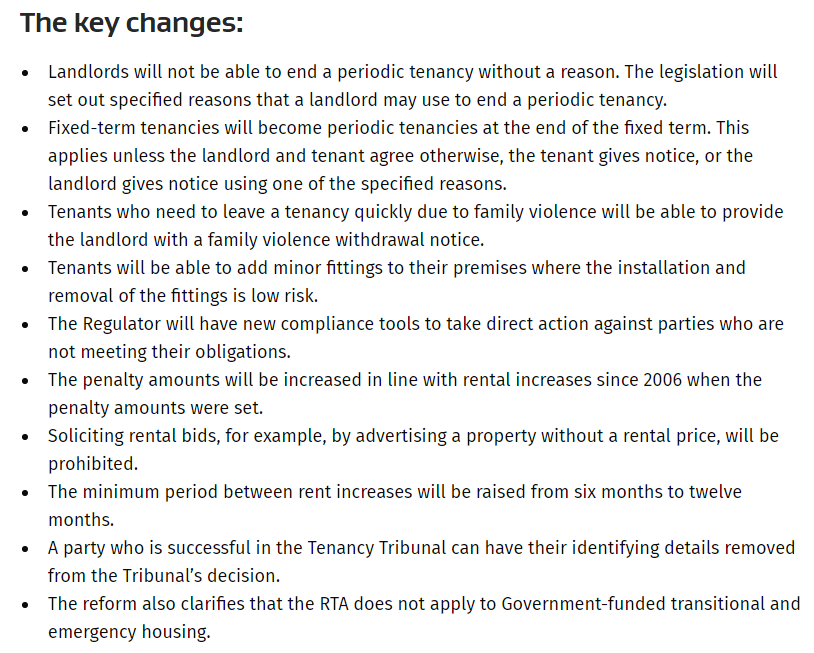 Clearly the 'biggie' in the legislation is the removal of the ability of landlords to end a 'periodic' tenancy without a reason, along with the fact that it will now be an automatic process (unless the tenant decides to quit) for a fixed term rental to become a 'periodic' - in other words open-ended - rental agreement.
Things were certainly not ideal in this country in terms of the rental market.
As someone who has rented accommodation a lot (I do now), I have found the prospect of a landlord turfing me out simply because they have a change of mood about their property, well, annoying. It's not ideal.
Something better was needed.
What the Government has done is tilt the playing field far too much in the direction of the tenants, however.
The Government seems to forget that no private individual HAS to provide rental property. They do it for a return. Make anything too difficult and people may just stop doing it - IE renting out property.
The no-reason termination rule did allow landlords the opportunity to move on difficult tenants without having to get involved in unpleasantness.
The new rules requiring landlords to issue three written warnings within a 90 day period before going to the Tenancy Tribunal to get tenants removed for anti-social behaviour are in no way practical. I would doubt whether ONE landlord will even bother trying it.
Resorting to alternatives
In reality, what will likely happen is that if landlords are confronted with tenants displaying ongoing anti-social behaviour the landlords will resort either to selling the property or to say they are going to extensively refurbish the property, thus requiring it to be vacated.
Whatever the course of action though there will be time and cost elements involved.
The other thing to bear in mind about anti-social tenants that landlords might not be easily able to move on is that depending where they are - say it's an apartment building - their anti-social behaviour could result in tenants, good tenants of other apartments moving out. I can tell you I did just that with an apartment I was renting in Auckland several years ago when I had the tenant from hell move in next door (complete with sometime live in girlfriend who would tell him at volume at 2am what she thought of him).
So, potentially one landlord's difficulty in getting rid of an unruly tenant could flow on to effect other landlords, depending on the circumstances.
Undoubtedly the new rules have the potential to increase the administration involved for a landlord and maybe the costs to them. The knee-jerk reaction of landlords may well be to say "rents will go up". Of course, ultimately the market forces would decide whether rentals CAN be increased. If not it's possible some landlords might consider selling if its all too much hassle. 
It is interesting to note what the Ministry of Housing and Urban Development said about costs in its impact statement for the legislation. Here it is verbatim: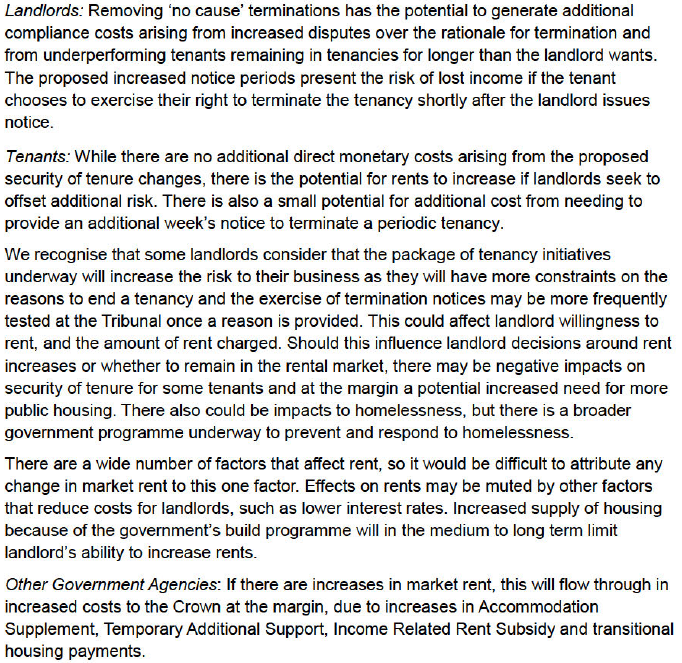 Okay, so summing that all up, department officials have identified the possibility of increased costs to landlords, increased costs to tenants AND increased costs to the Government. 
Well, let's hope they are wrong.
These changes will not make the slightest difference for well-heeled tenants that can bring good references with them. The 'normal' situation now is that an occupancy might start with a fixed-term period and then move to a periodical rental. In essence the fixed term can prove to be a trial and then the landlord will happily let that lapse to a periodic tenancy once they see they've got a good tenant. That will all carry on as before.
Where I believe we might see a difference is in tenants that might be seen as more 'marginal', which is harsh to say it, but possibly people on lower incomes, maybe solo parents and so on.
Landlords might now be less prepared to take a 'risk' with any tenants if they feel they could struggle to get rid of them.
Ironically then this legislation - potentially - could have a negative impact on the very people I imagine it is most aimed at helping.
Driven into social housing
I think it's possible we could see some lower income rentals simply removed from the market and the result potentially could be that more people are driven into social housing. 
To go back to the origins of these proposed changes it was clear that the Government first came at these changes with an idea of getting rid of fixed tenancies and replacing them with open-ended tenancies. Period. That was the philosophical standpoint.
However, in the consultation process they got very substantial pushback towards that.
So, they've retained fixed tenancies but have designed the new rules to push as many tenancies as possible into open-ended territory.
Personally, I still think they've got this the wrong way around.
I would like to see a situation where it is more accepted that after tenants have proven themselves to be good ones they get the opportunity to sign up for long rental terms. There's nothing to stop landlords doing that now anyway, I guess, but I don't think this new legislation will encourage such an approach at all.
Unintended consequences?
I still say that rather than trying to get a situation in which the dices are all loaded in favour of the tenants - as they are with the way open-ended rentals will now operate - the better move would have been to encourage agree long term rentals in which BOTH sides are committed.
Anyway, the legislation is now in place and we will see if it works as intended. 
I fear not. And as I say, I fear it will be those that Labour probably most intended to protect that may be the most vulnerable - and that could have ramifications for the state.
I hope the legislation will be monitored closely for any unintended consequences so that changes can be made if need be.
With such hastily introduced legislation the need for scrap and rework always becomes more likely.
They should have waited and considered.