Gareth Vaughan on time up for America, governments touted as tourism's saviour, probe into oil price crash, weak bank earnings & environmental lessons COVID-19 could teach humanity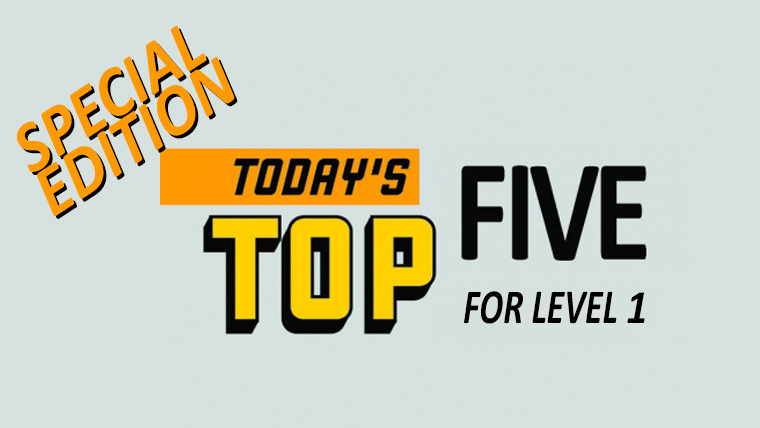 This Top 5 COVID-19 Alert Level 1 special comes from interest.co.nz's Gareth Vaughan.
As always, we welcome your additions in the comments below or via email to david.chaston@interest.co.nz. And if you're interested in contributing the occasional Top 5 yourself, contact gareth.vaughan@interest.co.nz.
With Auckland heading into COVID-19 Alert Level 3 on Wednesday and the rest of New Zealand into Level 2, COVID-19 has just got very real for New Zealanders again. Here's hoping the source of the community outbreak can be traced very quickly.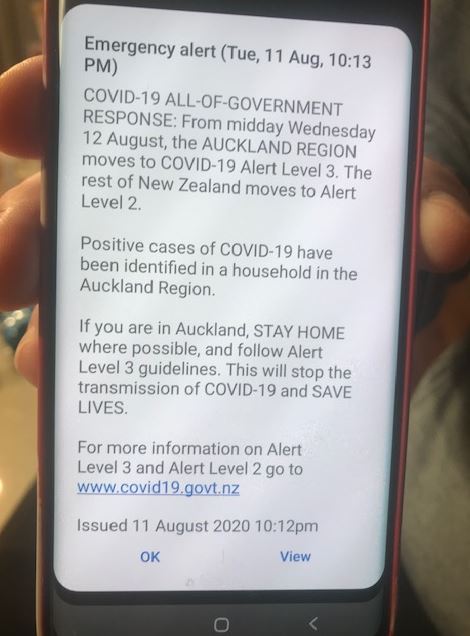 1) "For better or for worse, America has had its time."
There have been several hard hitting articles written this year hailing the demise of the US of A. Add this one to the list. In RollingStone Canadian anthropologist Wade Davis argues COVID-19 is tolling the bell for the end of the American era.
COVID-19 didn't lay America low; it simply revealed what had long been forsaken. As the crisis unfolded, with another American dying every minute of every day, a country that once turned out fighter planes by the hour could not manage to produce the paper masks or cotton swabs essential for tracking the disease. The nation that defeated smallpox and polio, and led the world for generations in medical innovation and discovery, was reduced to a laughing stock as a buffoon of a president advocated the use of household disinfectants as a treatment for a disease that intellectually he could not begin to understand.

As a number of countries moved expeditiously to contain the virus, the United States stumbled along in denial, as if willfully blind. With less than four percent of the global population, the U.S. soon accounted for more than a fifth of COVID deaths. The percentage of American victims of the disease who died was six times the global average. Achieving the world's highest rate of morbidity and mortality provoked not shame, but only further lies, scapegoating, and boasts of miracle cures as dubious as the claims of a carnival barker, a grifter on the make.

As the United States responded to the crisis like a corrupt tin pot dictatorship, the actual tin pot dictators of the world took the opportunity to seize the high ground, relishing a rare sense of moral superiority, especially in the wake of the killing of George Floyd in Minneapolis. The autocratic leader of Chechnya, Ramzan Kadyrov, chastised America for "maliciously violating ordinary citizens' rights." North Korean newspapers objected to "police brutality" in America. Quoted in the Iranian press, Ayatollah Khamenei gloated, "America has begun the process of its own destruction."

Trump's performance and America's crisis deflected attention from China's own mishandling of the initial outbreak in Wuhan, not to mention its move to crush democracy in Hong Kong. When an American official raised the issue of human rights on Twitter, China's Foreign Ministry spokesperson, invoking the killing of George Floyd, responded with one short phrase, "I can't breathe."
Despite savagely highlighting America's woes, Davis isn't cheering the country's demise on.
The end of the American era and the passing of the torch to Asia is no occasion for celebration, no time to gloat. In a moment of international peril, when humanity might well have entered a dark age beyond all conceivable horrors, the industrial might of the United States, together with the blood of ordinary Russian soldiers, literally saved the world. American ideals, as celebrated by Madison and Monroe, Lincoln, Roosevelt, and Kennedy, at one time inspired and gave hope to millions.

If and when the Chinese are ascendant, with their concentration camps for the Uighurs, the ruthless reach of their military, their 200 million surveillance cameras watching every move and gesture of their people, we will surely long for the best years of the American century. For the moment, we have only the kleptocracy of Donald Trump. Between praising the Chinese for their treatment of the Uighurs, describing their internment and torture as "exactly the right thing to do," and his dispensing of medical advice concerning the therapeutic use of chemical disinfectants, Trump blithely remarked, "One day, it's like a miracle, it will disappear." He had in mind, of course, the coronavirus, but, as others have said, he might just as well have been referring to the American dream.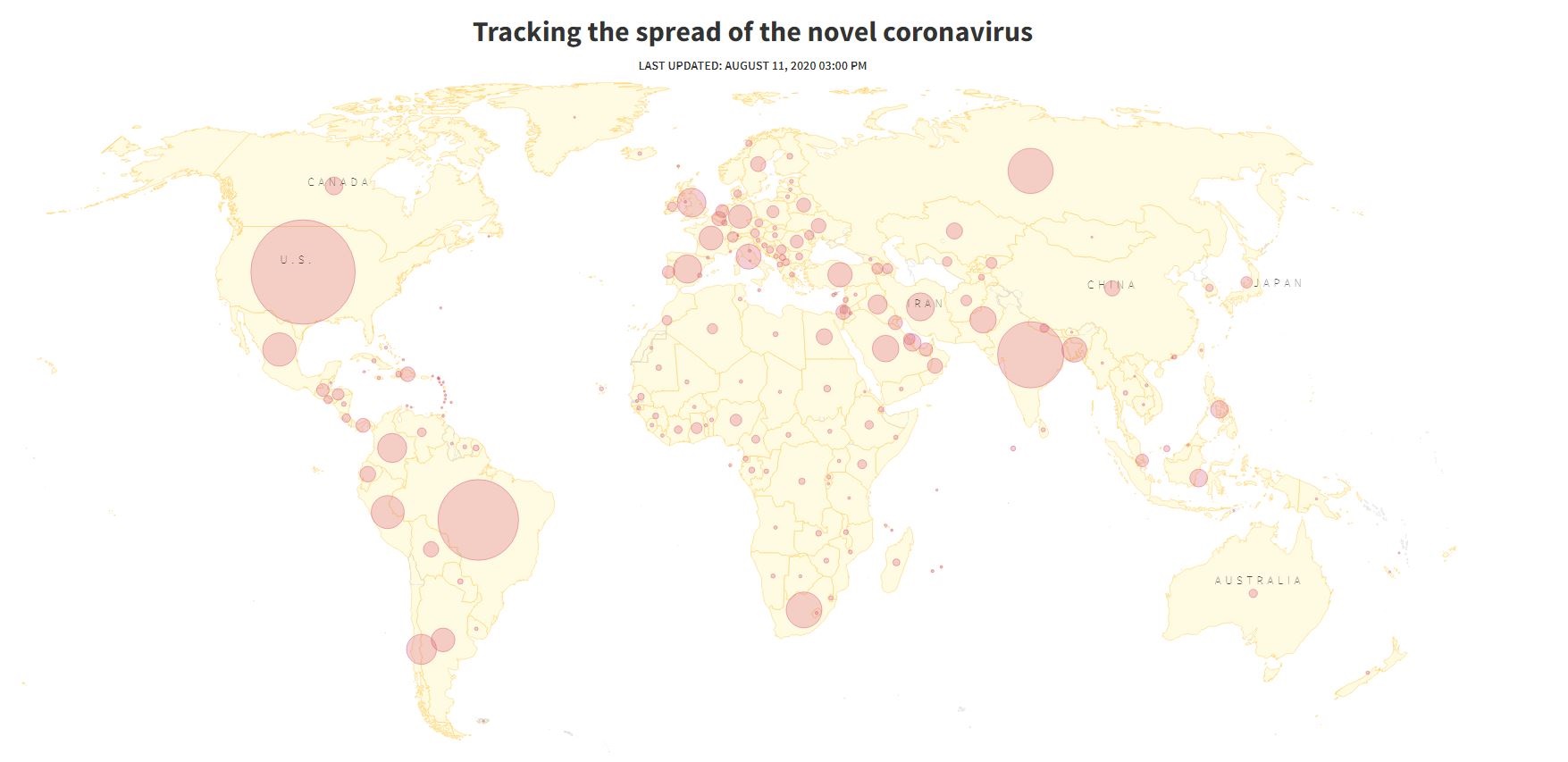 Map: Reuters.
2) Government touted as tourism's saviour.
As we in New Zealand know well, COVID-19 has smashed international tourism. Here McKinsey & Company's Margaux Constantin, Steve Saxon, and Jackey Yu offer some suggestions on what it may take to resurrect the sector.
They say tourism comprised 10% of global GDP in 2019, worth almost US$9 trillion, making it nearly three times bigger than agriculture. The McKinsey trio point out small and medium-size enterprises (SMEs) are a large portion of the sector, with governments often taking a limited role with partial oversight and light-touch management. This, they suggest, will need to change.
Reopening tourism-related businesses and managing their recovery in a way that is safe, attractive for tourists, and economically viable will require coordination at a level not seen before. The public sector may be best placed to oversee this process in the context of the fragmented SME ecosystem, large state-owned enterprises controlling entry points, and the increasing impact of health-related agencies. As borders start reopening and interest in leisure rebounds in some regions, governments could take the opportunity to rethink their role within tourism, thereby potentially both assisting in the sector's recovery and strengthening it in the long term.

In this article, we suggest four ways in which governments can reimagine their role in the tourism sector in the context of COVID-19.
3) Probe of London traders who made out like bandits on the day the oil price went negative.
Remember in April when the price of a barrel of oil for May delivery slumped US$40 in just one hour, settling at –US$37? It was an unprecedented drop into negative territory. Bloomberg reports that a small group of traders at Vega Capital London Ltd made as much as US$500 million that day, after around 12 traders aggressively sold oil in unison before the May West Texas Intermediate contract settled at 2:30pm New York time.
More than three months later regulators at the US Commodity Futures Trading Commission, Britain's Financial Conduct Authority, and CME Group which owns the Nymex exchange where the trading took place, are probing whether Vega's trading broke the rules and contributed to the big price fall, Bloomberg says.
To understand how Vega wound up making so much money that day, it's helpful to consider some of the idiosyncrasies of the oil market. Among the most popular ways to trade oil is Nymex's WTI futures contract, which allows buyers and sellers to agree on a price for 1,000 barrels of light sweet crude for delivery at a future date. New contracts are released every month, and they settle at 2:30 p.m. on or near the 20th of the month.

Nymex also offers a corollary instrument called Trading at Settlement, or TAS, in which buyers and sellers agree to transact at whatever the settlement price turns out to be. The settlement price is based on a volume-weighted average of trades occurring in the two minutes before 2:30 p.m. While it might seem curious that anyone would agree to buy something without knowing the price, the TAS market is popular among exchange-traded funds and other funds whose mandate is to track the price of oil rather than to get the best deal. It was also central to Vega's strategy.

One of the quirks of the oil futures market is that to take a long-term position, investors must keep buying new monthly contracts, then sell them before they expire and buy future months' contracts, a process known as rolling. A significant proportion of the market's participants are speculators with no interest in taking possession of any oil, so before each contract expires they have to close out any residual positions, creating a flurry of buying and selling.
ANZ data shows spending in VIC fell 12% y/y for the week to 8 Aug - the lowest VIC result since 5 May. #Melbourne fared worse (-17% y/y) than regional VIC (+2% y/y). NSW grew 3% y/y & Australia ex NSW & VIC grew 17% y/y. #melbournelockdown #ausbiz #Victoria @anz_research pic.twitter.com/P39OThppgI

— Adelaide Timbrell (@AdelaideTimbrel) August 11, 2020
4) Where are earnings coming from?
In this non-paywalled article the Financial Times takes a look at loan loss provisioning at some of the world's biggest banks against the backdrop of the COVID-19 crisis. You know the times are getting tough when there's talk of low or no bonuses for bankers...
For the smallest and weakest still struggling to recover from the cataclysm 12 years ago, coronavirus could prove fatal. For the biggest, it portends a period of hand-to-mouth survival — weak profits, no dividends and much lower, or no, bonuses — at a time when most investors had already turned bearish.

As ever, Europe's banks have suffered far more than their US rivals, which have fatter profits to see them through leaner years. Navigating the disruption has been complicated by up to 90 per cent of staff working from home for months on end.

"For the large national banks, facing zero interest rates into the foreseeable future and the significant credit exposure, how can one be confident?" asks Bob Diamond, who ran Barclays during the last crisis. "Please explain to me where earnings are coming from?"

Vast credit losses are the primary concern. Six months into Covid-19, the numbers are already staggering. The 15-largest US banks have set aside $76bn to cover projected bad debts and their 32-biggest European cousins €56bn, Citigroup data shows.

The combined total of $139bn in loan-loss provisions is the highest since the $186bn reached in the second half of 2009, the nadir of the financial crisis that brought down Bear Stearns and Lehman Brothers. Using a wider sample of banks, consultants at Accenture warn that the estimated losses from bad debts could rise to $880bn by the end of 2022.
5) Five environmental lessons COVID-19 could teach humanity.
Writing in Forbes Jeff McMahon argues COVID-19 has reinforced that by protecting the environment we can also protect ourselves. He highlights ways the virus emerged from, and worsened because of, human interaction with the air we breathe, the food we eat, and the natural spaces around us. McMahon's five lessons include: Clean the air, preserve wild spaces, broaden our notion of health, just eat plants, and listen to science.
In terms of going vegetarian, he says some doctors see little distinction between Wuhan's live-animal market and live-animal slaughterhouses and meat processing facilities. I'm not sure how many of us would be prepared to give up eating meat entirely though.
There are 15 diseases in cattle with the potential to leap to humans, according to Virginia State University's cooperative extension, including anthrax, salmonellosis and tuberculosis. Chickens also carry salmonella, as well as bird flu, campylobacter, and E. coli. In July, the Centers for Disease Control raised the alarm about an evolving H1n1 influenza—a swine flu—with characteristics suggesting it could leap to humans.

Those diseases may spring less of a surprise than COVID-19 did, but the novel coronavirus too has demonstrated a close relationship with meat handling, even in the West.

"Multiple outbreaks of COVID-19 among meat and poultry processing facility workers have occurred in the United States recently," the CDC reported this month.

Writing in the brand-new Journal of Disease Reversal and Prevention, a group of Chicago doctors cited these facts—as well as the relationship between meat consumption and heart disease—as they called for a reassessment of the human diet:

"Given that the two largest pandemics in the past 100 years revolve around our food choices—specifically, the consumption of animals—we would propose a global moratorium on this," write Dr. Mashaal Ikram and Dr. Waddah Malas of Mercy Hospital and Rush University Chief of Cardiology Kim Allan Williams, Sr., "and re-evaluation of our food sources and nutritional choices."
Which @jonathanvswan are you today? pic.twitter.com/A347YxH380

— Philip "Gear Guy" Germain (@Philip_Germain) August 4, 2020