Chris Trotter says Donald Trump's hospitalisation reminds us that what happens in Washington matters in Wellington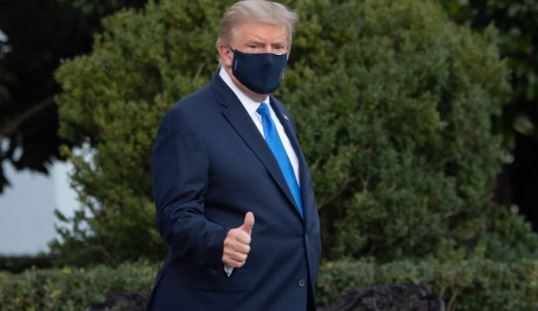 By Chris Trotter*

The chances are that President Donald Trump will emerge from Walter Reed Medical Centre in an upright stance. America's best medical specialists and its most up-to-date treatments and drugs are at the disposal of the President, so he would be very unlucky not to survive his encounter with the Covid-19 virus.
Less clear, however, is how the virus may impact the President's powers of concentration and his physical stamina. For obese males over the age of 70, not succumbing to the virus does not mean remaining unaffected by the virus. Nor should it be forgotten that of every 1,000 people infected with Covid-19 in their mid-70s or older, 116 will die.
 This is the challenge for those charged with preserving the USA's national security. How to work effectively with a president who may, in ways not readily apparent to outside observers, be mentally off his game and physically exhausted. The dangers inherent in this situation are likely to be compounded by the President's character. Throughout his adult life, Donald Trump has been loath to admit to any kind of weakness or vulnerability. His instinct will be to hurl himself back into the political fray. To tell his adoring followers: "See! I told you the Coronavirus was no worse than a bad case of the flu!"
 Depending on how much damage the virus is currently inflicting on the President's heart and lungs, such a full-throated re-engagement in the race for the White House could prove fatal. Nevertheless, Trump will likely resist all attempts to re-set the pace and intensity of his campaigning. Just getting the President to accept the necessity for fourteen days of quarantine will be hard enough. Keeping Trump isolated for two of the remaining four weeks of the presidential campaign will require near-superhuman powers of persuasion.
 Trump's political opponents find themselves in the rather odd position of being able to inflict maximum damage on the President and his Republican Party by doing nothing more than behaving decently. Joe Biden has already sent Trump his thoughts and prayers (albeit without revealing what he was thinking of or praying for!) and ordered his campaign team to take the Democratic Party's attack ads off the air. They have absolutely nothing to gain by saying publicly what so many Americans are already thinking privately. That their President contracting Covid-19, and all the heart-stopping and market-spooking implications which flow from that single piece of information, expose as nothing else could the wilful ignorance and utter recklessness of the Trump Administration.
 It is difficult to overstate the psychological need of the President's followers to believe that their champion will swiftly and completely shake-off the effects of his brush with Covid-19. The idea of a stricken Trump: of an incapacitated and ineffectual Trump; will find no place to rest in the minds of those who have invested their hero with invincible, quasi-divine, powers. If the President's condition worsens, or if he dies, whilst in the Walter Reed Medical Centre, then a "Doctors' Plot" conspiracy-theory can be expected to begin circulating on social media almost immediately.
 In the febrile – but inventive – imaginations of Trump's followers, nothing could be more sinister than the President being whisked away to a facility staffed by the very same sort of "medical experts" who have been "misleading" the American people about Covid-19 all year. "How do we even know he had the virus?", they will demand. "How do we know the Deep State didn't poison him?" In the conspiratorial fever-dreams of the Right, what has been unfolding in Washington over the last 72 hours will begin to take on the appearance of the perfect assassination plot. Poison the President. Blame it on Covid-19. Steal the Election. QED – or should that be QAnon?
 In some instinct-driven part of his political brain, Trump may already have recognised the potential for presidential misadventure. His stiff walk to "Marine One" on Saturday (NZ Time) during which the effort being expended to appear healthy and in charge was etched across such features of his masked face as remained visible, conveyed an important message to his followers. He was telling them: "When I went in I was fine. You all saw me walk to the helicopter." Likewise, with the video released by the President from Walter Reed. Yes, the effort going into the performance was, once again, clearly evident. But, equally, the President was lucid and the upbeat assessment of his medical condition quintessentially Trumpian.
 With these images firmly planted in his followers' minds, any sudden announcement of the President's death will be dismissed as the very worst kind of "fake news". If JFK's followers could never bring themselves to accept the official explanation of their hero's demise, then why would Donald Trump's?
 Such widespread public dismay and suspicion would, of course, be compounded by the constitutional, administrative and legal complications arising from the President/Candidate's death. President Pence would, presumably convene a special convention of the Republican Party to nominate, at the very least, a new Vice-Presidential candidate. While questionable, the legality of votes cast for the dead President's nominated successor/s in the Electoral College on 14 December would probably not be challenged. All bets will be off, however, if the Republican Party's clearly signalled intention to aggressively scrutinise both the voting and the counting of general election ballots materialises. Events in the United States could then take an even more decisive turn for the worse.
 There are those in New Zealand who grow weary of their fellow citizens' abiding interest in American politics. "Of what possible relevance is all this palaver to us?", they demand to know. Perhaps there were people of similar mind living in the British city of Bath early in the Fifth Century AD. "Why all the attention paid to happenings in Rome?", they may well have asked. "It's so far away. Of what possible interest could the politics of the imperial court be to us?" Their answer came, of course, when that same imperial court ordered the Empire's British-based legions home. Though we pride ourselves on being a free and independent nation, the brute geopolitical truth remains that we are a part of the American Empire. What happens in Washington matters in Wellington.
 Who leads a nation is also something that matters – a lot. If you doubt the significance of President Trump's Covid-19 infection for America and the world, then just ask yourself how New Zealand's own general election would be affected by the announcement, just two weeks out from polling-day, that the Prime Minister, Jacinda Ardern, had tested positive for Covid-19 and was being flown by helicopter to Auckland Hospital.
---
*Chris Trotter has been writing and commenting professionally about New Zealand politics for more than 30 years. He writes a weekly column for interest.co.nz. His work may also be found at http://bowalleyroad.blogspot.com.