In this horrible year of 2020, we have learned some important lessons about the importance of leadership and the power of science, Chris Trotter says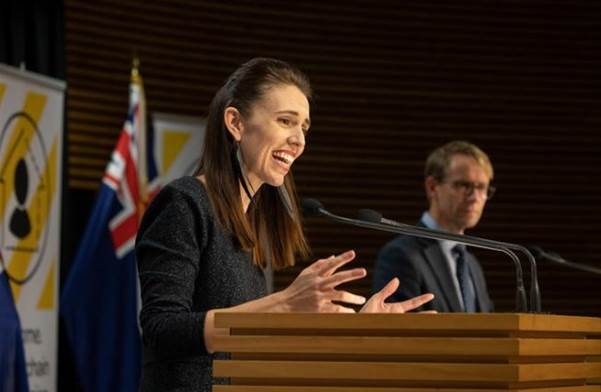 By Chris Trotter*
The boys would have heard them coming. The roar of dozens of powerful motorcycles telling them everything they needed to know. Bandits in the pay of Boko Haram. A raid.
Of the more than 800 pupils at the Government Science Secondary School, in Kankara, North-West Nigeria, 500 managed to flee. The rest, more than 300 teenage boys, were taken prisoner and marched at gunpoint into the forest, where military helicopters could not track them. They would be ransomed by the Nigerian Government and released, mostly unharmed, a few days later – for an undisclosed sum.
After an earlier raid, in which 100-plus teenage girls were taken, ransomed, and returned to their distraught parents, Boko Haram – Islamist terrorists with a deep hatred for everything associated with Western science and education – had a chilling message for the local population: "Don't you ever send your daughters to school again."
Over the past twelve months, in the Northern states of Nigeria, more than a thousand people, many of them children, have been killed by Boko Haram and their proxies. More than 100,000 have been displaced: refugees in their own country.
Worse afflictions than Covid-19 have beset the peoples of the world in 2020.
Boko Haram's terrorists do, however, have more than a little in common with at least some of the citizens of the world's wealthiest nations – especially when it comes to science. In the United States, especially, there are many equally fanatical religious believers who, like Boko Haram, see science as a deadly threat to their faith. More than that, they see it as a threat to their whole conception of the world, and to their roles within it.
Multiple reports from the United States describe evangelical Christians, only hours away from succumbing to the Covid-19 virus, still breathlessly insisting to their professional carers that the whole pandemic is a hoax: part of a grand political conspiracy to rob them of their faith and their freedom.
New Zealand had these people, too. Billy Te Kahika and his Public Party courted them on social media and brought them to their feet at indoor and outdoor rallies across New Zealand. Alongside the former National MP, Jami-Lee Ross, and his Advance NZ Party, Te Kahika sought parliamentary representation in the October general election. When all the votes had been counted, however, it was clear that, in this country at least, the political market for anti-science is extremely small. Fewer than 30,000 New Zealanders cast their votes for Billy TK and his outlandish conspiracy theories.
The scale of Labour Party leader Jacinda Ardern's electoral victory attests to the considerable faith New Zealanders are still willing to invest in the twin pillars of modern society: science and democracy. From the moment it became clear that the world was facing a pandemic of huge potential destructiveness, the country's political leadership made the crucial decision to be guided by their scientific advisers – rather than business lobbyists.
That this was a decision made in their interests, to keep them safe, very soon became clear to the New Zealand electorate. The voters had only to look at the Covid-19-related death and havoc unleashed in the countries whose politicians refused to be guided by the scientists, to grasp how fortunate they were in their Prime Minister and her Director-General of Health, Ashley Bloomfield.
Most of those delinquent countries were located in the West. That New Zealand followed a different path is, therefore, unusual. As one of the key scientific voices in New Zealanders' ears throughout the pandemic, Professor Michael Baker, observed to Jim Mora on his last Sunday Morning show for the year: New Zealand, throughout its history, has taken its cue from Europe and North America; but in relation to Covid-19, we allowed ourselves to be guided by Asian nations. Is it possible that New Zealanders, looking back on their country's handling of the pandemic, will see it as the moment we finally and irrevocably relocated our imaginations from the North to the South?
What became indisputably clear to New Zealanders, as the pandemic raged across the planet, was that their political leaders and their scientific advisers had reclaimed the state for the people. From the mid-1980s onwards, as the veteran political journalist Colin James has observed on many occasions, New Zealanders ceased to look upon the state as their friend – as their parents had done since the days of "King Dick" Seddon and Mickey Savage – and began, instead, to see it as an inhumanly programmed apparatus for the advancement of "market forces" and the businesses who benefited from them.
In the daily performances of the "Jacinda and Ashley Show", however, it was made very clear that the business voices decrying the Government's decision to lock down the economy, and demanding a less rigorous and costly approach to managing the pandemic, were not being heeded. Business journalist Bernard Hickey's angry imprecations notwithstanding, the Government's Covid response was very far from being a gift to our biggest capitalists. On the contrary, the full resources of the state were being rolled out on behalf of its citizens: a frankly socialist gift to the New Zealand people, for which, on 17 October, they showed themselves to be extremely grateful.
That socialist response would not have been possible without the ideology-defeating power of science. For nearly 40 years now, the makers of the "free market revolution" have done everything within their power to convince people that their economic nostrums are, in fact, scientific truths. Faced with the Covid-19 pandemic, however, the perceived interests of business, and the facts of epidemiological science, began to diverge.
In other Western nations, the UK and the USA in particular, the political leadership responded to this divergence by side-lining the scientists in favour of re-starting the economy. In New Zealand, however, that did not happen. Prime Minister Ardern and her key Cabinet colleagues, in accordance with the best scientific advice, opted to "go hard and go early".
New Zealand's lockdown, one of the most Draconian on the planet, was predicted to produce dire economic consequences. Treasury warned the Finance Minister, Grant Robertson, to expect an unemployment rate of around 14% – Depression Era stuff.  But, as Ardern consistently argued: getting on top of the pandemic is the only sure way of getting the economy back on its feet. She was right. New Zealand's GDP fell sharply, but then it roared back, as New Zealand's "Team of Five Million", in marked contrast to the citizens of other Western nations, succeeded in eliminating community transmission of the virus – thereby freeing themselves to resume living something pretty close to a normal life.
What the people of Northern Nigeria would give for a normal life. For a country in which science, far from being denounced as the work of Satan, was the guarantor of the people's health and well-being. Where girls could not only be educated in perfect safety, but go on to lead their people to a better future.
In this annus horribilis – 2020 – we have discovered two things about the power of science. The first is that science, rationally applied, can preserve and enhance our lives, and keep us safe. The second is that who controls the power of science is a matter of the utmost importance.
Because, behind Covid-19 there still lurks the much vaster threat of runaway climate change. In combatting this truly existential danger, will our leaders be guided by the science – as they were in this country over Covid-19? Or, will the bandits of business kidnap science and extract from us all a ransom the planet cannot afford to pay?
---
*Chris Trotter has been writing and commenting professionally about New Zealand politics for more than 30 years. He writes a weekly column for interest.co.nz. His work may also be found at http://bowalleyroad.blogspot.com.