Kiwibank chief economist Jarrod Kerr lays out the five things we need to ace to get our economy match-fit for the post-pandemic era. None will be easy but all are achievable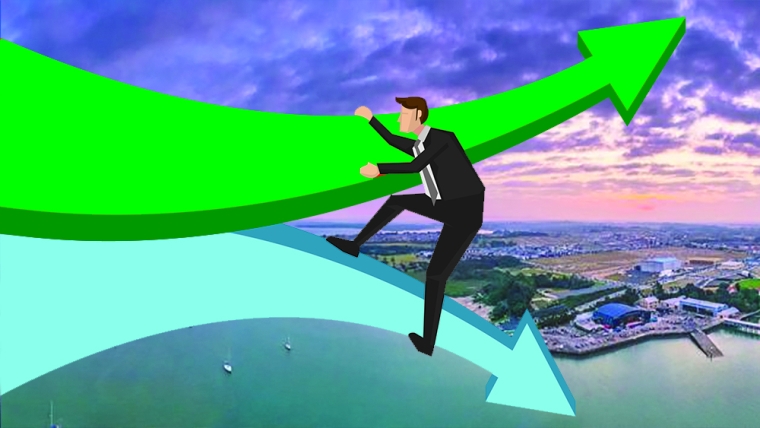 This week's guest Top 5 comes from Jarrod Kerr, chief economist at Kiwibank. 
As always, we welcome your additions in the comments below or via email to david.chaston@interest.co.nz.
And if you're interested in contributing the occasional Top 5 yourself, contact gareth.vaughan@interest.co.nz.
---
One: we need fully funded, forward thinking councils
The Government's new Housing Acceleration Fund is a great step in the right direction.
Unfortunately, the initial $3.8 bln is merely a drop in a leaky bucket. It isn't enough.
Accelerating infrastructure to develop land for housing is desperately needed. But the fund falls (well) short of dealing with the existing infrastructure problem.
Decades of neglect and underinvestment has left us with infuriating traffic congestion, burst watermains during a drought, and potholes that look like images taken from the Mars helicopter Ingenuity.
We pride ourselves on our Kiwi ingenuity. Just not at the council level.
As we "accelerate" further expansion, we must also maintain what we have. Because we have had record breaking population growth, up until last year…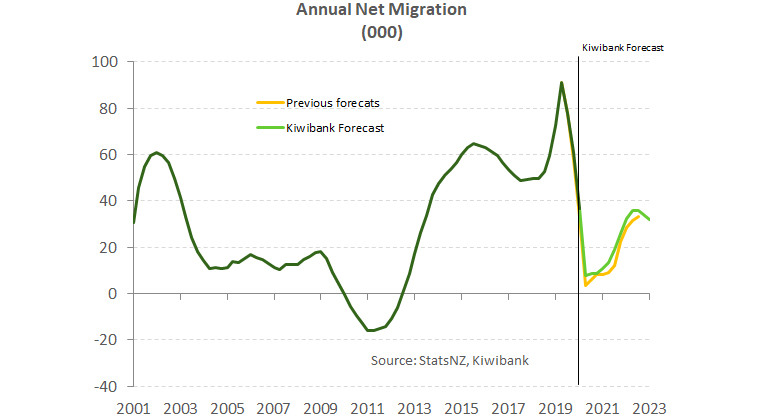 In the 7 years before Covid, we witnessed the greatest migration boom in a generation. And we've found ourselves bursting at the seams. We had also seen a surge in migrants over 2000-to-2004. Investment in key infrastructure and social services did not keep up, and declined on a per capita basis. We have a bulging infrastructure deficit as a result.
Councils need access to more funding. And the Acceleration Fund is part of the solution, if only it can be scaled up to meet the challenge.
We'd love to see the Fund prove itself over the next year. And for the Government (and future governments) to gain the confidence to boost its funding. Ultimately, we need the fund to also attempt to deal with the chronic state of our existing infrastructure.
Two: we must tackle the housing supply problem, without more demand suppression
Underinvestment in infrastructure and public services has created the biggest, most embarrassing challenge of our time: unaffordable housing.
We have a chronic housing shortage of at least 67,000 affordable homes - a shortage the size of the Hawkes Bay.
Better planning, consenting, and coordination would boost supply. We must break the high cost, low quality, "bespoke" housing ideals in favour of higher density, sustainable dwellings. There is only one way to tackle a housing shortage, and that's to boost supply. Hobsonville Point is a great example. I'd like to see Hobsonville Point times 10. It works.
We can supply high quality, affordable homes in a nice area.
A more evenly balanced housing market is critical in the path to a more equitable society. The good news is we've seen a significant lift in dwelling consents. And the Government is committed to cutting red tape, although more can be done to encourage sustainable development. A much-needed lift in supply over coming years could see the estimated 67,000 shortage evaporate by 2025.
For now, we've got a window of "opportunity". We estimate that for the first time in eight years NZ has managed to produce an annual surplus of around 13,000 homes. But before getting carried away, the surplus in the 12 months-to-March just eats into our massive housing shortage. Last year we estimated the shortage at 80,000 homes, we now estimate the shortage to be 67,000 homes.
There is a sad irony to the 2020 housing surplus. It took one crisis (Covid-19) to help alleviate another (a chronic shortage of houses). The closure of the border over 2020 occurred as residential construction was fast gathering pace. Nevertheless, we look at the silver lining here. Covid-19 has provided a rare opportunity to make a meaningful dent in our housing shortage. It's an opportunity that still presents itself. We expect NZ's border to remain closed – bar a limited number of quarantine free travel bubbles – well into 2022.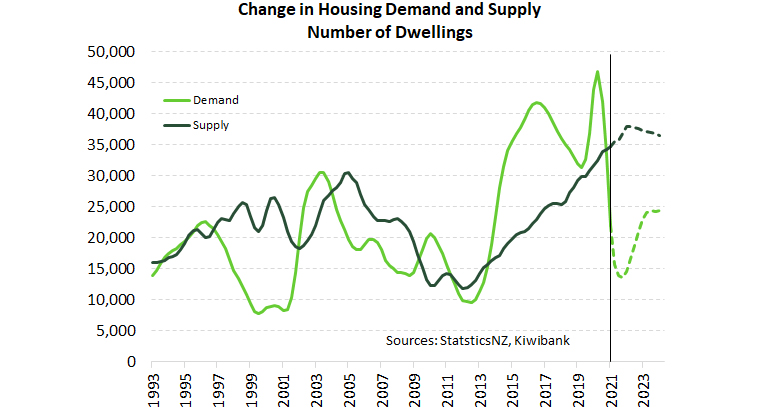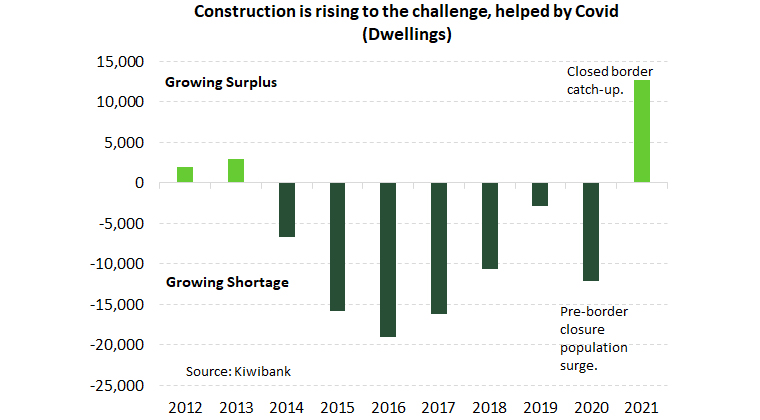 Based on our projections, NZ's accumulated housing shortage will fall further this year and next. More importantly, we estimate that housing supply and demand could finally balance some time in 2024-25. Should this happen, and how it happens (more higher density sustainable dwellings), could be a monumental step towards improving living standards.
On the demand side, the temporary drop in net migration has alleviated some pressure.
And investors are being targeted by both Government and RBNZ officials. Tight LVR restrictions have been reinstated. In addition, tax deductibility of interest expenses is to be removed from the 27th March. These demand side measures will have a meaningful impact on investors. The hurdles for investors include a 40% deposit coupled with the possibility of a firm DTI restriction, laced with evaporating interest deductibility and a 10-year bright-line test, although we are encouraged by the exclusion of new properties. Nudging investor demand into new builds will help boost supply.
House prices have accelerated at a blistering pace, up 24% in the last year alone! And we're likely to hit 30% by mid-year, before cooling off.
Investor portfolios have benefitted. It's easier to come up with a 40% deposit for your next investment property, when your existing properties have surged. Requiring more equity may not be as much of a limitation as previously seen over 2013-2016, when the LVRs were first introduced.  That said, the removal of interest deductibility will weigh on investor demand. And investors using interest-only loans are also in focus.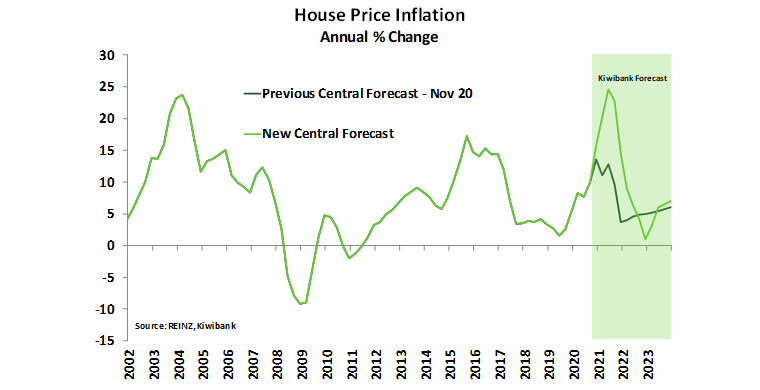 Another step the RBNZ could take is to reprice the risk associated with mortgages. Applying a higher risk-weighting on interest-only and investor mortgages, forces banks to hold more capital against those loans, and ultimately price them differently. Interest-only investor loans are riskier.
Interest rates on interest-only and investor mortgages will increase, and enable lower interest rates on first home buyer and owner-occupier mortgages.
Re-pricing risk strengthens financial stability.
Variable mortgage rates should be looked at with a simple "please explain?". Variable rates are simply too high. Lower variable rates not only benefit households, but SME business using property as collateral.
Three: We need to encourage and fuel innovation and Kiwi ingenuity
There's much the RBNZ can do to stimulate lending outside of housing.
SME business lending risk weights need to be lowered, actually slashed, to help stimulate real investment in the economy.
Let's reprice SME loans lower.
Let's fuel Kiwi innovation. And lets think of ways to open up investment markets outside property.
We need to get Kiwis into other investments. Think of investing in innovative business, not another tax advantaged property. The Government should also be engaged, with grants for SME businesses. SME's are the lifeblood of the Kiwi economy. We see assistance for first home buyers. We'd like to see assistance for first business owners.
To encourage investment, SME business need the confidence to expand. Confidence is returning, and we should now encourage finance.
The RBNZ could slash the risk weighting on SME debt to both increase the finance available, and lower the cost (interest rates) of SME investment.
From the Government's perspective, reallocating resources into exciting new areas could be done via SME grants. Policies aimed at SME businesses are important. SME grants may be a cost-effective way to encourage new businesses. And it's a cost effective way to direct resources (smart minds and smart money) into areas of concern, like housing, health, and climate change. SME grants would enable Covid-affected businesses to pivot online, or evolve for a new client base.
Ultimately, we need to redirect disrupted employees into new employment opportunities. Lost retailing jobs could be redirected into new and exciting roles in protecting the environment, education or revamping health. SME grants could be targeted at lowering the cost of hiring additional workers, or upgrading technology. Let's fuel our entrepreneurs.
While we're focussed on SMEs, we need to incubate our tourism industry.
Australia once feared the threat of 'Dutch disease', a disease an economy develops with an ultra-high exchange rate. The idea is tourists and students stop coming, decimating affected service industries, because the currency makes it too expensive.
It's a disease I'm not convinced the Dutch even had. You see, Australia's currency went through parity with the US dollar over 2010-2013, and became very expensive. Tourism and education were hurt, for a time. But the Aussie dollar eventually declined, and tourism and education came roaring back. Covid is no different. We have an Aussie travel bubble!, and eventually we will have more bubbles to play in. Tourists and students will return. And New Zealand's international brand has improved during the Covid pandemic. New Zealand is, and should always be, a tourist attraction and bucket list destination. Our gorgeous mountains haven't gone anywhere. But we must incubate the industries that enable budding travellers and students to experience New Zealand first hand.
Four: the greatest challenge of this generation, could be climate change
Not only do we need to slash our carbon emissions, and pollution in general, we may need to adapt to the rising tides.
Rising sea levels present a momentous challenge for a country comprised of small shaky islands. Moving back from the seashore will be costly, and devastating for some. Insurance companies, banks, Government and most Kiwi businesses must consider climate risks. Key infrastructure and many Kiwi dwellings may be impacted. Some areas may become injudicious to insure, impudent to invest, and impractical to lend.
Covid-19 lockdowns have helped the fight against climate change, should be stick to the new ways.
Many Kiwis were forced to work from home, and many preferred it. Lockdowns provided proof of concept. A decent chunk of the Kiwi workforce can work successfully from home, eliminating the daily commute. A shallower peak in traffic reduces pressure on clogged transport infrastructure and reduces carbon pollution. The need to re-engineer parts of our economy is also throwing up opportunities to tackle climate related issues. The Government has the ability to fast track progress in environmental areas, with access to ample, cheap funding. We have our 'once in a generation' chance to clean up our act.
Five: Adaptation always involves harnessing the latest and greatest technology
One of the best ways to lift well-being and living standards is to embrace better technology.
The more tech-savvy we are, the better prepared we will be for the amazing advancements in technology to come. 
Driverless cars, trucks and trains could rid Auckland's rundown streets of traffic congestion, reducing the need to own a car. And they'd all be electric, reducing emissions.
High-spec prefabricated homes could improve affordability, and reduce electricity and water consumption.
Wearable technology could enhance our health and well-being, by encouraging us to exercise or to see a doctor when needed.
Most of the 'foreseeable' life-changing innovations involve artificial intelligence. It's inevitable that many low-skilled jobs will be disrupted. Innovative education is critical to enabling an adaptive workforce for tomorrow.
Embracing technology solves problems. We already have many of the solutions. We must adopt these solutions. And policymakers must always focus on enabling (not restricting) such change.