Brendon Harre traces the endless failures of housing public policy, and sees a need for a more radical approaches, because incremental approaches keeps getting trumped by quick market adjustments that game those efforts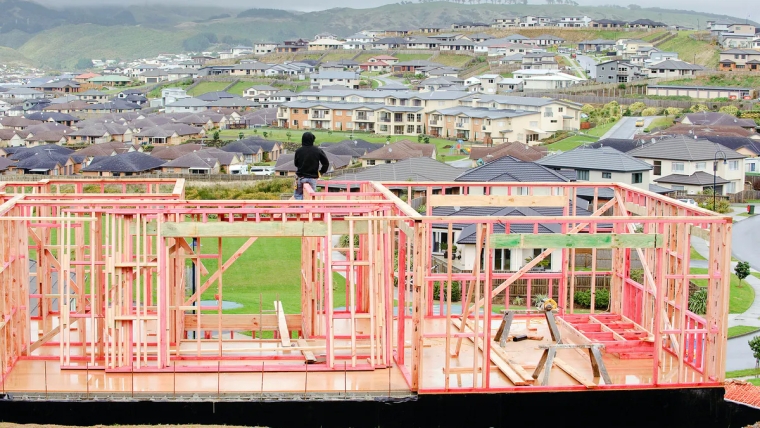 By Brendon Harre*
The point of incremental change is to grease the machine to make a more efficient model.
In contrast radical change requires governments to move past current practice to create an entirely new system better suited to the obstacles presented.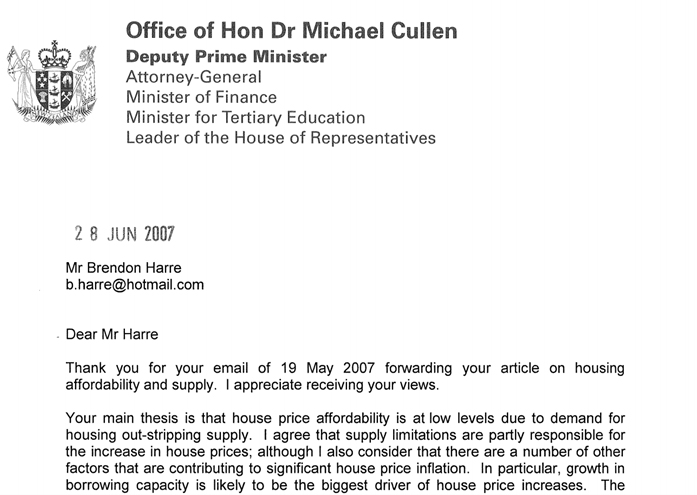 Note — email address depicted is not current.
See full letter below.
As my family and friends know, I am more than a little obsessed about housing. I believe, and have done for a long time now, that our cities and towns are profoundly broken. The poor way New Zealand manages the built environment risks making the housing crisis an obstacle that might prove insurmountable. That has awful flow-on effects for a myriad of issues, including: climate change, inequality and poor productivity.
My earlier papers in the Rack-Rent Housing Crisis series described how bad the current housing situation is and outlined what I thought should be done. This article builds on that by providing my personal history with the housing crisis; it provides a big picture view and a rationale for what I think the government will do next.
Back in 2007, I had experienced two stints living in Europe for extended periods and knew housing quality and pricing in New Zealand could be much better — it was not just housing, the whole urban package could be better. I wrote to then-Finance Minister Michael Cullen expressing my concerns and he was good enough to provide a considered response, unlike many other politicians I have approached over the years.
Judging from his reply, back in 2007 Cullen was reflecting on the housing situation and had some uncertainty regarding the best response. Readers can make their own judgments as a transcribed copy of the letter is included at the end of this paper.
To me, it showed Cullen had a broad understanding of the many factors influencing the housing market — he would be in the 'no silver bullet' camp.

Total housing construction is at record highs. Yet, on a per capita basis the build rate has only recently returned to the 1977 to 2007 construction rate. Per-capita construction was greater in the decade from 1967 to 1977. Source
In the immediate period after 2007, demand was the most obvious influence on the housing market. The global financial crisis (GFC) flattened house price increases for several years, but supply did not catch up to demand. Housing construction slumped, so when demand returned in the mid-2010s prices and rents ratcheted up again. The median house price went from $345,000 in July 2007, when I raised housing supply concerns with Cullen, to $810,000 in April 2021.
A significant demand stimulus from 2015 was high net migration numbers.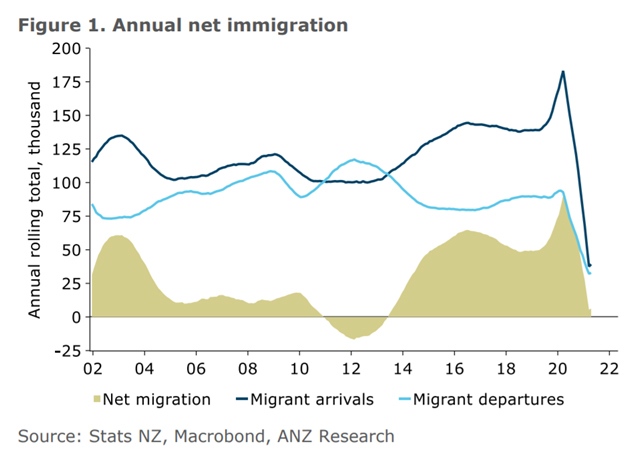 Source: ANZ Research: How does immigration affect the New Zealand economy
The clearest macroeconomic impact of net immigration for New Zealand is on the housing market, ANZ Research has found. They concluded their report with this statement.
This highlights the importance of addressing the relatively unresponsive nature of housing supply in New Zealand. We simply do not build houses fast enough to keep up with population growth (particularly following periods of strong net immigration, but also more generally), and that's fundamentally what's impacting the wellbeing of many Kiwis.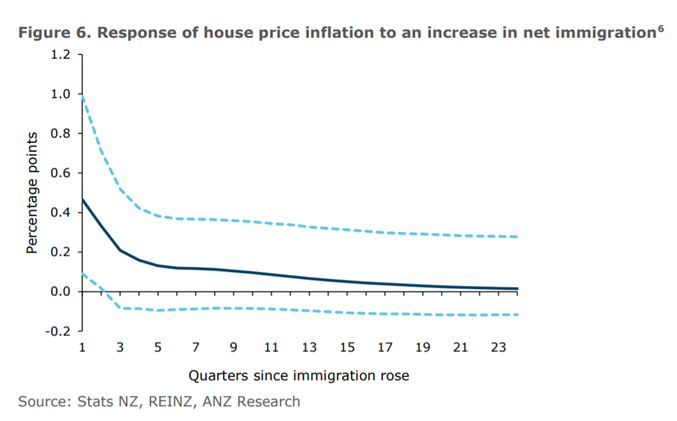 Figure 6 shows the modelled response of house price inflation to a one-off increase in net immigration. Note the dotted lines represent the uncertainty around the estimated responses – indicating the robustness of the results. Source: ANZ Research: How does immigration affect the New Zealand economy
For the last year, the spike in house prices has been due to significant monetary stimulus in response to Covid-19. House price growth in New Zealand is running at the second-fastest rate in the world. The government acted in February 2021 by directing the Reserve Bank to take into account the government's housing policy in its decision-making, and again in March by changing the tax settings for landlords.
Documents released as part of the May 2021 Budget predicted a sharp house price adjustment is coming. The future is uncertain, so let's see. No one forecast the Covid-related house price boom, for example, except for a few monetary policy tragics like Jenée Tibshraeny and Bernard Hickey.
The change in property tax settings will have reduced speculative demand, housing construction is relatively high, and due to Covid immigration is low — so supply should catch up with demand at some point in the next few years.
The question is whether supply can have a long-term influence that gradually improves housing affordability or if construction again drops off.
Cullen, whose thorough response showed the depth of his mana and his democratic ethos, was not correct about everything back in 2007.
Firstly, he undervalued the potential for supply side reform to improve affordability, specifically by addressing (1) infrastructure funding, (2) making the planning system more permissive, and (3) undertaking proper spatial planning.
Secondly, Cullen's view that the housing crisis was cyclical and would pass meant he undervalued the risk unaffordable housing would pose for New Zealand's economy in the future — wiping out many of the benefits of other reforms, like the 2004 Working for Families package.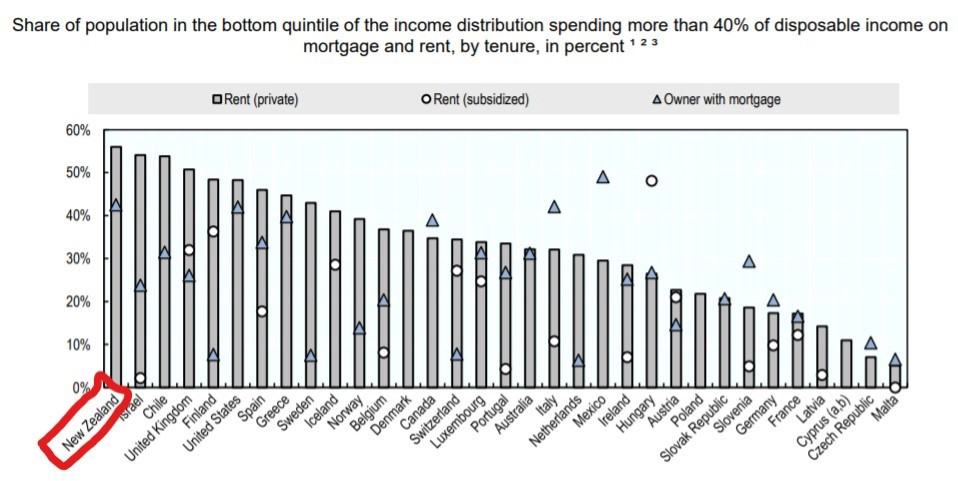 Source OECD -Affordable Housing Database, Figure HC1.2.3.
Thirdly, by not articulating that housing-related inequality is unacceptable to the public and that the New Zealand government has an obligation to ensure all New Zealanders have access to affordable housing. The inequality side of the housing crisis is now better understood by the public following media coverage in 2016 showing homeless families living in cars.
In hindsight, we all have 20/20 vision and I do have sympathy for Cullen's 2007 housing position. Since then, understanding of the negative effects of unaffordable housing has become much clearer, as detailed in articles like this. I am sure Cullen's 2021 view on housing has evolved to reflect the events of the last 14 years.
In June 2021, Cullen reflected on his political career in a long interview where he talked about housing at the 53-minute mark.
In the interview, he made it clear he believed the government was correct in 2017 to focus on building more houses (supply), with a particular focus on building for the middle to lower end of the market through state housing or community housing providers. He also thought the government needed more supportive policies covering things like the labour market, building materials, property investment and so forth. The Reserve Bank and the government needed to be better coordinated, Cullen thought. The bank could have lent to the government for its build programme rather than effectively "putting an awful lot of money into asset prices. Which we don't need — which we simply don't need."
In my Rack-Rent series, I advocate for greater centralisation to strategically address affordable housing and ensure it is treated as a human right for all New Zealanders. Part Two of the series recommends a housing tsar would be beneficial.
There are two main advantages for New Zealand taking a centralising approach to solving the housing crisis.
Housing related-inequality can be tackled without crashing house prices. The government can repeat the state house building policies of the First Labour Government (or a similar version, such as supporting the expansion of the community housing sector using the Austrian model).
A centralising housing approach could be part of a wider shift towards adopting the East Asian development model so that New Zealand can catch up with nations like Japan, Singapore, South Korea, and Taiwan.
Back in 2007, I was advocating for greater decentralisation to improve housing-related infrastructure bottlenecks "by replacing local councils with a smaller number of regional councils and assigning a percentage of income tax (at the local level) to these councils".
How do I reconcile my 2007 position with my more recent centralisation view?
Basically, I am a pragmatist. I agree with Deng Xiaoping, who said: "It doesn't matter whether a cat is white or black, as long as it catches mice."
There are multiple options for addressing the housing crisis.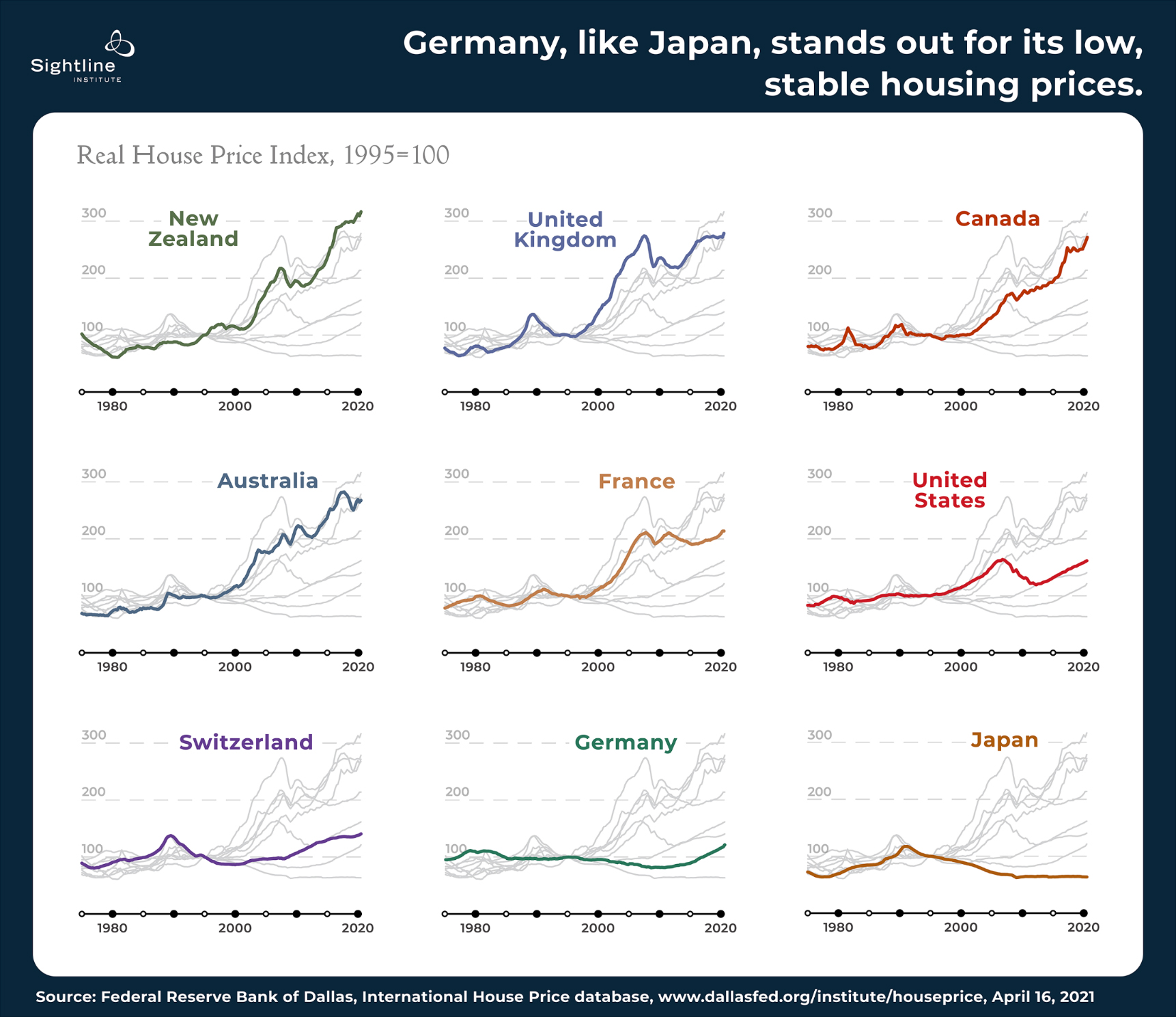 Source — YES, OTHER COUNTRIES DO HOUSING BETTER, CASE 2: GERMANY
The two countries with the most successful and stable housing markets over the last 40 years — Germany and Japan — have taken quite different approaches along the centralisation spectrum to achieve housing success.
Alan Durning from the US Sightline Institute describes the difference as:
Japan's lesson, as I previously wrote, is that pushing power to higher levels of government is a tonic for housing. It counteracts NIMBY obstructionism. Germany's lesson is that decentralized control can be fine, as long as local authorities have strong incentives to welcome homebuilding…
Local German officials, like local leaders everywhere, seek bigger budgets to provide more and better services to their constituents. What's different about Germany is that the way to get bigger budgets is to increase local populations. And, as Professor Buettner says, "Ultimately, to get people, municipalities will need to support housing."
Professor Robin Hambleton from the University of the West of England describes how small German cities like Freiburg have made bold moves to address housing affordability and the climate emergency. He states the extreme centralisation of the UK rules out these sort of imaginative initiatives. New Zealand has a similar degree of centralisation.
The German system of incentives is the opposite of "fiscal zoning" — the practice of zoning land in ways to maximize local government income and minimize its costs.
In the US, fiscal zoning has meant in places that use sales taxes as a local revenue source, such as Washington State, more land for shopping centers is zoned. In places where residential property taxes are capped, such as California, they zone less land for homes and more for offices. In affluent suburbs, they often zone land for standalone housing on large lots, thereby excluding low-income people.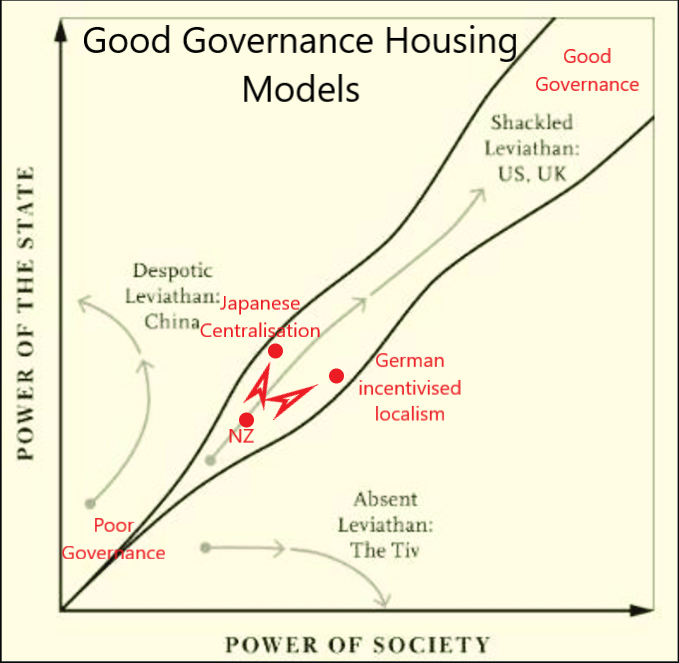 From Figure 1 in Book —" The Narrow Corridor: States, Societies, and the Fate of Liberty". Which is about the path to a good governance society being a balanced race between the power of the people and the power of the state. Title and red notations have been added by Brendon Harre.
Ultimately, what is needed is better government that can provide the conditions for housing markets to be successful. Good governments — like those in Japan and Germany — provide permissive house building regulations with low transaction costs (entities such as Vienna's social housing agency have provided a similar function). Good governments also deliver the required public infrastructure that markets cannot provide.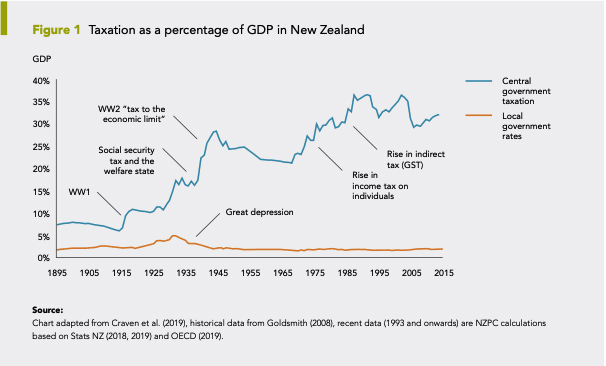 Source —The Council-Government Divide
The nature of local government in New Zealand means its revenue source is constrained by politics. Local government rates revenue has not risen as a percentage of GDP since the late 1800s. A recent Productivity Commission report noted councils faced pressure from homeowners to keep rates low which prevented necessary investment in housing-related infrastructure. Local government in New Zealand is similar to the California situation: politics has imposed a revenue cap, meaning there is an infrastructure bottleneck and permissive planning rules are not incentivised. 
While there is a distrustful relationship between central and local government, this situation will only continue. One kernel of distrust is that local government accuses central government of making it impotent and central government does not respond because it believes local government is incompetent.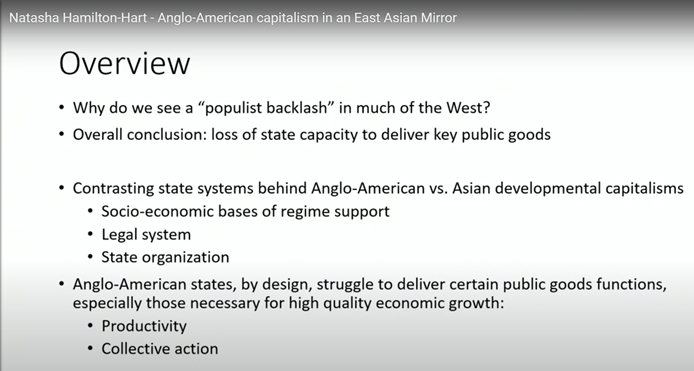 Source- Professor Natasha Hamilton-Hart talk on "Anglo-American capitalism in an East Asian Mirror"
Despite knowing the consequences of a lack of local government incentives, more recently I have been advocating for more centralisation to address the housing crisis. This is because the Japanese centralisation model (or more generally the East Asian development model) is a genuine success. The reality in New Zealand, is that governments from both sides of the political spectrum have lacked the will to empower local government, something Cullen accurately predicted in 2007.
However, the current Labour government will not centralise housing-related public service delivery like the first Labour government did. By 1940, state land development programmes accounted for 45 per cent of all housing construction in New Zealand. This required a Ministry of Works and a huge government state house build programme. In comparison, the current government house building programme makes up only about 10 per cent of total residential construction (Kainga Ora is building less than 4,000 of the roughly 40,000 houses being constructed each year).
After its landslide victory in the 2020 election, the government had an opportunity to implement the first Labour government's housing model. For the first time since MMP was introduced, one party had majority control. The barrier to that course of action is not party politics —because currently there is no effective opposition — the problem is the fragmented public service.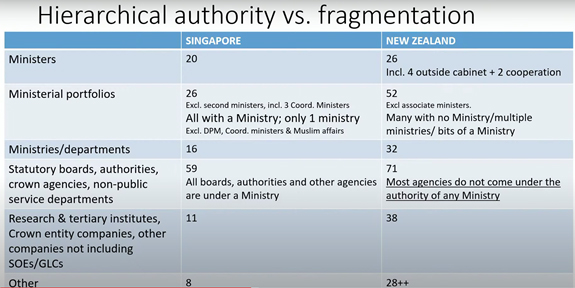 Source- partial slide from Professor Natasha Hamilton-Hart talk on "Anglo-American capitalism in an East Asian Mirror"
Even if there is the political will to reform governance in the following areas:
More centralised housing related infrastructure provision.
A national set of permissive planning regulations.
A more coordinated set of actions between government and the private sector (to build the vegetarian city model – which will be the topic of my next article).
The fragmented state of the public service means New Zealand would still struggle to implement these reforms.
What happens next?
If radical change is not possible by switching to the German model — incentivised localism — or the Japanese model — centralisation — does that mean New Zealand's housing crisis is an insurmountable problem? Not necessarily.
New Zealand might become more aware of its disempowered and fragmented governance systems and therefore make greater efforts to ensure collaboration and coordination occurs. Constructive engagement should be valued, and finger-pointing and blame-shifting frowned upon.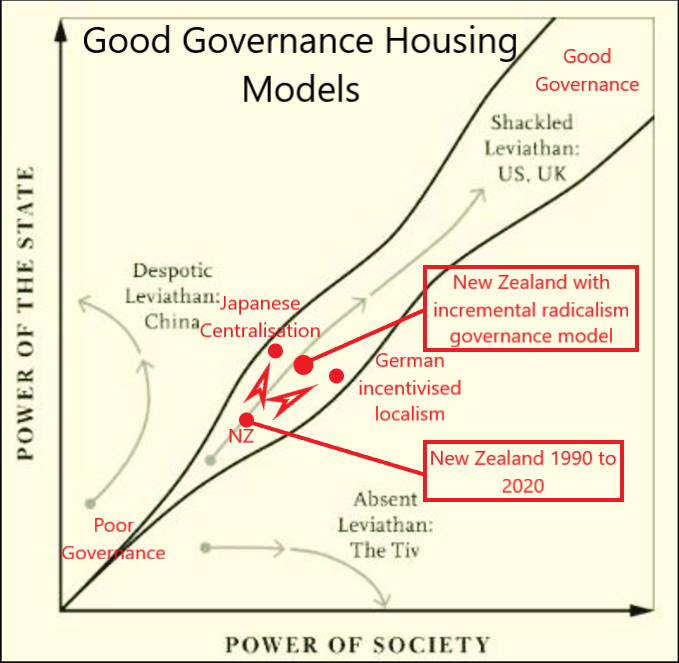 Incremental reform that sits between the Japanese and German models is possible. New Zealand could even create its own 'incremental radicalism' governance model (note the term 'incremental radicalism' is discussed at the end of this talk by veteran political analyst Colin James).
The government is currently working on a bunch of reforms that could improve housing governance. Individually, each reform will only have a minor incremental effect, but collectively they may add up to something more radical.
Examples of these reforms are:
The National Policy Statement on Urban Development (NPS-UD). This is the government's first attempt at directing councils to implement a more permissive planning system; for instance, by raising height limits around rapid transit and removing car parking minimum requirements. Councils are currently in the process of implementing the NPS-UD (as seen by the recent housing debate in Wellington). There are concerns, however, that Auckland Council is planning for unaffordability.
The planned replacement of the Resource Management Act over the next few years will give the government more opportunities to incrementally implement a more permissive planning system, which may be needed if local government push back against the spirit of the reforms.
Clearer national direction will be provided under the Natural and Built Environment Act (NBA), and "the new National Planning Framework (NPF) will provide strategic and regulatory direction from central government on implementing the new system. This will be much more comprehensive and integrated than the RMA required" (42).
The government has created a $3.8 billion infrastructure fund that local government can access. However, commentators have criticised the size of the fund, saying it is insufficient compared to the size of the infrastructure deficit.
Of the $3.8b, Housing Minister Megan Woods announced $1b has been set aside to create a contestable housing infrastructure fund. Funding will be available for projects that provide drinking water, waste water, sewage, roading, and flood management that enable new houses to be built. To qualify for funding, infrastructure projects need to support the building of a relatively large number of houses, at least 200 homes in larger cities, 100 homes in smaller cities and 30 homes in towns.
The $3.8b fund is a step in the direction of incentivising localism that could, over time, be improved into a more formal structure. However, the fragmented nature of the governance system in New Zealand means, for every step towards localism, there seem to be barriers pulling the country further away.
For instance, most New Zealanders are unaware that fuel tax and road user charges do not pay for the full cost of the road network. Ratepayers significantly subsidise roads and recently the New Zealand Transport Agency (Waka Kotahi) told Councils to expect $420m less for local roads than originally indicated, forcing councils to cut spending on cycling infrastructure, public transport and local roads in hastily rejigged budgets for the next three years. Auckland Council, for example, has delayed its Eastern Busway for two years following the NZTA funding cut.
The Local Government Minister wants to centralise three waters provision (fresh, sewer and storm water) in New Zealand. I can understand the attractiveness of a Scottish Water type entity (or four such entities) using volumetric charging to provide fresh and sewer water services (although a single water standard is problematic given the 150 year history of using non-treated water from capped artesian water sources in places like Christchurch).
Many local governments historically have favoured lower property taxes over expenditure on three waters infrastructure. In the short term, this has been a politically successful tactic but in the long term it has led to water delivery failure. Hence the desire for reform.
Regarding storm water provision, I have concerns that an unelected water entity will lack the mandate needed to make required land-use changes to manage flood protection. Christchurch, for instance, invested $120m to create large storm water basins and other drainage schemes that prevented the city flooding during its recent heavy rain event. Christchurch City Council has also put more effort into gaining an accurate picture of sea level rise and its implications than the Ministry of the Environment has. After significant rain events, many farming areas ask for drainage scheme protection, some of which will be beneficial and some highly contentious as there has been a systematic effort to strangle rivers into narrow drainage corridors. A distant, unelected water entity will struggle to navigate these local issues.
It is likely that New Zealand's busiest cities will be allowed to congestion charge the overloaded parts of the road network. Congestion charging can provide many benefits, including improving the use of existing infrastructure, informing better transport planning by providing credible signals of effective demand, and requiring people living in new suburbs to internalise the congestion costs that they impose on other transport users.
In 2020 the Urban Development Act was passed. This created a Kainga Ora-run urban development authority following on from the Hobsonville Land Company, an entity which was wholly-owned by Housing New Zealand. The original concept of developing Hobsonville dates back to the Clark/Cullen-era, although the scheme was implemented by the Key government. The National-led government made significant changes, like removing the 15% state housing requirement. No new housing development areas have been announced following the passing of the Urban Development legislation in 2020. Going forward, the current or next housing minister may be more enthusiastic about using this housing supply tool.
Among other beneficial changes, the replacement of the 30-year-old Resource Management Act with a Strategic Planning Act and a National and Built Environment Act, could allow New Zealand to undertake proper regional spatial planning. The existing 100-plus RMA council planning documents will be reduced to about 14.
New Zealand cities and regions could undertake initiatives like New York's 1811 Commissioner's Plan that designated a road grid for Manhattan Island which was later able to accommodate the subway network. This spatial planning work was a critical step that allowed New York to become the largest and densest city in the US, while having a lower rate of transport-related CO2 emissions than Auckland (on a per capita basis).
Spatial planning has been successfully done around the world, including Barcelona's 1859 Cerdà plan. Ontario's late-1800s designation of north-south and east-west paper roads throughout the province meant the roads were later used to provide a grid system of frequent public transport services for Toronto. Copenhagen's 1947 Finger Plan guided development into multi-modal transport corridors and protected the 'green wedges' between corridors.
New Zealand's failure to spatially plan its urban growth areas is shown by the fact that only 9.5% of homes built in 2019/20 had access to frequent public transport services, according to the Ministry of Transport (quote from Page 22 of this discussion document).
The direct impact of poor spatial planning is:
Vast cost escalation. Infrastructure Australia found billions of dollars of cost escalation because the corridors protected in the 1950s, 60s and 70s were built out in the 80s, 90s and 00s, and now they have run out. New Zealand is in the same situation.
Inability to build transport projects to add transport capacity, provide congestion free travel alternatives, and to reduce CO2 emissions because there is not enough room on public right-of-ways. For instance, arterial roads in New Zealand are frequently too narrow to fit rapid transit and active mode infrastructure.
This leads to housing supply constraints that cause shortages, unaffordable homes, and overcrowding.
In turn, there is less urban development from the infrastructure projects that are built, reducing their uptake and benefits.
The wider societal impacts are:
Increasing inequality (e.g., a landed gentry and a renting class).
Lost agglomeration economies and lower wages because of congestion and disconnected labour markets.
Reduced flexibility to repurpose transport systems to reduce emissions.
Increased risk of economic depression from overinflated urban land prices.
High infrastructure costs requiring higher taxes and lower value for money.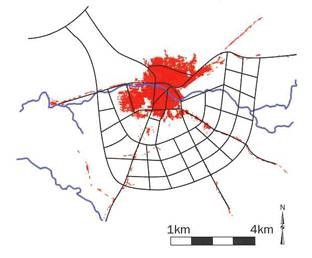 Spatial planning solution:
Plan, protect, and pay to acquire land for corridors and a regional hierarchy of public open spaces so that cities have the capacity, if needed, to double or treble in population size over an extended 50-year time period, through both urban intensification and competitive urban expansion.
The corridors should be connected (i.e., grid-like), perhaps spaced about a km apart and 30 metres wide each.
Time will tell if these sorts of incremental reforms can be implemented 'radically' enough or whether New Zealand needs to move past its current practices to create an entirely new system better suited to tackling the housing crisis, climate emergency, inequality, and productivity obstacles the country faces.
---
Dear Mr Harre

Thank you for your email of 19 May 2007 forwarding your article on housing affordability and supply. I appreciate receiving your views.

Your main thesis is that house price affordability is at low levels due to demand for housing out-stripping supply. I agree that supply limitations are partly responsible for the increase in house prices; although I also consider that there are a number of other factors that are contributing to significant house price inflation. In particular, growth in borrowing capacity is likely to be the biggest driver of house price increases. The combination of low interest rates (by historic standards), banks' access to cheap foreign capital, and growth in income means the households can afford to borrow more. In the last seven years, almost 320,000 additional people entered work, and wages have increased by around 13 percent (after taking account of inflation). Job security has given people the confidence to borrow more. I would also note that the influence of supply on prices is not straightforward, since the supply of new dwellings has expanded rapidly in most areas, including Auckland.

The link between house price and macroeconomic effects is strong. The Reserve Bank, in its role of controlling inflation, considers the housing market to be an important transmission mechanism for monetary policy since such a large part of the population is affected by changes in mortgage rates. The response of monetary policy, by way of rises in the OCR, is intended to dampen inflationary pressures, but because so many mortgages are on fixed rates monetary policy has taken longer to work.

Other influences on house price inflation include immigration, the role played by the investment property market and growing demand for larger and higher quality housing.

The solution you propose to solve affordability issues is to force, through legislative change, regional authorities to balance local demand and supply for land by setting a house price inflation target which would be met through greater land release. Aside from any other considerations, I would expect such a target to be unachievable through the supply side alone. In many parts of the market land is finite so any change in demand in those areas would presumably result in increased prices.

Nevertheless, I acknowledge there is room to influence overall prices by increasing supply, either through new developments or infill developments. There are elements of the government's housing strategy focused on achieving increased supply. You are probably already familiar with this government's substantive review of housing policy, released in 2005 as the document "Building the Future: The New Zealand Housing Strategy". Although house prices have continued to rise since this document was published, the findings and recommendations are still relevant. If you are not familiar with "The New Zealand Housing Strategy", you can view it from the link (no longer active) if you have access to the internet. The first chapter of the report is focused on responses to supply limitations.

To meet our goals of adequate housing for all New Zealanders, government housing policy needs to incorporate a range of assistance, rather than just helping first home buyers. For example, officials have been working on a range of planning tools that could be used by local government to increase the supply of affordable housing in communities where it is scarce.

You suggest a method of funding the infrastructure needs of increased development by replacing local councils with a smaller number of regional councils and assigning a percentage of income tax (at the local level) to these councils. As you note, your proposals require a fundamental change in our system of government. It goes without saying that any change of this magnitude would first require detailed assessment of the risks and cost at all levels, and subsequently would need cross-party support. Even if there was a political will for such change (and this is very doubtful) this process would not happen quickly. Given that fluctuations in house prices and housing affordability are inherent characteristics of housing markets, it is quite possible that the present housing affordability crisis could be over before any changes were implemented. This current cycle is exceptional — house prices have risen by more than at any time in the last 30 years — but forecasts by the Treasury and the Reserve Bank suggest that the current rates of price increase will not be sustained.

I hope my comments have helped to explain the government's position. Thank you again for forwarding your article.

Yours sincerely

Hon Dr Michael Cullen

Minister of Finance
---
This is a repost of an article here. It is here with permission.