At the risk of ending up with egg on his face, Gareth Vaughan weighs in with some views on the Covid-19 pandemic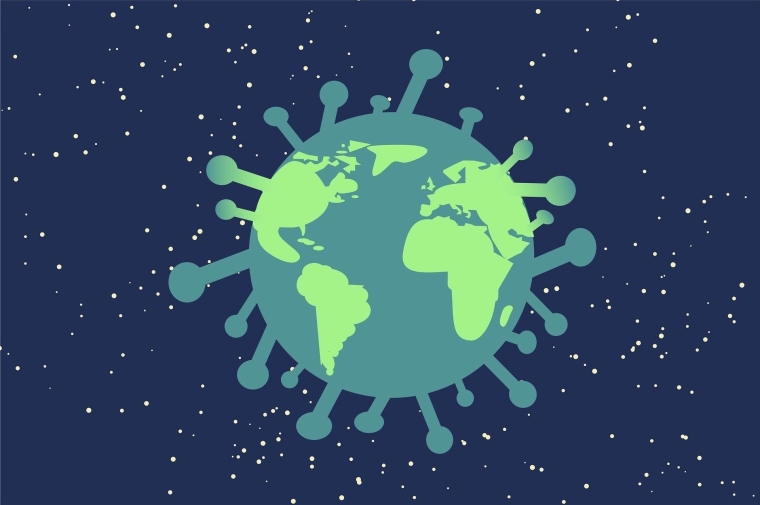 By Gareth Vaughan
For the 18 months or so that Covid-19 has been dominating our lives, there's one thing I've sworn off doing. That's writing an opinion article on it.
What quickly became apparent to me in March-April 2020 was that no one really knew exactly how the pandemic would play out, or just how bad it would get. Sure, some such as epidemiologists and virologists had a much better idea than the rest of us of what was likely in store. But even they didn't know exactly how people, governments and the virus would interact, and how this would change over time.
This immense uncertainty hasn't, of course, stopped all sorts from wading in and sharing their 10 cents worth on fast moving and unpredictable events. Whilst there have been some worthy contributors, there have also been those whose contribution has added little to no value. Whether they've been ill-informed shock jocks, blowhard media pundits, armchair epidemiologists, keyboard warriors turned virologists, attention seeking politicians or others, many have been left with egg on their faces - sometimes time and again - after opining on Covid-19. Often this hasn't stopped them.
Fed up, frustrated and a little grumpy, I've finally decided to join them. Hopefully I don't end up with too much egg on my face...
In the interests of full disclosure, the current Covid-19 outbreak has made the pandemic much more real to me, like many Aucklanders. My son was deemed a close contact after his school bus driver tested positive for Covid-19. That makes myself and the rest of the family household contacts. The first round of testing all came back negative, and we had our day 12 tests on Sunday morning.
Playing the blame game
The news on Tuesday, August 17 of a community Covid-19 case on Auckland's North Shore, and subsequent swift move into an alert level 4 lockdown, saw New Zealanders shift from complacency to panic. Again.
Confirmation that it was the highly infectious Delta variant was a foregone conclusion. Supermarkets and Covid testing stations were swamped.
The blame culture was quickly out in force. Fingers were pointed at New South Wales Premier Gladys Berejiklian, Prime Minister Jacinda Ardern and Director General of Health Ashley Bloomfield, among others.
The deflated Aussie travel bubble was blamed by some, even though the source of the outbreak appears to be a person who returned from Sydney to the Crowne Plaza Hotel quarantine facility. Areas in and around the Crowne Plaza where the public had access were questioned, along with the low vaccination rate New Zealand had going into this outbreak. Others say we should've been using saliva testing and this would've stopped the Covid leak into the community, even though we don't yet know exactly how it happened.
Now, of course quarantining people in hotels, not designed for this, in the middle of our biggest city isn't ideal. And yes, it would've been good if we'd gone into this outbreak with a higher vaccination rate. And as someone who has recently had two nasal swab tests, the idea of saliva testing holds great appeal. 
Whilst they may well have helped, I don't buy that any of purpose built quarantine facilities, saliva testing or even a higher vaccination rate would've been silver bullets against this Delta outbreak.
A higher vaccination rate would always be good. But we'd have still likely had a battle on our hands, especially given a significant portion of current Covid-19 cases are young people, less likely to have been vaccinated at this point anyway, and who typically have active social lives. Witness what's going on overseas in countries such as the US, UK and Israel, which have higher vaccination rates than NZ. Whilst vaccinations are certainly helping, these countries still have a battle on their hands.
As for purpose built quarantine facilities, these too would be nice. Fed up with Scott Morrison's government, Queensland is going down this route. And NZ First last year proposed using Defence Force bases.
This may be a better option than what we're currently doing. But we'd still need to transport the quarantining people to the army bases, and have staff there to look after them. So there'd still be some risk of transmission. We know that Covid-19, and especially the Delta variant, needs little invitation to spread.
The point I'm making is it seems as if the only way we could 100% guarantee keeping Covid-19 out of NZ would be by shutting off to the world completely. By that I mean no flights into the country at all, and no cargo ships taking our exports overseas and bringing imports here. After all we're dealing with the combination of a very tricky virus, as Bloomfield is want to say, and human beings here. 
This local outbreak, with the Delta variant raging around the world, was almost inevitable in my view. In fact we probably did well to keep it out of the country for as long as we did.
Here's what I wrote in an email to an American friend on August 15 who was asking how things were in NZ;
Things are good here, for now. Covid free, which we've been all year bar a short period when a small cluster emerged at a high school in Auckland in late February, early March. But we still have plenty of people coming into NZ, although everyone coming in must be quarantined in a government (hotel) facility for two weeks and get a series of tests before they can get out. Our Olympians are currently going through this.

So we get cases arriving from overseas all the time, including a lot recently on cargo ships and fishing boats, but they are quarantined. At any time though something could go wrong there with delta leaking into the community. So it's still a bit nerve wracking. Especially as we seem to be the last man standing of last year's Covid pin-up countries... 
The alternative to shutting the country off completely from the rest of the world is, of course, opening up to the world. Or living with the virus, as some people are now putting it.
What's interesting to me about this option is that, apart from our short, sharp lockdowns, New Zealanders have been freer, with a more open economy, than even the libertarians' wet dream of Sweden for the vast majority of the past 18 months. And we've had a small number of Covid-related deaths and until now few cases.
With Covid in the community, giving up on our elimination strategy and letting businesses open and people get out and about, would be no panacea. A big chunk of the population would likely be unwilling to go out beyond the necessities, reinforcing that it's best to be free of Covid so people are confident to go out and spend money.
Check out the stringency index below. I've included NZ, Sweden and Australia given our obsession with comparing ourselves to the Aussies. Those interested can go here and make their own version, adding any countries you want.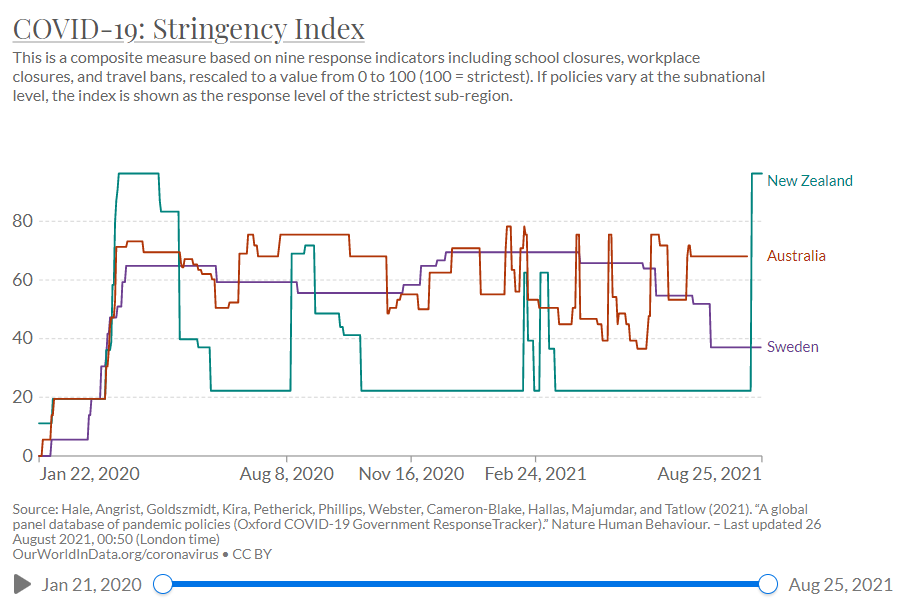 Choosing the least bad option
One thing I've kept in mind throughout the pandemic is that for the policy makers and politicians there are no good options when Covid-19 gets into the community. It becomes a choice of what they think the least bad option is. And then they have to cross their fingers and hope their plan survives contact with a fast moving, mutating and invisible enemy.
I'm not a fan of lockdowns with their Soviet-era, draconian rules. They challenge people in different ways. In my case working from home whilst supervising home schooling children is no picnic. But nor would I want to see our health system overrun and people I know, perhaps relatives, friends, workmates or neighbours, becoming ill or even dying after catching Covid-19.
Personal responsibility also comes into it. Our woeful rates of QR code scanning via the Covid Tracer App leading up to August 17 have made the contact tracers' job harder. Thus the Government is making record keeping in busy places and large gatherings mandatory, putting the heat on business owners and event organisers to ensure people keep a record when they visit, either by scanning QR codes or making a manual record.
Personal responsibility is also a factor in getting out and getting vaccinated. As an asthmatic, I've been eligible for some time to get vaccinated. Yet I only arranged my first jab for the morning of August 17, just hours before news of the new community outbreak emerged. Compare this to a colleague who proactively walked into to a vaccination centre months ago and got jabbed. I'm sure there are others who could've got it earlier too.
Ask the virus what its plans are
Uncertainty will reign for the coming weeks, months, perhaps years as we continue battling Covid-19, which some are tipping will become endemic. Arguably we are living through the most uncertain period since World War II. So why then do some people continue demanding certainty? The ongoing uncertainty sucks. But to steal a line from my colleague David Hargreaves; Shall we ask the virus what its plans are?
As we battle this Delta outbreak looking at what other countries are doing can be helpful. For example, China has apparently quelled a Delta outbreak, and in Australia Queensland has had success. Although some methods used in an authoritarian state like China aren't feasible for NZ, there are some lessons there.
Here is a summary from Bloomberg of what China did.
Here's what happened between July 20, when news emerged of a cluster of infections among airport cleaning staff in the eastern city of Nanjing, and August 23, when China returned to Covid Zero. 

China took testing to an unprecedented level during this go-round. Local authorities checked their populations repeatedly, a dozen times in one city alone, to ensure every last infection was caught. In all, more than 100 million tests were administered. In the city of Yangzhou, some people were infected while waiting in line to get swabbed.

Test, test, test

China tested up to 12 times in the most virus-hit city in this outbreak.

Quarantines also played a larger role. The Chinese capital of Beijing at one point was sealed off from other places with even a single case. It also cut off trains and flights from hotspots around the country, even though the city ultimately posted fewer than 10 infections in the delta flareup. 

Other regions introduced sweeping curbs, from barring entry for people from high-risk areas to asking them to cut short vacations. Most had to remain isolated at home - a rule that was strictly enforced - before returning to work and school. More than 200 neighborhoods were labeled high-or medium-risk, triggering sweeping curbs that disrupted lives and businesses. 
If we were to test as much as China we'd need to move beyond using just nasal swab tests. So bring on those saliva tests and rapid antigen tests, which can be completed at home.
Clearly we have a battle on our hands with the Delta outbreak. In good news vaccination rates are now soaring to as high as 91,000 in one day recently.  At some point, hopefully sooner rather than later, we will overcome it. But those expecting a return to 2019 are dreaming. The Covid-19 pandemic is changing the world in ways that are yet to be fully understood.
Like the post 9/11 world, international travel will be impacted and not in a good way. For a small country at the bottom of the world like NZ resilience and self reliance should become a bigger focus than they have been. Could we, for example, be manufacturing vaccines in NZ?
As recently as August 12, although it seems much longer ago, the Government outlined a risked-based approach for how NZ could gradually reopen to the world from the first quarter of 2022. Hopefully we'll be back to focusing on and debating this sooner rather than later. Fingers crossed.
* Comments have been temporarily disabled due to a website upgrade to allow the new version to catch up with the rapidly moving comments sections. Comments will be turned back on very soon and we thank you for your patience. - Interest.co.nz team