Opinion: Bernard Hickey argues Kim Dotcom is a convicted thief and insider trader who exposed NZ's naive and loose immigration and money laundering rules. Your view?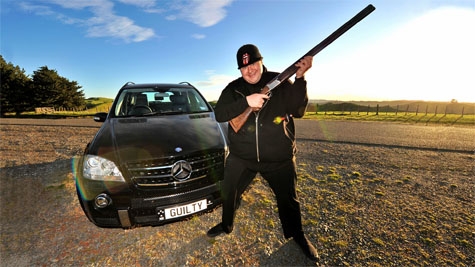 By Bernard Hickey
I'm surprised at how much support Kim Dotcom has got from New Zealanders in the initial reaction to his arrest here and indictment by US authorities.
Talkback radio, Facebook and even some local blogs have variously called for the German-born New Zealand resident to be freed, for New Zealand not to help US authorities extradite him, or have at least questioned both the motives and methods of the US authorities.
Russell Brown in his Public Address blog has asked about the fate of the legitimate customers of Megaupload who have lost access to their material. He also wonders why others, including Youtube, are not also infringing under the rules in the way they have applied to Megaupload, and whether the take-down of Megaupload is an over-reaction that sets a dangerous precedent for the future.
But before unleashing on the American law enforcement system or New Zealand's cooperation with it, it's worth looking at the allegations detailed in the 72 page indictment and the evidence (albeit unchallenged) that was presented within it.
The allegations of copyright infringement costing US$500 million and massive money laundering are substantial and backed by numerous intercepted emails showing both how large and profitable Megaupload was for Kim Dotcom and his colleagues at Megaupload (even the company's graphic designer Julius Bencko made US$1 million in 2010).
It details how Megaupload's users and subscribers (which is interesting in itself) were encouraged to upload copyrighted movies and music to Megaupload's servers and then how Megauploads executives, including Kim Dotcom, were fighting against and ignored demands from the music and movie studios to take down this copyrighted material.
One email details how Dotcom encouraged others to copy videos wholesale from Youtube. Megaupload even paid heavy uploaders and then frustrated attempts by movie and music studios to get the uploads taken down.It also forced those who were heavy watchers of copyrighted video to become premium subscribers, helping Megaupload make more than US$175 million from its 180 million registered users. Dotcom personally made US$42 million from Megaupload in 2010, the indictment says.
Traffic around Megaupload made up around 4% of global Internet traffic. When it was shut down over the weekend there was a signficant drop measured in global internet traffic, GigaOm reported.
Here's a sample of what the FBI found in the emails showing Megaupload knew was it was doing:
On or about July 9, 2008, VAN DER KOLK sent an e-mail to a thirdparty, entitled "funny chat-log." In the e-mail, VAN DER KOLK copied the text of a previous online conversation between himself and ORTMANN, in which VAN DER KOLK had stated, "we have a funny business . . . modern days pirates :)" ORTMANN responded, "we're not pirates, we're just providing shipping services to pirates :)".
And this one shows how Dotcom was directing blocking the deletion of copyrighted material:
On or about April 23, 2009, DOTCOM sent an e-mail message to VAN DER KOLK, ORTMANN, and BENCKO in which he complained about the deletion of URL links in response to infringement notices from the copyright holders. In the message, DOTCOM stated that "I told you many times not to delete links that are reported in batches of thousands from insignificant sources. I would say that those infringement reports from MEXICO of "14,000" links would fall into that category. And the fact that we lost significant revenue because of it justifies my reaction."
There is definitely a case to answer here. That's reason enough to allow his extradition.
You know it's true
Those who say Kim Dotcom was simply operating a completely legal cloud storage service akin to Dropbox are simply wrong. A good read of the indictment shows that. A few questions to regular users of Megaupload will also uncover the guts of the problem. It was a vehicle for people to download illegal material. A few simple questions around my office and household uncovered that. We all know it. Let's not pretend otherwise.
It was startling to hear that John Banks, the newly elected ACT MP (and my MP by the way) swore black and blue this morning to a Radio Live reporter this morning that Kim Dotcom was doing nothing wrong. Banks knows Dotcom because Dotcom tried to pay for a fireworks display in Auckland, but it seems he didn't really know Dotcom's business.
Those who argue there is nothing wrong with downloading illegal copies of movies and music are simply deluded or in denial. That may be a large number of people, but they still have no legs to stand on.
But there are much more important public issues for New Zealanders, its banks and its government to consider, which again overwhelm both the specifics of the indictment and the albeit entertaining atmospherics around Dotcom himself.
Immigration and money laundering
Let's not forget Dotcom is a convicted thief and insider trader who has served jail time in Germany. Germany's Manager Magazin reported (in German) he was convicted of computer fraud and handling stolen goods in 1998. He had broken into corporate PABX systems and had also stolen telephone calling cards. He was given a probationary sentence of two years.
Three years later he was convicted of insider trading in Germany after he pumped up the price of an auction website letsbuyit by suggesting he was going to buy it and then dumping it for a profit of US$1.5 million without following through on his promise. He spent over 5 months in jail.
It was a celebrated case in Germany and cited as a reason ordinary Germans didn't trust the stock market after 2001. It became the Germany equivalent of our own Tranzrail. Sir Michael Fay was the part owner of a company, Midavia, which paid NZ$20 million to settle allegations of insider trading over Tranzrail shares.
All this information is easily found on Wikipedia and via other search engines.
This begs the question: why on earth did our Immigration bureaucrats allow Dotcom (also known as Kimble, also known as Kim Schmitz, also known as Kim Jim Tim Vestor and Kimble) in to New Zealand as a resident running his business under the 'Investor plus' category that requires any investor to stump up NZ$10 million for New Zealand government bonds?
Stuff reported the Immigration Service said it knew about Dotcom's criminal history, but let him in anyway. Here's what the Immigration service said:
Mr Dotcom made full disclosure of his previous convictions and they were taken into account in the granting of his residence. The Immigration Act allows for discretion to be exercised in certain cases. In this particular case, Immigration NZ weighed the character issue and any associated risk to New Zealand against potential benefits to New Zealand
Failed the good character test
However, it seems some of New Zealand's bureaucrats are more...er...sceptical than others. The NZ Herald's David Fisher reported in January 2011 that Associate Finance Minister Simon Power and Land Information Minister Maurice Williamson stopped Dotcom from buying the Coatesville 'Dotcom mansion' he was living in because he failed the good character test.
Here's what Dotcom told the NZ Herald:
"Officially I am as clean as it gets. I am not a bad person with a bad character and, in my opinion, Simon Power is small minded and unreasonable. "In New Zealand, murderers have been released from prison within a decade. You would think that the New Zealand Government believes in giving people a second chance." Dotcom said his crimes were "victimless" and "committed from my home computer".
So we have the Immigration Service saying he could be a resident as long as bought NZ$10 million of government bonds, but the rest of the government saying he wasn't of good enough character to buy land here?
By the way, those government bonds were seized over the weekend by the FBI. Although, ironically, Dotcom's investments in these bonds performed well over the last couple of years because of a rally on bond markets, as Roger J Kerr pointed out here.
Easy touch for dodgy 'economic' migrants
The risk here is that New Zealand's desperation to tempt wealthy immigrants to call New Zealand home (and invest here) is simply encouraging them to launder their ill gotten gains through the New Zealand government's accounts. That's one way to finance a deficit, but I can think of better ways.
It's good to see the Overseas Investment Office (OIO) taking its time to research the potential purchasers of land. It eventually rejected a bid by May Wang and her associates at Natural Dairy for Crafar Farms last year because she failed the good character tests. Subsequently, she was charged with fraud by the Serious Fraud Office. Good.
The OIO's caution about Shanghai Pengxin's bid for Crafar Farms should also be welcomed. China Merchants Bank and Bain and Co published a report in April last year showing that more than half of China's millionaires wanted to emigrate to protect their often recently (and shadily) acquired wealth from reposession by China's government. See an AP report on that here and a WSJ report on that here.
Trying to unravel where wealthy migrants have obtained their money is never easy and unfortunately New Zealand is acquiring a reputation as something of a soft touch, thanks to the exploits of Kim Dotcom and others.
Money laundering rules
Our banks need to ask themselves some questions. The indictment shows Dotcom set up accounts with BNZ and Kiwibank, we reported earlier.
The Reserve Bank has been introducing tougher new rules to combat money laundering since the introduction of the Anti-Money Laundering and Countering Financing of Terrorism Act 2009, but it won't be fully phased in until mid 2013. See more details here at the Reserve Bank's website.
The Reserve Bank of Australia has introduced its anti-money laundering regime in a more prescripted and phased way than our Reserve Bank, which has preferred to guide our banks through. Our banks seems to be taking a softer line than the Australian authorities. Here's what our RBNZ said about why it is taking a different approach than the Australian authorities:
New Zealand has not implemented an "assisted transition period" as was used in Australia. This means that reporting entities must comply with their obligations on 30 June 2013. The Reserve Bank of New Zealand intends to work with reporting entities in the lead-up to 30 June 2013 to help ensure that they fully understand their obligations and are in a position to comply.
Here's what the RBNZ says about 'customer due diligence'.
Customer Due Diligence (CDD) involves: 
a) gathering information about customer identity; and 
b) verifying a customer's identity, to ensure the customer is who they say they are.

In many cases, reporting entities will also need to establish the identity of the beneficial owner, meaning the person who ultimately controls the customer.

The Identity Verification Code of Practice 2011 sets out methods by which reporting entities can comply with their obligations to verify the name and date of birth of customers who have been assessed as low to medium risk. The Code is not mandatory, but provides a "safe-harbour" if followed correctly. If a reporting entity decides to opt out of this Code, it must adopt practices that are equally effective.
Here's a couple of questions that I suspect BNZ and Kiwibank might be asking themselves. Did they know Kim Dotcom had multiple identities, places of residences and criminal convictions before they allowed him to open accounts? Did they reassess his status after the government rejected his application to buy Dotcom mansion because he failed the good character test?
NZ an easy touch for fraudsters?
New Zealand also has some history as a place that international criminals can use relatively easy as a base to commit fraud.
Back in September last year Gareth Vaughan reported here on Simon Power's revelations via a Cabinet paper that 143 New Zealand registered companies had been implicated in criminal activities overseas including money laundering and tax fraud.
Later that month Gareth reported on the Reserve Bank's comments that at least 1,000 shell companies registered in New Zealand had been used to carry out fraud.
Here's what was said in that cabinet paper:
"A New Zealand registered company with its effective base in Panama recently committed a significant tax fraud in the United Kingdom. This sort of fraud affecting our OECD partners impacts negatively on New Zealand's international reputation. IRD is concerned that New Zealand will receive a poor report in an OECD forum later this year because it is unable to provide information which many other countries would be able to supply about such companies," the cabinet paper says.

Green Party co-leader Russel Norman recently questioned Power about New Zealand International Savings & Loan Ltd, which is New Zealand registered with its registered office at 9/22 Curran Street, Herne Bay, has its sole director - Rodrigo Edgardo Alvarado - located in Panama, and its shareholder listed as the Stockholm-based Eurocapital New Zealand Limited Partners SA. Norman was alerted to the company by a Naked Capitalism blog. On its website New Zealand International Savings & Loan says it offers banking services as a registered financial services provider in New Zealand.

SP Trading had no business presence in New Zealand and its sole director was a New Zealand-based nominee director who had signed a power of attorney handing over all authority over the affairs of SP Trading to two Ukrainian individuals. The sole shareholder was another New Zealand registered company, which held those shares on trust for the same two Ukrainians. The paper notes SP Trading's sole shareholder and sole director are now based in Vanuatu.

Earlier this year Fairfax Media's Mike Field reported that Kiwibank had closed the bank accounts of Auckland operation, but Vanuatu-registered, GT Group headed by accountant Geoffrey Taylor and sons Ian and Michael that had created around 2500 shell companies, including one for SP Trading.
Kim Dotcom has again exposed New Zealand's light touch on money laundering and immigration.
He should be sent packing back to America post-haste and New Zealand's government (sadly now without the hard-working and vigilant Simon Power) needs to be a lot more aggressive and careful about money laundering and economic migrants.
A quick look a the cars he drove (with the number plate GUILTY in the picture above), what he was saying about his activities (on this Torrent Freak website) and what he was doing in Monaco (in this Youtube video) should have been plenty enough warning for Immigration NZ, the OIO, BNZ and Kiwibank.
A simple Google search would have done the trick.
New Zealand needs to stop being so relaxed and loose about these sorts of things.
And we need to stop defending convicted thieves, insider traders and self-aggrandising money launderers who buy residency here by investing in New Zealand government bonds.
True Internet hero
Some paint Kim Dotcom as some sort of Internet hero, a type of Robin Hood character helping the little guy get one over the rapacious and corrupt Hollywood studios.
I don't buy that.
Here's a true Internet hero.
Her name is Lina Ben Mhenni. She used a blog to report on what was really happening in Tunisia. There was no media covering what was happening. She used the freedom and technology of the Internet for good. It was personally dangerous for her and even now, after the change of government there, she has received death threats by Islamic extremists.
She has made no money from her use of the Internet to get around official restrictions on publishing information. She does not have a Mercedes Benz and has not hired a yacht for a week in Monaco to entertain her friends.
Here's a good Sydney Morning Herald profile on her and here's her Wikipedia entry.
Final word to Kim Dotcom
Here's Kim Dotcom's comments in his own words from just a month ago about being persecuted by the movie studios:
Mega has nothing to fear. Our business is legitimate and protected by the DMCA and similar laws around the world. We work with the best lawyers and play by the rules. We take our legal obligations seriously. Mega's war chest is full and we have strong supporters backing us. We have been online for 7 years and we are here to stay, so no need to worry about us.

But you should be worried that these guys might be successful with SOPA or PIPA or any other legal tool for Internet dictatorship.

They are buying politicians to go against the people, freedom and innovation. They want to censor the Internet and bring innovation to a standstill by having their rip-off monopoly protected by Washington. They want to intimidate innovators and take all of us back in time.

But I am telling you, these guys should soon be history, just like cheap oil, because they underestimate the power of the people, the power of the Internet and the power of innovation. To stop them you need to get moving. As you read this the payroll politicians of the MPAA and RIAA are trying to take control of your Internet.

Show your government what you think about all of this. Because if you don't you will regret it.
Almost the last word. The atmospherics around Kim Dotcom actually tell you a lot about this guy when compared to what he says about himself and his motivations. It also should make New Zealand wonder what we gained from encouraging him to reside here.
The NZ Herald reported this morning that Kim Dotcom ordered NZ$4 million worth of renovations to the Coatesville Mansion after moving in, according to someone who knew about the renovations.
He said Dotcom's master suite had a television at the foot of the bed believed to be the biggest in New Zealand. Off that room was an ensuite and a dressing room. A heated lap pool is just off the master ensuite, boasting underwater speakers, imported spring water and a custom ladder worth around NZ$15,000.
He imported the spring water for his heated lap pool.
Is this how we're going to build our economy?