Bernard Hickey does the numbers on investing in residential rental property, and is amazed at the 'sure thing' returns on offer, especially in Auckland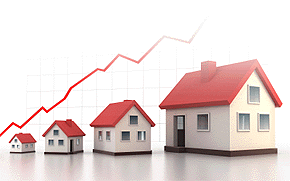 By Bernard Hickey
This week I sold my house in Auckland to take advantage of the 'heat' in the market.
I'm looking to pay off the remainder of my mortgage and buy a house mortgage-free in Wellington.
This is my own personal deleveraging plan to reduce the risk of having debt and give me some more flexibility about how and when I work.
But it's not what I 'should' be doing if I was responding to the incentives currently thrown in front of me by our tax system and banking system.
Instead, I should be taking the equity out of my house, slicing it up into as many deposits as I can and spreading it across a bunch of residential or commercial rental properties in Auckland with good dollops of 80 to 95% loan to value ratio debt.
Let's do the maths.
Let's just say for argument's sake I had NZ$600,000 of equity. Brokers tell me that banks are keen to lend and would allow me to buy a couple of rental properties with 5% deposits.
I could then buy another 5 with 10% deposits, and the rest of the money could be used with 20% deposits to buy 3 more.
That would allow me to buy 10 investment properties at NZ$500,000 each for a total of NZ$5 million, including borrowings of NZ$4.4 million.
That's an average loan to value ratio of 88%.
At current interest rates of around 4.9% that would mean I'm up for NZ$215,600 a year in interest.
I'm told that if I was a clever and hard working investor that only bought three bedroom brick and tile properties in cheaper suburbs down south and out west in Auckland then I could get a cash yield after rent, rates, insurance and maintenance of around 6% or NZ$300,000 a year.
That implies rents of well over NZ$400 a week, but I'm told that's quite possible, particularly if I can get the government to pay accomodation supplements.
At current interest rates I would already be profitable in cash terms, but factor in the tax free capital gains and I would be in clover.
Capital gains are the key and at the moment there seems to be just one direction for house prices in Auckland in particular.
The Real Estate Institute's stratified measure of house prices shows prices rose 14.4% in the year to October in Auckland. If that happened again next year I would make implied capital gains of NZ$700,000 on my 10 properties, adding to the NZ$84,400 of cash profits from the rentals.
That implies of an investment return of 130% in one year on the NZ$600,000 of equity I leveraged up into rental property.
The big question, of course, is what will happen to property prices and interest rates.
Financial markets are pricing in more cuts in interest rates.
Auckland is building less than a third of the 15,000 houses a year it needs to keep up with population.
The Reserve Bank Governor has just said he wouldn't limit loan to value ratios, even if he had the ability to do it.
Why wouldn't house prices rise another 14% in that environment?
It seems like a sure thing.
All the incentives in front of me are saying gear up to buy rental property in an Auckland market with a chronic shortage of houses. They're saying I should borrow NZ$4.4 million from foreign-funded banks to boost the value of existing property.
They're saying I should increase New Zealand's foreign debt and use it to enrich myself while not employing any other New Zealanders and not paying tax on it.
So what am I waiting for? I've almost convinced myself I should do it.
-------------------------------------------------------------
This article first appeared in the Herald on Sunday. It is used here with permission.