Today we are revealing the Top 10 interest.co.nz charts of 2012 in association with NZ Mint.
Our interactive charts were read 225,300 times in 2012, plus many were embedded into our stories and were read there another 350,600 times.
We have no idea how many static charts we made in 2012, nor the number of other people's charts we used.
As you can tell, we love charts because they give a powerful perspective to data.
In 2013 we will be adding sparklines to more of our data.
These are tiny charts designed to give you an accurate sense of how the data moved before today's datapoint.
You can see the first of these sparklines on the Government bond data on our bond page here »
Bernard is on his summer break and will be back in late January 2013, from Wellington.
As always, we welcome your suggestions in the comments below or via email to david.chaston@interest.co.nz.
See all previous Top 10s here.

#10. Precious metals
Gold, silver and platinum daily closing prices, in both US$ and NZ$ per troy ounce. US equities are down 1% today as it looks like America will in fact go over the cliff; partisanship is alive and well. Gold however is only up US$2 on the day, or +0.15%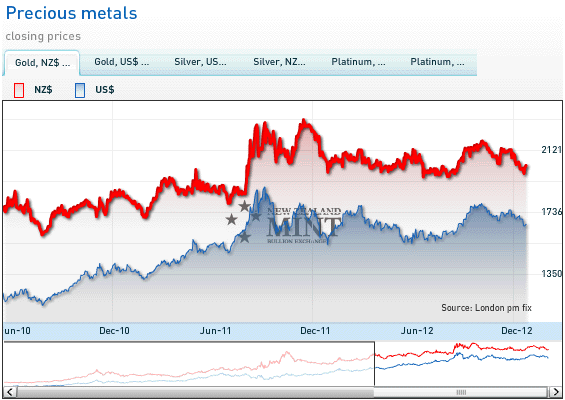 #9. Wool prices
The wool trade is a tough old business these days. For about two years prices made a modest recovery. But things have slipped back to disasterous levels. All very discouraging for a natural, organic fibre. It is getting trounced by both man-made fibres and GM cotton. When was the last time you asked for something made of wool? (A question especially for those of us who think they are into sustainability, and green politics.)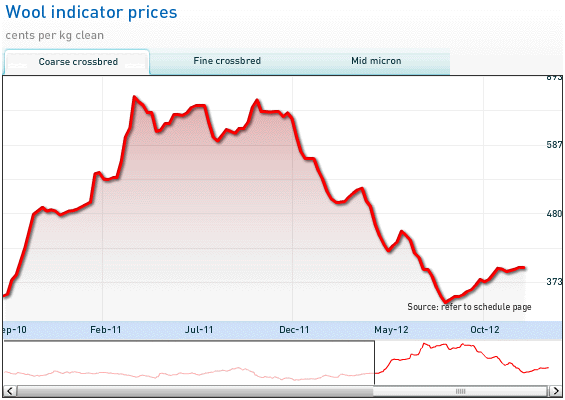 #8. Bank bill rates
This is the story of lower-for-longer. The changes in the 90 day bank bill rate are now miniscule. However, this rate will be among the first to signal when an OCR change is coming.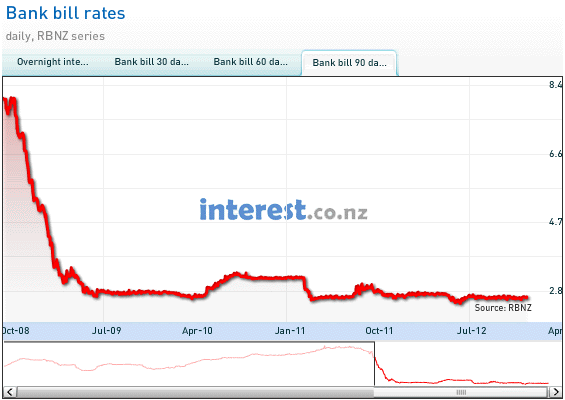 #7. Dairy prices
A chart set that shows both the Fonterra globaldairytrade results, and the USDA Oceania price monitoring. And we have prices in both US$ and NZ$.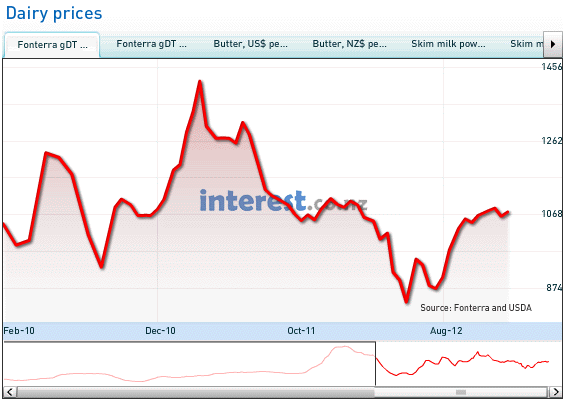 #6. Govt bond rates
There has been approaching a three-fold increase in Government securities on issue over the past four years, but interest rates on this 'risk-free' debt have declined markedly.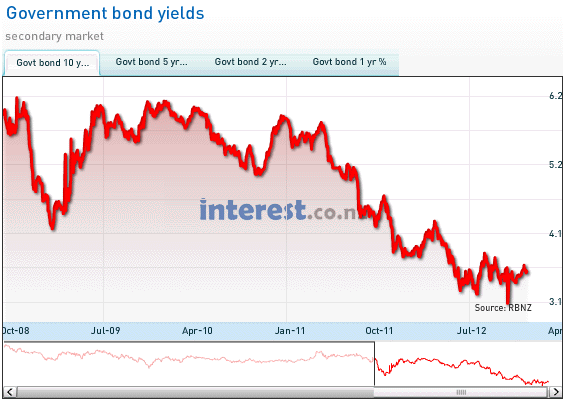 #5. Oil and Petrol prices
The presumption was that petrol prices would just keep going up, but they haven't. For more than a year they have been pretty stable, and the main upward pressure has come from taxes. Holding them down has been a relatively high exchange rate, lower demand, and crude prices that aren't going anywhere. The cost of petrol no longer holds our economy to ransom. The positive effects of fuel efficiency are multiplying.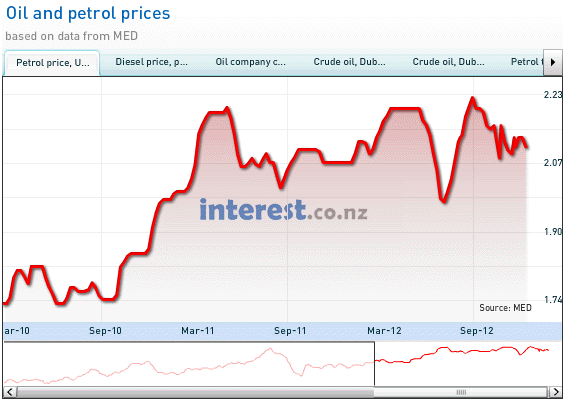 #4. Daily exchange rates
What is remarkable about our exchange rates over the past year is how stable they have been. Apart from four relatively brief periods, the NZ$ has hovered about US$0.82 - in fact that has been the rate May 2011. Our currency has been even more stable against the Chinese yuan.
A few traditional exporters still whine about it, but that stability has allowed most to adjust their business, and exporters with something international customers want to buy have learned to live with it. Importers also have probably appreciated the stability. And from a public policy viewpoint, it has helped keep costs stable and price rises modest.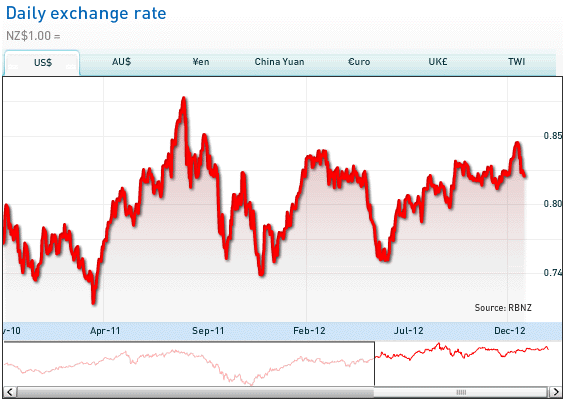 #3. Mortgage rates
2012 has seen further falls in mortgage rates, especially fixed home loan rates. The most important thing for borrowers is to not assume they will stay this low. Low rates encourage borrowers to borrow more, and therein lies the trap. If rates should rise (and remember, RBNZ governor is reputed to be a hawk), highly leveraged borrowers will be quickly in trouble. Use our mortgage calculator to work out a safe place to be, repayments wise. And always remember, its not the rate you pay, its the rate you pay it back that is most important.
These charts show our mortgage rates are at or near record lows. But they are not as low as in the US - a 15 year fixed rate there averages only 2.65% ! (The difference is the difference between our respective OCRs.)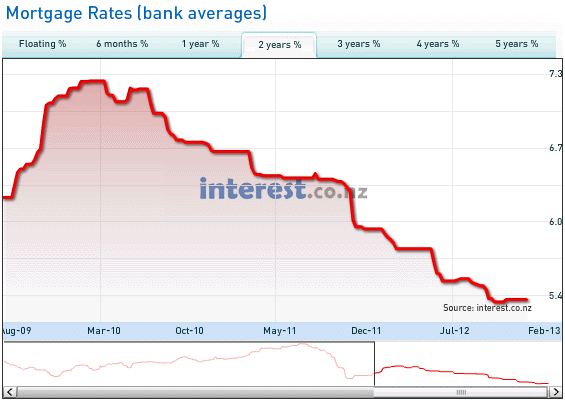 #2. Swap rates
These are the wholesale benchmarks that drive fixed mortgage rates. (There are other factors at work too, including risk spreads.) When you see these rates move, you can get a good indication that fixed mortgage rates could also move in sympathy. However, swap rates are not as important as they used to be, for two important reasons. Firstly, banks are very flush with cash, much of it term deposit cash, and lending opportunities are lower than in the past. And secondly, the Core Funding Ratio regulation means that a lesser proportion of mortgage funding is coming from offshore, wholesale sources. Intensive competition amnong banks for mortgage business has them holding pricing at competitive levels, sometimes ignoring swap rate cost pressures.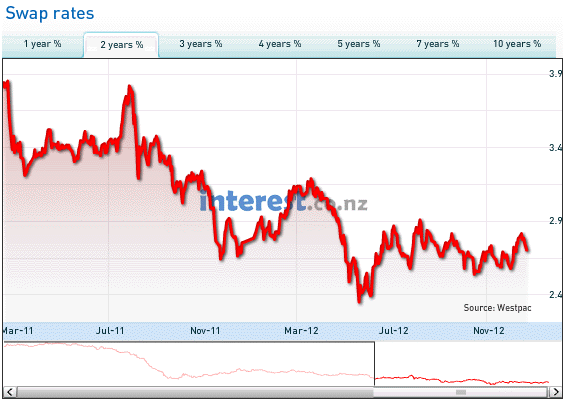 #1. Term deposit rates
This is where things get tough for savers. In fact lower-for-longer means 'financial repression' - and savers are bearing the cost of public efforts to get our economy back on its feet. Interest rates are pushed down to encourage lending, but the rise in credit has only been modest. As our savers age, the amout of funds flowing into bank TDs is enormous - about NZ$108 billion at present, and that inflow shows no sign of slowing. Banks are awash in cash.
About the only positive a Kiwi saver can take is that at least our TD rates are above inflation - just. And that won't seem much of a positive, especioally when most savers pay income tax on their interest earnings. But we are much better off than Japaneses or American savers - most of whom will be lucky to get 0.3% gross on a term deposit.