Opinion: Are we JAFAs prepared to let the Auckland Council's Unitary Plan make high rise schools inevitable or can Auckland's growth be slowed down?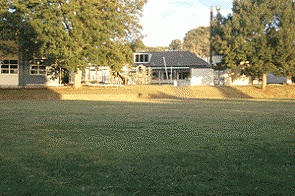 By Gareth Vaughan
Several years ago when I was living in Wellington I went out one evening for a beer with an old school mate and a friend of his who was from Christchurch.
In what was maybe a Mainlander's piss take of we JAFAs, or perhaps of people from all three of our main cities, the bloke from Christchurch told us the following joke. What's the first thing a person from Christchurch asks when they meet you? What school did you go to? What's the first thing a person from Wellington asks when they meet you? Where do you work? And what's the first thing a person from Auckland asks you when you meet them? Where'd you get your sunglasses?
At the time I was quite amused. But I think a more likely question from Aucklanders, especially those with kids, planning kids, or obsessed with Grammar zone related property prices, might be: What school zone is your house in?
This was something that, believe it or not, my wife and I didn't give much thought to when the then childless version of us bought our current house in the hyped up property market of 2006. However, the real estate agent we bought the house through, who promoted it as being in South Epsom, assured us that our local primary school, Royal Oak, was a good one.
We've heard nothing to suggest otherwise since. And now that we have two young boys, with the eldest about to turn three, the school issue is growing in importance.
32.5 metre buildings may be heading our way
Hence when I heard Royal Oak was one of the suburbs, or "town centres", the Auckland Council's draft Unitary Plan suggests can have buildings and apartments of up to eight storeys, I did two things. Check to see whether our house, currently zoned residential 6a, was in an area where 32.5 metre high buildings would be allowed. It's not. It's slated to be in a mixed housing zone, which is an area the Council says will "encourage" a mix of detached, semi-detached and attached dwellings, units, town houses, terraced houses and small scale apartment buildings.
Then I looked more broadly around my neighbourhood to see what changes the Unitary Plan, described by the Council as a 30-year blueprint for Auckland's development, was proposing and thought about what this might mean for what I assume will be my children's first school.
As the map below, with the school zone marked in red shows, there's an eight storey zone planned for around the Royal Oak Shopping Mall and roundabout, a "local centre" area that will allow buildings of up to four storeys, plus large chunks zoned for terraced housing and apartment buildings, which will "encourage" the development of apartments ranging from four to six storeys in height.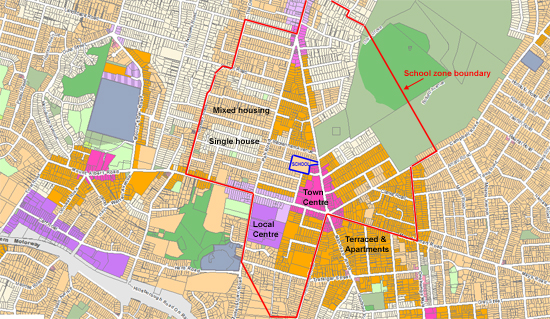 Now, plenty of Auckland schools are already under the pump. Witness Point Chevalier Primary School. Building work has gone on at this school for seven of the last 10 years, it now has 750 kids, and debate's raging over expanding nearby Pasadena Intermediate School into a primary school, or continuing building at Point Chevalier Primary. The Unitary Plan will permit terraced housing and apartments of up to six storeys in parts of Point Chevalier.
Given the Unitary Plan is a long-term one, and assuming the draft is rubber stamped largely unchanged (it's open for public feedback until May 31), nothing too much is likely to change overnight. Expect perhaps for property spruikers bidding up the price of houses in zones that will allow apartment blocks.
But if you look at the potential impact on my local primary school, if building in the school zone ultimately goes as far as the Unitary Plan proposes, it all points to one very crowded school. And this is a school that's already pretty full. A member of the school's Board of Trustees, who lives across the road from us, told me a year ago that just because we're zoned for the school our kids won't necessarily get in. It has a roll of 600, which is expected to rise as high as 670 by the end of the year.
If our kids couldn't get in that wouldn't necessarily be the end of the world. But I've always assumed my kids would go to their local primary school. And my own memories of primary school, such as they are, largely consist of running around with my friends on wide open green spaces. Even if my kids are still able to enjoy a similar experience, those following them in central Auckland may not be able to.
High rise schools
Last week I interviewed Deputy Mayor Penny Hulse after the launch of the Unitary Plan and asked her about its impact on public amenities such as schools. I asked whether she thought new schools would be built in central Auckland and if so where, or whether existing ones would have to be built upwards. Hulse said that this question "got to the heart of the matter about why we do need to plan for growth." She said the Council would need to work with the Ministry of Education, but then went on to bemoan how Auckland was allowed to sprawl in the 1970s without planning for the likes of schools.
I then fired off some similar questions to much maligned Education Minister Hekia Parata. Her press secretary responded by saying I'd be better off asking the Ministry of Education. So I did and a spokeswoman from the Ministry came back with the following:
"Schools in Auckland City have been reflecting a worldwide trend of having less open space area and more multi level type buildings. Prior to the Canterbury earthquakes there were two inner city Christchurch schools based in commercial office space - Unlimited and Discovery. It is likely that over the next twenty years there will be more similar schools, as a result of more inner city living in Auckland. Students will access local community facilities such as swimming pools and council libraries as part of their normal curriculum activities."
"However, schools just outside the Auckland CBD still enjoy lots of open space and this isn't likely to change anytime soon. What may happen is, that over the next 20 to 50 years, schools build upwards in order to maintain open spaces for their future students."
So it sounds like high rise schools are the future for central Auckland.
Now there's nothing wrong with them per se. They're common in many countries overseas. And if it means playing fields are retained, it's probably the right call. But it does signify that central Auckland schools, many of which are already under the cosh from rising student numbers, are set for soaring school rolls if - as our Council proposes - Auckland residents live, more and more, on top of each other.
Isn't there a way of reducing the number of high rises and/or slowing urban sprawl?
But does it have to be this way? Does New Zealand really want to have 40% of its population crammed onto, or around, one narrow isthmus?
Auckland Council favours the piece of social engineering known as the Unitary Plan and cramming more people into the existing city. The central government, led by Housing Minister Nick Smith, is talking about over ruling the Council by "smashing" Auckland's urban limits in the interests of housing affordability, which would allow the city to begin sprawling anew.
 But isn't there a third option?
Speaking on TVNZ's Breakfast recently Massey University Sociologist Paul Spoonley pointed out New Zealand's population is forecast to reach five million by 2026, with around 40% expected to live in the City of Sails, which by international standards is an unusually large chunk of its population for a country to have in just one city. Spoonley suggested conditions could be introduced to immigrant visas meaning the applicant must live outside Auckland for a period of time, say five years. He noted two-thirds of immigrants live in Auckland.
And Invercargill Mayor and transplanted JAFA Tim Shadbolt, who was Mayor of Waitemata City when I was growing up there in the 1980s, has called for action to prevent New Zealand becoming "too Auckland centric."
"It's devastating for us when you have a system of population-based funding," he told TV ONE's Close Up.
"We face huge pressure... because although we represent 3% of New Zealand's population in Southland we represent 12% of New Zealand's exports and I think that is a factor that should come into play when handing out funding."
"In Australia, for example, they said new immigrants had to spend two years outside the big cities and it did work for them," Shadbolt said.
I put a question to Hulse prior to my interview with her about whether anything could, or ought to be done to slow Auckland's growth. She said this was an issue that came up at every public meeting the Council's been having but rightly noted it was an issue for central government.
So isn't it time we had the debate at a national level over whether some attempt should be made to slow Auckland's growth and encourage people and business to other parts of the country?