Bernard Hickey congratulates Graeme Wheeler for imposing high LVR speed limits, staring down heavyweight objectors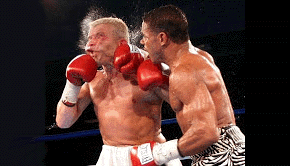 By Bernard Hickey
Sometimes you just have to sit in a ringside seat at a big fight to really understand what it's like.
Hearing and seeing the thwack of a knockout punch at the same time as you see the sweat fly is always better than watching it on television or reading a newspaper report.
Luckily for New Zealand, Reserve Bank Governor Graeme Wheeler is now our banking regulator and he had a ringside seat when a housing crash in America almost knocked out the global financial system.
Mr Wheeler was the Head of Operations at the World Bank in Washington from 2006 to 2010 so he no doubt saw the sweat fly in those dark months in late 2008 and 2009 when by many accounts the global financial system was brought to the brink of collapse.
Only massive intervention by the US Federal Reserve staved off an electronic run on its banking system in late September 2008 that would have emptied America's coffers within hours.
Mr Wheeler would have been around when central bankers, politicians and bureaucrats in Washington burned the midnight oil to save the system.
He would have seen up close and personal how home owners' fortunes were wiped out and bank capital was gutted because they borrowed too much and never believed house prices could fall.
He would have seen the furrowed brows, felt the sweaty palms and seen the stress in the eyes of his fellow central bankers when they were bailing out that system.
This explains his determination to avoid the same thing happening here and why he pushed ahead this week with a 'speed limit' on high Loan to Value Ratio (LVR) loans.
He has had to fight against the surprisingly public and heavy political pressure from Prime Minister John Key and the squeals of outrage from bankers, first home buyers and their fellow travellers.
He has also had to overcome a decades-old internal culture at the Reserve Bank that is reflexively against telling bankers how much and to who they should lend.
When Mr Wheeler arrived at the Reserve Bank in September last year he inherited a central bank reluctant to impose so-called macro-prudential controls such as a speed limit on high LVR lending.
Departing Governor Alan Bollard told me as much in an exit interview where he talked about his memories of lending controls during the Muldoon era of the 1970s. Bollard's Reserve Bank, which is still largely led by those with searing memories of those controls, was against reimposing such limits.
It even publicly considered them in 2006 and 2007 during the tail end of the last housing boom, but agreed with those in the banking industry and in politics that such controls would create "distortions."
I say bravo to Mr Wheeler for sticking with his instincts forged during the crisis of 2008 and 2009.
It should not be forgotten that the Reserve Bank here also had to make more than NZ$7 billion emergency loans to our own 'Too Big To Fail' banks between October 2008 and April 2009 as house prices fell more than 10%.
He has had to fight hard and right from the start.
Unfortunately for him, he arrived just as the banks were pushing hard down on the accelerator of mortgage lending. Mr Wheeler's term began on September 26, just a month before ANZ integrated National and unleashed an almighty dash for market share in the Auckland mortgage market as others tried to poach National customers unsettled by the integration of brands and computer systems.
ANZ and ASB went at it hammer and tong for months, offering free televisions, thousands of dollars of 'cash-backs' and waiving low equity premiums to first home buyers and others wanting high LVR loans.
By November 7 when Mr Wheeler held his first press conference it was becoming clear this surge of lending was the spark that could set alight an Auckland real estate fire that was smoldering with the fuel of capital inflows, migration and a lack of supply.
He sensed it, but five weeks into the job he wasn't willing to slam on the speed limits without more evidence of a housing boom.
"Even if we had the ability to use that instrument at this point in time, it's not something we would seek to be exercising...at the current time," he said on November 7 when releasing the bank's Financial Stability Report. But even as he was speaking, lending and house prices were taking off in New Zealand's most crowded and auctioned city.
Auckland's house price index rose 16.6% in the six months after that November 7 news conference. (Here's the section of that news conference where Wheeler and his deputy Grant Spencer answer my questions about the high LVR lending that was taking off). Here's my November 7 article criticising the bank for a lack of action then. 
He has moved six months too late, but it's better late than never and he should be congratulated by politicians and bankers, rather than badgered at and harped at.
I'm glad our banking regulator has seen up close and personal what a housing bust would do to our banks.
That experience was crucial in over-coming the complacency and objections of bankers, politicians, and home buyers who believe in their bones (still) that house prices in New Zealand can never fall.
Anyone with any doubts should read Mr Wheeler's excellent speech this week in which he showed how New Zealand's house prices were more over-valued than America's, Britain's, Australia's and Ireland's.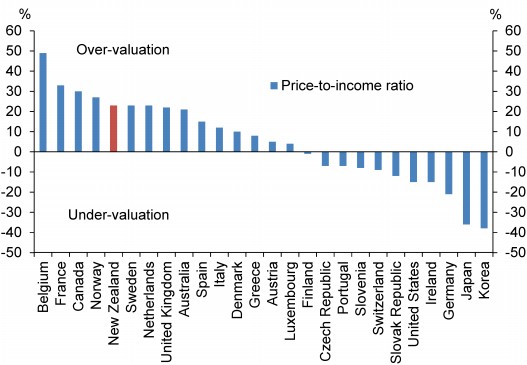 He also showed how our household debt is now higher relative to our GDP than America's, Australia's and Greece's.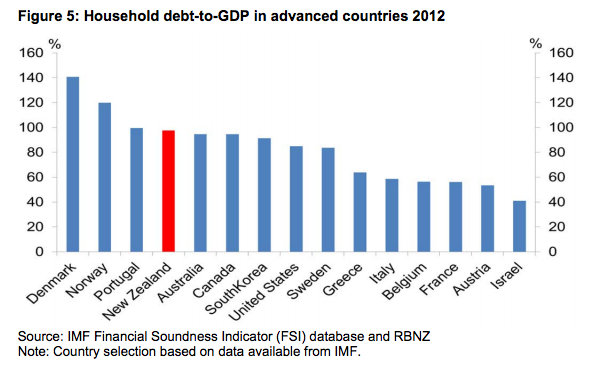 That heavy thwack of a housing bust hitting our economy is something no one ever wants to see up close and personal, but I'm glad our Reserve Bank Governor has.
Here's his speech from last week. It's well worth a read.
-----------------------------------------------------------------------------
A shorter version of this has appeared in the Herald on Sunday. This full version is used here with permission.
(Updated with November 7 video, charts, link to speech)