How will New Zealand households find the NZ$50 bln needed to build 100,000 new homes in the next 3 years?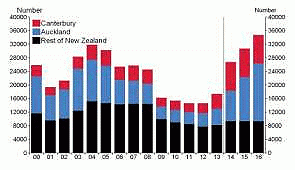 By Bernard Hickey
This chart courtesy of the Reserve Bank encapsulates the huge challenge New Zealand's economy faces over the next three years.
It shows how many houses would be built if the current targets from the Auckland Accord and the Canterbury rebuild were met in an 'unconstrained' scenario and the rest of the country carried on per usual.
It's worth unpacking what this means and how important it is because this forecast is central to everything in the economy and in politics through the middle of this decade.
The Reserve Bank would love for this extra housing supply to help offset some of the extra demand surging into the housing market from migration, population growth and record low interest rates.
Such a building boom would help them keep interest rates low for longer, and therefore take some of the pressure of the ever-rising currency, thus reducing some of the 'headwinds' it talks about for the export sector.
The economy would love it because it will help drive GDP growth at 3-4% per annum over the next half decade or so, putting us at or near the top of the growth league tables in the developed world.
The Government would love all of those things to happen -- slowing house price inflation, less unaffordable housing, low interest rates for longer and the strong economic, jobs and wages growth that would go with it. 
Reserve Bank Governor Deputy Governor Grant Spencer was openly sceptical in his speech last month about how easy it would be to achieve the scenario pictured in this chart.
He worried rightly that all of this would be happening at the same time as a massive commercial rebuild in Canterbury and that the building level would need to be 9% higher than it ever got at the height of the 2003/04 building boom.
He said it was likely to create price pressures that could spill over into wider inflation.
The unspoken next step is of course that such inflation would force the bank to put up interest rates.
Aside from the sheer construction logistics of such an unprecedented house building boom being able to take place at the same time as the biggest commercial CBD build in our history, it's worth looking at the financial logistics.
The Reserve Bank is saying almost 100,000 new houses would be built in the next three years under the existing government plans. Including all the council funded infrastructure around them, this would cost about NZ$50 billion. So who will pay for them? How will they be funded? Can it be done without another household debt explosion? Will the Reserve Bank itself restrict credit in such a way as to stop the boom happening?
This is the conundrum at the heart of the economy right now: will the Reserve Bank allow another increase in household leverage to fund this building boom?
A slow start and a hiccup
This week's events in the building market and the banking system have shone some bright light on this conundrum for central bankers, politicians and home builders alike.
Thursday's building consent figures for September appeared to confirm a slowing of the consenting growth seen earlier in the year, just at a time when everyone was expecting it to be picking up going into the October 3 signing of the Auckland Housing Accord and a ramping up of building activity in Christchurch.
ASB economist Christina Leung said the slowing trend was a concern.
"There have been recent anecdotes from building companies that the restrictions on high-LVR lending, which took effect on the 1st October, are discouraging house-building demand," she said. "Building companies are reporting concerns amongst some households that if a top-up in mortgage borrowing is needed should unexpected additional building costs be incurred once the building project commenced, then there is the risk of the mortgage hitting the 80% LVR threshold and impacting projects.
Westpac Economist Michael Gordon said the consents in Auckland remained worryingly subdued. "While the number of consents in September was up 7% on the same time last year, the pace has slowed markedly in recent months," he said.
Then on Thursday BNZ CEO Andrew Thorburn told me BNZ had completely stopped issuing new approvals for high LVR loans. He said the conversion rates for the pre-approvals BNZ issued before the August 20 announcement of the high LVR limit were much higher than expected. This had forced BNZ to cancel about 150 approvals and stop issuing new ones altogether while the bank slowed its 'run rate' to meet the 10% limit for high LVR loans as a proportion of total average mortgage flow over the first six months. He also noted sub-80% lending was also slower than expected. ASB has also cancelled many more of its high LVR pre-approvals and Westpac has cancelled significantly less than a third of its high LVR pre-approvals. ANZ has yet to cancel pre-approvals.
On Wednesday home builder GJ Gardiner was reported in the NZ Herald as saying it had lost 24 deals to build new homes because of the speed limit. The Registered Master Builders Federation (RMBF) repeated that it expected the high LVR speed limit would reduce the number of new builds by about 15% or 3,000 in the first year. 
RBNZ, Key more confident
The Reserve Bank itself and Prime Minister John Key are more confident the speed limit won't slow down new building much, or at all. Key flatly rejected the talk from the RMBF that it was affecting new building, pointing to a rise in weekly consents he was seeing from Auckland since October 1. 
Governor Graeme Wheeler said in this Radio NZ interview broadcast on Monday that the bank didn't see a strong case yet for exempting loans for new builds from its speed limit. He pointed out that the sharp rise in the value of existing housing above the cost of new housing was making it more attractive to build. The bank itself estimated the limit could reduce consents by 60-80 or 2-5% a month.
Wheeler is not the only one pointing to the conventional theory that people will opt to build when it's cheaper than buying existing homes. 
ANZ's economists produced this nifty chart showing the 'Tobins Q' -- the ratio between market price of an existing house and its replacement value -- and housing consents.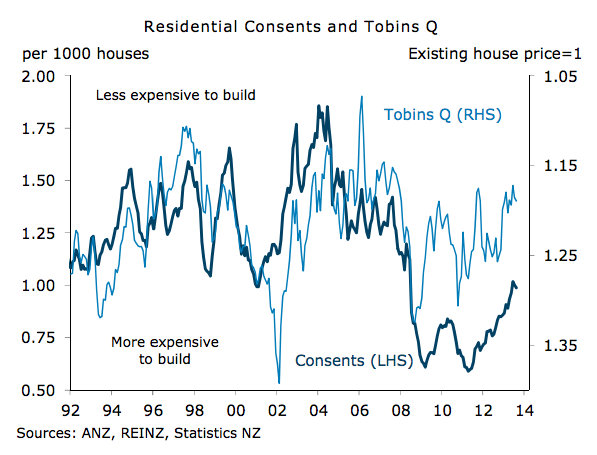 This would suggest we're about to experience a surge in building consents.
Ability to borrow?
But there is one thing markedly different now than when we last saw a rise in the Tobins Q and building consents. Back in 2000-2002 New Zealand's household debt to disposable income ratio was around 100%. The subsequent borrowing binge through 2002 to 2007 increased that ratio to about 150% of disposable income, as this Reserve Bank chart shows. It fell a bit from 2008 to 2012, but has since started rising again.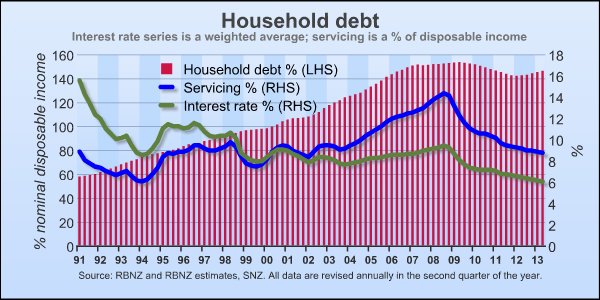 The bank itself has warned repeatedly in recent months it's concerned about this renewed rise in household indebtedness. It's one of the justifications for its high LVR speed limit.
The bank's regulatory impact statement on the speed limit even has this excellent chart comparing New Zealand's household debt to GDP ratio with other countries.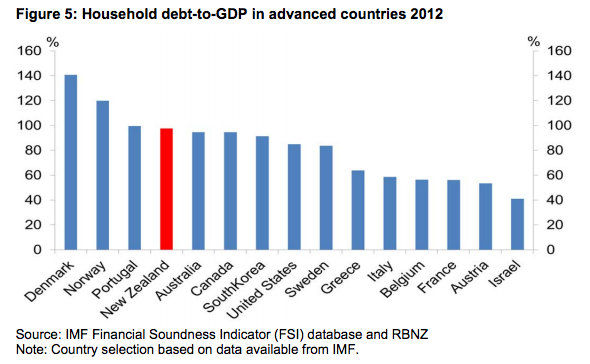 It shows New Zealand's ratio sitting at just below 100% of GDP.
That's a problematic level, according to those who have studied the long term effects of indebtedness for countries, particularly household, corporate or government debt. The Bank for International Settlments (BIS) said in this 2010 study that household debt tends to drag on economic growth once it gets over 85% of GDP. New Zealand's is near 100%.
So it again begs the question: how will households fund this NZ$50 billion building boom in three years?
Not all debt
To be fair to the Government and the Reserve Bank, not all of that money will come from increased household debt. Perhaps a fifth of that will come from insurance payouts and perhaps the same again from various governments and corporate funds as local governments borrow, some developers borrow and some corporates invest their own equity.
Some will come from accumulated household savings. There is about NZ$120 billion stashed away in term deposits and another NZ$16 billion in KiwiSaver, some of which will be drawn down to take advantage of the Government's first home buyer subsidy of up to NZ$10,000 per couple. 
Some of that NZ$50 billion will be able to come without increasing indebtedness as debt can grow in line with incomes, although at current growth rates that's about NZ$10 billion worth of growth over three years. 
On that back of the envelope that leaves households about NZ$15 billion short of the NZ$50 billion they would need. To achieve the planned and hoped-for ramping up of house building the Reserve Bank is going to have to tolerate a further increase in an already dangerously high level of household indebtedness.
Or someone else is going to have to fund the building. 
The Labour and Green Opposition are proposing that a good chunk of it come from the Government, which does have a much greater capacity to borrow, with its net debt currently well under 30% of GDP.
Your view?
(Corrected to make clear Grant Spencer is the Deputy Governor, not the Governor)