Monday's Top 10: Kirdan Lees on tweeting economists, happiness indices vs GDP, Janet Yellen, US fuel efficiency, GDP flaws, optimal immigration, Dilbert & more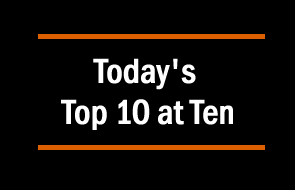 Today's Top 10 is a guest post from Kirdan Lees, principal economist at the New Zealand Institute of Economic Research.
As always, we welcome your additions in the comments below or via email to david.chaston@interest.co.nz. And if you're interested in contributing the occasional Top 10 yourself, contact gareth.vaughan@interest.co.nz.
See all previous Top 10s here.

1. NZ Economists go nuts on twitter
but does man or machine do better on picking retweets?
Last week the New Zealand Association of Economists ran their excellent annual conference in Auckland.
Way more tweeting at the conference than in past years, and a sweet after dinner talk by Bernard Hickey on the role of media were highlights.
That got me into the always excellent New York Times on whether big data and machine learning algorithms can outperform mere humans on picking what gets retweeted.
It might not help economists write better tweets but the bottom line:
The end result is an algorithm that guesses well. It can guess which tweet gets retweeted about 67 percent of the time, beating humans, who on average get it right only 61 percent of the time.

It must rely on a few crude features, such as length of the tweet, the presence of certain words ("retweet" or "please") or the use of indefinite articles. Yet with so little, it does so much. This is one of the miracles of big data: Algorithms find information in unexpected places, uncovering "signal" in places we thought contained only "noise."

2. Researchers none too happy about the use of happiness indices instead of GDP
Kevin Lang and Tim Bond have an intriguing article at voxeu that talks through just how hard it is to draw conclusions from self-reported happiness measures rather than GDP.
That's important since many economists, like Diana Coyle for example, are pointing out flaws in using GDP and suggest using alternatives.
Say you ask people to rank their happiness as either: "very happy" (2), "pretty happy", (1) or "not too happy", (0). Turns out your assumption on the underlying distribution that underpins people's responses really, really matters.
Assume happiness is distributed very widely across people that aren't that happy, but narrowly for people that are broadly happy (left-skew), and New Zealand is the happiest country in the world.
But if there are large differences in happiness across people that are happier than average (right-skew), many of the rankings are reversed (New Zealand plummets in the world happiness rankings).
In their words:
Self-reported measures of happiness are growing in popularity as alternatives to GDP. This column presents a novel statistical critique of the validity of comparing such measures across groups. Since monotonic transformations of individuals' happiness levels can reverse average happiness rankings between countries, no meaningful comparison can be made without assumptions on the distribution of happiness.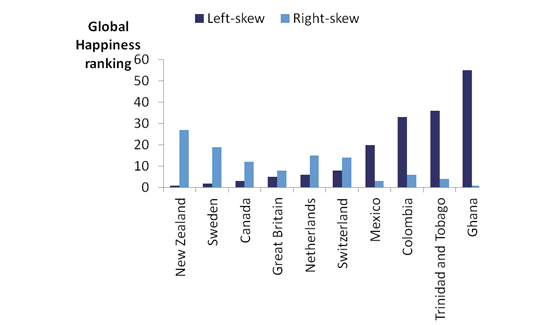 3. Yellen says lifting interest rates not the right approach to tackling asset price bubbles
Last week Janet Yellen laid out her thinking on what macroprudential policy should do and what monetary policy might be expected to do.
The comments come hot on the Bank of England's announcements on setting up "firebreaks" so high loan-to-income lending – above 4.5 – cannot be more than 15 percent of new mortgage lending.
Yellen's three key points:
- critical for regulators to complete their efforts at implementing a macroprudential approach

- policymakers must carefully monitor evolving risks to the financial system and be realistic about the ability of macroprudential tools to influence these developments

- no simple rule that can prescribe, even in a general sense, how monetary policy should adjust in response to shifts in the outlook for financial stability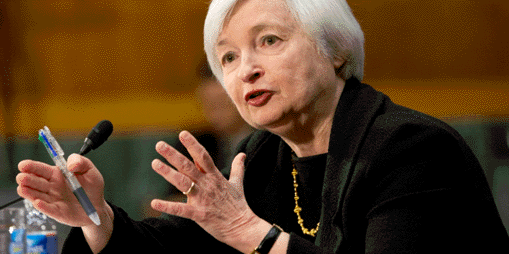 4. Larry Ball counts the costs of the GFC on the OECD one country at a time
Larry Ball has a nice article that looks at the costs of the GFC across the OECD.
He measures the cost of the GFC on potential output –"the normal level of production given the economy's resources and technology." Normally, after a demand driven recession, interest rates fall, induce spending and output returns to potential.
But the GFC has scarred the ability of many economies to produce goods – for example, through skills that atrophy over long periods of unemployment. Ball compares OECD and IMF measures of potential output.
New Zealand lies south of many European countries but our potential output – that will never be recovered – has been hit hard. I've graphed below New Zealand's position compared to OECD peers.
Whereas textbook macroeconomic theory suggests that output should return to potential after a recession, there is mounting evidence that deep recessions have highly persistent effects on output. This column reports estimates of the long-term damage caused by the Great Recession. In most countries in the sample, the loss of potential output – 8.4% on average – has been almost as large as the loss of actual output. In the countries hit hardest by the recession, the growth rate of potential output is much lower today than it was before 2008.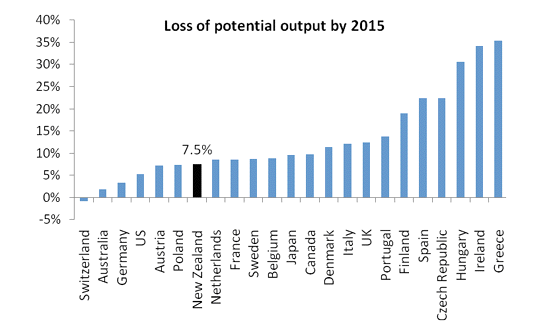 5. Time to build … more US public infrastructure? Paul Krugman thinks so
So if the output costs of the GFC are high, digging into the story behind the smackdown in potential output across the OECD looks like a good idea.
Krugman's line: lots of labour lying around makes it a great time for the government to get out and spend on public infrastructure projects. Sadly for the US, ideology and politics seems to get in way.
At the New York Times, Krugman points out:
... the aftermath of the bursting bubble was (and still is) a very good time to invest in infrastructure. In prosperous times, public spending on roads, bridges and so on competes with the private sector for resources. Since 2008, however, our economy has been awash in unemployed workers (especially construction workers) and capital with no place to go (which is why government borrowing costs are at historic lows). Putting those idle resources to work building useful stuff should have been a no-brainer.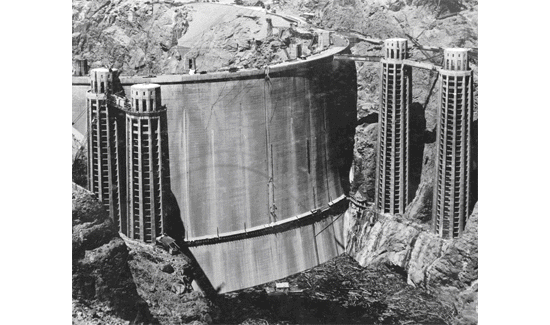 6. Five reasons cars in the US are more fuel efficient than ever
Better fuel economy is great. Saves us money, reduces reliance on oil and help reduce climate change. Vox have a great article that charts (see below) the improvement in US fuel efficiency. They put the improvement down to 5 key reasons.
New cars and light trucks sold in the United States now get around 25.5 miles per gallon on average — far above levels from five years ago:

1.       High oil prices and stricter standards are pushing fuel-economy up

2.       Smaller cars are regaining market share from SUVs and pickups

3.       Hybrids are growing — but tweaks to the combustion engine are still a huge source of innovation

4.       Cars are no longer getting heavier — and that's a major shift

5.       Every automaker is making cars with better fuel economy — not just Japanese companies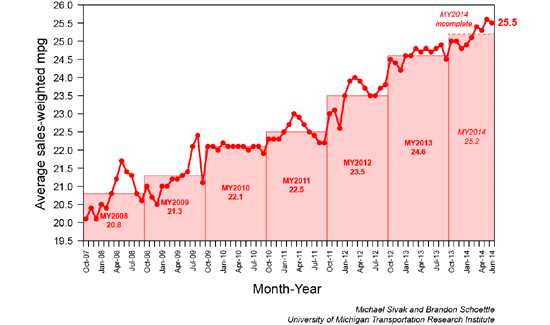 Our Ministry of Transport puts up some useful stats on the New Zealand fleet here.
7. Many more jobs in the US labour market
Since the peak of the crisis, the US job market has been going nowhere. Unemployment soared but then improved – but only because workers became so disenchanted with the lack of opportunities they exited the workforce altogether.
This all matters – both for the workers but also for monetary policy – the Fed has tied stimulus closely to the state of the US labour market.
But Ben Casselmans, at fivethirtyeight shows the market has turned for the better:

But in recent months, something has changed. On Thursday, the Bureau of Labor Statistics reported that U.S. employers added 288,000 jobs in June and the unemployment rate fell to 6.1 percent, its lowest level since September 2008, the month Lehman Brothers' bankruptcy sparked a global financial crisis. The U.S. has added 1.4 million jobs so far this year, making it the best half-year since the recession ended. Payrolls are up by 2.5 million over the past year, also the best mark of the recovery.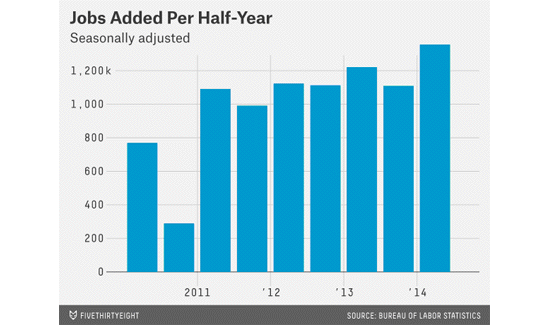 8. Seasonality and data revisions mean GDP doesn't matter much for business cycle analysis
"Growth" in the US economy from the start of the year to the end of March just got smashed in the latest set of revisions by the Bureau of Economic Analysis.
The economy shrank 2.9 percent after the BEA said in April the economy grew 0.1 percent. Turned out the winter was really, really bad but often the seasonal factor is quite large (see figure below). As Stephen G. Cecchetti and  Kermit Schoenholtz point out, GDP gets trumped by other data sources for real-time business cycle analysis:
In reality, these headline growth numbers simply don't contain all that much information for real-time business cycle analysis. There are many reasons, but two deserve special attention: (1) the statistical noise created by seasonality; and (2) the propensity to revise GDP many years after the period being measured.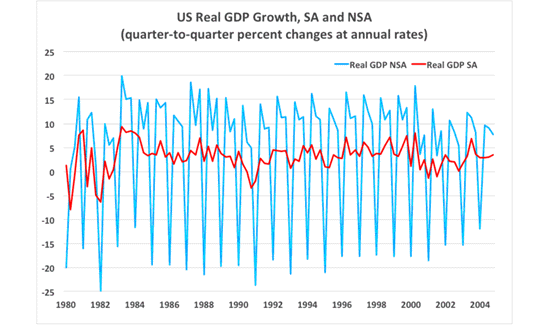 9. 2,002,052,035 – Optimal number of immigrants for the US
John Cochrane has a nice post on the optimal number of migrants for the US. Interesting for NZIER since we think New Zealand could do with lots more people given the types of people that want to come to New Zealand right now.
John Cochrane's view, it's the wrong question. Set up the dynamics that mean you get the people you want and then the market will decide the numbers:
Let's talk about the deal, not the numbers. For every objection to open immigration, it's easy enough to find terms of the deal to resolve the matter. The right terms will allow the optimal amount of immigration to settle itself, so that no apparatchik in Washington has to come up with a number. Once we get the terms right, every person who can benefit our society will come, and America will truly be a great nation of great immigrants again.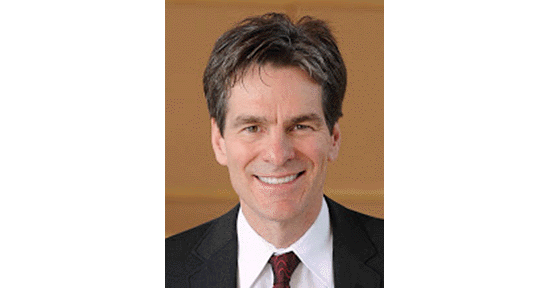 10. Brazil, Brazil, Brazil
Nate Silver is incredibly talented and probably lucky too – picking 49 of 50 states in the 2008 US Presidential Election.
When he lays down his thinking on the probabilities of different events people tend to listen.
His pick for the football World Cup? Brazil all the way - and the bookies are underpricing their chances.
Looking for a World Cup favorite? All you really need to know is this: The World Cup gets underway Thursday in Sao Paulo, and it's really hard to beat Brazil in Brazil.