The Northland by-election may pave the way for increased Regional NZ v Auckland political posturing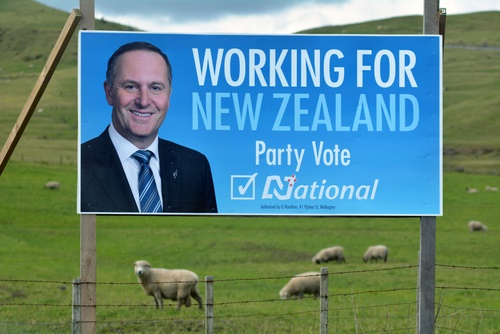 By David Hargreaves
Only history will accurately judge, but the Northland by-election might in future be seen as a big turning point in the development of New Zealand's political and economic policies.
Suddenly people are thinking and talking regionally - and by 'regionally' we can infer 'non-Auckland-ly'.
As I say, time will tell, but it is to be wondered whether there will now be a kind of backlash against Auckland and a move toward more populist 'regional' development policies. And would this be a good thing?
Economists from both the ANZ and Westpac have recently touched on this topic in their weekly commentaries.
ANZ's economists said that while the Northland result didn't change much politically, the pork-barrel politicking in the lead-up to the by-election was "undermining a big theme we were constructive on (leadership trumping populism)".
They went on: "Whether this is truly a turning point towards clear populism remains to be seen, but it needs to be watched.
"Regions flexing their muscle will bring regional-based development initiative thinking to the fore. We're not a big believer in regional growth being central government led; central government can be the supporting actor but not the lead one. But the Northland result will see thinking shift."
The economists made the additional point that the Reserve Bank could be a focal point "as part of a game of monetary policy political football, with growing sensitivities over Auckland (housing and consumption) versus the regions (production and the high NZD)".
And then there was with this from the Westpac economists: "One potential consequence of the by-election is that the National government may recognise that it can't take the support of the rural regions for granted.
"That could see a more tailored approach to economic growth policies across regions, though not necessarily with an increase in total spending given that the fiscal purse strings remain tight.
"And while macro-prudential policy is the Reserve Bank's domain, the Government might be more supportive of future restrictions that distinguish between regions (IE Auckland vs the rest).
"Make no mistake: the theme of a two-speed economy will be out in full force this year. Income growth in the rural regions is strongly influenced by changes in dairy prices, and the impact of the drop in Fonterra's farmgate milk price from a record $8.40/kg last season to $4.70/kg this season will take some time to play out..."
Point of friction
Okay, so, back to me. The extent to which Auckland's growth and development has run ahead of the rest of the country's has always been a point of friction. But there do seem to be signs that friction is growing.
What might have once been mostly good-natured (though probably always with an under-current) ribbing about 'Jafas' is now giving way to a deeper brooding resentment - a sense that New Zealand is now becoming two countries, AUCKLAND (imagine that in shiny neon) and 'the rest' (cue shots of tumbleweed in a deserted street).
The fact that Auckland house prices are now galloping ahead of the rest of the country in itself provides a kind of envy factor, but there's an additional edge to that too because of the fact the whole country already faces limits on high loan to value lending and may soon face further RBNZ measures - when the overheating house market problem that the RBNZ is seeking to tackle in fact begins and ends in Auckland.
That's right New Zealand as a country is being asked to take its medicine for the ills of Auckland.
Deepening resentment
I suspect such under-currents and resentments are only going to deepen as New Zealand begins to develop what - and I'm in agreement with the Westpac economists - is looking very much like a two-speed economy.
In a fairly simplistic sense the 'regions' have been trotting along fairly nicely on the cow's back as soaring global milk prices have pumped billions into farmers' pockets - and therefore back into the mostly regional economies.
But as the current travails of Fonterra tell us, the soaring prices have rapidly become SOURING prices, with the dairy farmers heading for a below break-even season. And while the forecasts are for better dairy prices next year, I really do wonder about that as we see such things as the removal of EU quotas make more product available.
When all is said and done, we didn't think the rest of the world was going to allow little old NZ to dominate dairy supply forever, did we? Or did we?
Opposition MPs have talked about a six billion dollar hole in the economy this year due to lower dairy prices - and of course it's 'regional' New Zealand that will feel most of that.
Tension
In most countries one might care to think of there is at least some tension between the wants and needs of the largest city and the rest of the country. In the most basic sense the big city will normally generate a large portion of the service-related income for the economy, while the regional parts of a country will provide the production. That's a very basic description.
Current dominant economic themes in New Zealand might be seen as: The rebuild of Christchurch (providing an almighty positive kick to GDP), a boom in Auckland's service industries, falling dairy prices, and the high Kiwi dollar.
The last of those, the high Kiwi dollar is both a positive and a negative. It's good for service industries, such as outbound tourism, but real bad for productive industries. What you might say, therefore is that Auckland and Christchurch (different reasons in Christchurch) have buoyant prospects, while the 'regions' get to cop a large part of the negatives from the high Kiwi dollar and the falling dairy prices - and they are going to be invited to face up to more RBNZ housing-based restrictions because everybody's going nuts buying houses in Auckland.
The recipe for increased The Rest v Auckland resentment is very much there.
I've already suggested it might be a very good idea to look at specific Auckland targeting to try to take demand out of the Auckland housing market and it's interesting to see the Westpac economists suggesting that the Government might now be more "supportive" of future RBNZ restrictions that "distinguish between the regions" .
One country or two?
But while I think that Auckland-specific targeting of RBNZ restrictions would be a good idea, we then get ourselves into the territory of asking how far we should go with, as a country, starting to treat ourselves as effectively two countries.
I think this is a question that's going to be asked a lot in coming months and as we lead up to the next election in 2017. The National Party in particular is vulnerable to pressure from its rural heartland base - and from all available economic evidence, that pressure will only increase as the disparity between Auckland and the rest becomes clearer.
As I said further up this article, there's always a tension between the needs of a country's largest city and the rest of the country. For example, should the rest of the country be expected to bankroll expensive new roads and public transport systems in Auckland? I bet some people would say 'no'. I think the answer is a resounding 'yes' because having a largest city that functions is essential to attracting tourists, businesses etc into the country - IE there is a clear benefit to the rest of New Zealand from Auckland function properly as a city.
But there's no doubt there is some sort of pretty high-powered juggling act required by central government. It's got to be done well.
I thought the pork-barrel politicking that went on in Northland was quite sickening. Any move to a more general sucking-up to the regions would be very disconcerting from my perspective and could help to severely undermine the economy. Cool heads will be needed in the face of what will be increased political pressure.