The NZ Initiative's Khyaati Acharya outlines what happens when free education goes bad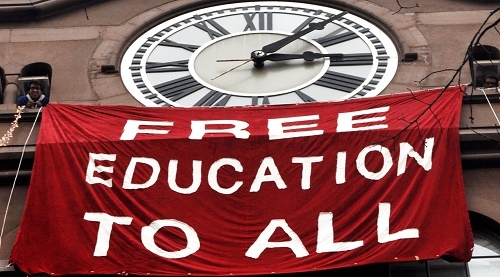 By Khyaati Acharya*

Spurred on by the Labour Party's recent pledge to deliver three years of free tertiary education (should they be elected in 2017), New Zealand's student unions are again calling for universal free education.
But in praising countries where universal free tertiary education exists, advocates often gloss over what makes free tertiary education possible in the first place – like higher taxes. Or, they ignore the unintended consequences of free education and examples of where the policy has produced poor results.
The state of Louisiana introduced free tertiary education in the mid-1990s. It was a policy originally set up with good intentions that is now falling apart at the seams.
In 1988, oil tycoon and philanthropist, Patrick F. Taylor, was asked to speak to 183 underachieving inner-city 7th and 8th grade students at a New Orleans middle school. Taylor asked the kids if they wanted to go to college, to which every hand in the room went up.
However, most of these children were not expected to stay in school much beyond the 8th grade. The majority of the children in that classroom came from very poor backgrounds; their parents could not afford college tuition and so did not encourage their kids to do well in school. This was fairly consistent with various national reports and surveys conducted in the US during the 1980s, which found more than 80% of American parents did not think they could afford to send their children to college.
But, given any opportunity to overcome the financial barrier, many of these children would strive for a college education.
And so Taylor conceived an idea, and eventually convinced the Louisiana Legislature to create what became known as the 'Taylor Plan'.
Tertiary education in the US prior to the 1990s was based largely on a student's ability to pay. The Taylor Plan guaranteed access to college for low and moderate-income students, based purely on their academic achievements.
However, in 1997, the Louisiana state government removed income caps. For a programme that was set up with the explicit objective to improve college participation among poorer students, this change marked the beginning of the end of what had begun as a well-intentioned programme.
The removal of means-testing meant that all Louisiana students, irrespective of financial need were now eligible for "free" (read: taxpayer funded) tuition at any Louisiana public college, as long as they maintained a C grade-point-average – a low academic threshold.
By 2010, around 70% of Louisiana's high school graduates enrolled in college within the year, a 20% increase on what it was 10 years ago. And, thanks to the generosity of the Taylor Plan, they faced no tuition costs.
Norbert Michel here, posts a comprehensive critique of the demise and collapse the Taylor Plan, arguing its implosion was predictable for the very reasons that similar subsidies are destined to fail: free education - at least for some people, like any subsidy, does not lower the costs of products and services, it only lowers the price that some people pay.
For any free good or service provided for by the state, the 'free' is always misnomer; someone, somewhere along the line has to pay for it. Free tertiary tuition removes the most important customers - the students - entirely from the equation. Instead, it replaces students as the customers with government officials, who care little about the quality of the education provided, and more about ensuring tax dollars continue to stream in.
Free tuition, in most examples, leads to a strain on university's resources; lowering the cost barrier often results in an influx of students, requiring universities to expand their facilities, faculty and staff. Lowering the costs also encourages some students to enrol in university courses when they might be better suited to other vocational training. These are the students least likely to complete a qualification and most likely to drop out of university. In this case the state reaps no real rewards from its education subsidy.
The programme in its original form, served a legitimate purpose. It was limited but well-targeted, directed towards encouraging tertiary participation among poor, at-risk students. Under the Taylor Plan it is costs Louisiana taxpayers billions. Ironically, the students who were the intended recipients of the initial scheme are likely now to be hit with a tax hike needed to fund the schemes' ballooning costs.
The programme as it stands today, is a mere shadow of its former structure. But, like New Zealand's own interest-free student loan scheme, it wins votes, politicians love it, and thus it is unlikely to be abandoned anytime soon. As Michel argues, the best Louisiana residents can hope for is an increase in academic standards required and some form of means-testing.
It might not be free, but New Zealand's student loan scheme is quite generous as is. Why saddle taxpayers with a greater burden, or direct funds away from other activities with an ill-targeted, costly scheme?
Louisiana's experience serves as a warning that universal free tertiary education may just do more harm than good.
------------------------------------
*Khyaati Acharya is a research assistant at the New Zealand Initiative, which provides a fornightly column for interest.co.nz.