Bernard Hickey argues New Zealand needs to rediscover its 1974 house building mojo, which means building a lot more smaller, simpler homes with Government backing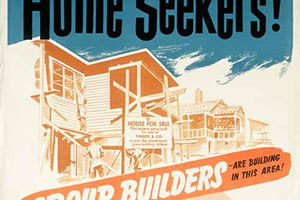 By Bernard Hickey
John Key and Nick Smith have taken in recent weeks to trumpeting Auckland's current building boom as the biggest in New Zealand history.
Keen to show that something is being done to deal with a shortage of 40,000 homes in a city that has grown by 163,500 people since it was elected in 2008, the Government is exaggerating the scale of what is happening.
Yes, total spending on construction in Auckland in 2015 was a record-high NZ$10.9 billion and is forecast to rise to NZ$18 billion by 2018 in the most recent Government forecasts. But that total includes the building of offices, motorways, tunnels, hospitals and schools. The 9,651 houses consented in the last year remains below the 12,937 consented in 2004. More importantly, it was also far less than the 12,941 homes consented in 1974 when Auckland's population was just half its current size.
Statistics New Zealand has published an analysis of consents showing that the number of consents per 1,000 people has risen nationwide to 6.3 in the last year from a record low 3.1 in 2011, but remains below the 13.1 per thousand reached nation-wide in 1974.
The numbers for Auckland are even more stark. Auckland's consents are currently no higher than the national average and are below the 16 per thousand people reached in 1974. Auckland is now building houses at significantly less the half the rate it was in 1974.
However, by exaggerating the scale of Auckland's current building boom, the Government has highlighted the enormous task ahead and hinted at potential solutions.
It begs the question: what were we doing in 1974 that we're now not doing?
Firstly, the Government was building and financing lots of smaller and much more affordable homes on a much bigger scale.
The 1972-75 Kirk Labour Government was in the middle of a big ramping up of state house building and first home buyers were able to borrow money from the State Advances Corporation at relatively cheap rates to buy brand new homes from private developers and builders. Young families were also able to capitalise their future family benefit payments to help come up with a deposit.
But those Government loans were only available to buy simple and Government-approved designs under the Group Builders Scheme. Under this scheme, the designs and the buildings were checked and approved by the Government and private builders and developers were given a guarantee that if a home was not sold that the Government would buy it.
This meant that the houses built were relatively small (80-100 square metres) and therefore relatively cheap to build. Developers and builders could plan for larger scale developments and had less risk of being stuck with a home they could not sell, so they went ahead and built a lot more.
Fast forward to 2016 and now most new homes are enormous (over 200 square metres) and expensive, and built in dribs and drabs by small builders. An analysis by Homes.co.nz found that almost half of the new builds in Auckland over the last five years were sold for more than NZ$1.2 million. The one and two bedroom homes with 80-120 square metre floor plans that first home buyers want are only rarely being built.
PrefabNZ CEO Pamela Bell said the size and cost of new houses is now driven by developers looking to maximise profit margins at the lowest risk from their sections, which means building for the top end of the market on expensive sections. Along with often restrictive covenants requiring large floor plans, the market has moved to mostly building big houses with as almost many bathrooms as bedrooms, she said.
"It's supply driven by developers looking to make the most of their land," Bell said.
"We need more really savvy developers, or we need a dictator with a chequebook to provide more affordable, low rise medium density homes that are more saleable," she said.
"We need less bathrooms than bedrooms and to return to those 1970s ideals."
Somehow, the Government needs to step up and provide the backing for a 1974-style boom in the building of small, affordable homes at a massive scale. The Government itself may not need to build all of them, but guarantees of repurchase and low deposit loans for first home buyers would help unleash the market for these homes. History has shown the market won't provide them on its own. 
---
A version of this article also appears in the Herald on Sunday. It is here with permission.