Election 2017 could be decided by the Maori seats, Alex Tarrant writes; While National is clearly looking to boost the Maori Party as its preferred partner over Peters, it's the Maori/Mana alliance that could have the biggest impact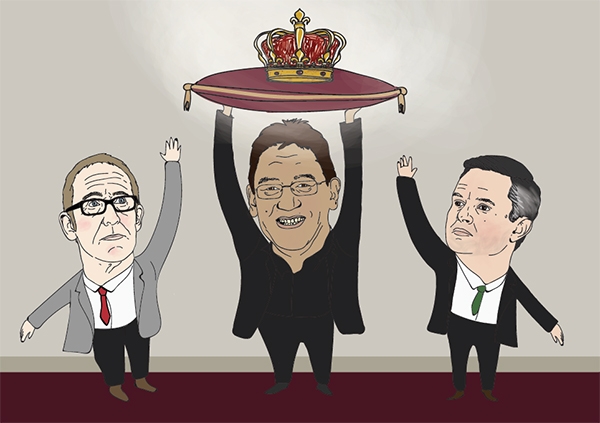 By Alex Tarrant
Affordable Auckland housing, controls on genetic modification, and a focus on regional economic development.
That could read as the three top lines of a Labour-Greens-New Zealand First government priority list.
But it currently represents how National and the Maori Party are positioning themselves to be coalition partners again after the 23 September election.
This column covers two angles along one theme. The first is how National and the Maori Party are looking to keep Winston Peters out of government. The second is how the Labour Maori caucus' decision not to stand on their party's list could see one of its strongest MPs left out in the cold as he watches Hone Harawira take his seat at a Labour-led Cabinet table.
Last Sunday we looked at how NZF's Winston Peters looks set to be Kingmaker after 23 September.
But another scenario should be kept in mind. The now familiar looking National-Maori-ACT-United Future coalition.
Bill English's get out of (Winston) jail free card could depend on how well the Maori Party can utilise its agreement with Hone Harawira's Mana Party to try and trump Labour in the Maori seats.
The flip-side is that Labour's chances of leading a government could rest on the performance of its Maori caucus.
National has made no secret of its cosying up to the Maori Party ahead of the election. While ACT has its three strikes, the Maori Party has three wins.
The Resource Management Act was passed with support from the Maori Party after compromises were made by National on genetic modification and Iwi consultation proposals.
Another piece of legislation that will be passed before the current Parliamentary term is out is the Te Ture Whenua Maori Bill. This will be touted as a huge win for the Maori Party on regional economic development.
And there for all to see this week was a patsy question from Marama Fox to Nick Smith during Parliament's Question Time, on the Point England Development legislation.
Being able to attack Labour for its U-turn on the development, while accusing them of favouring grazing cattle over developing affordable housing was a chance the National/Maori brains trust was not going to miss.
Three wins. No doubt there will be more over the next few months.
Labour has ripped into the relationship between National and the Maori Party – for the most recent example see Meka Whaitiri's General Debate speech on Wednesday.
And for those who missed it, Labour's current Maori MPs laid down a challenge to the Maori Party last month by saying they had requested to be left off the party's election list (watch the press conference in the video above).
Their only way back into Parliament will be via the Maori seats. If they lose, they're out. Some of Labour's most experienced (current) Maori representatives may be gone.
Their move was in response to the Maori Party's agreement with Mana designed to allow Harawira to be elected in Te Tai Tokerau, while giving Maori Party MPs a free run at the other six Maori seats. It also followed the Maori King's endorsement of the Maori Party – a call that could have a huge impact for its party vote.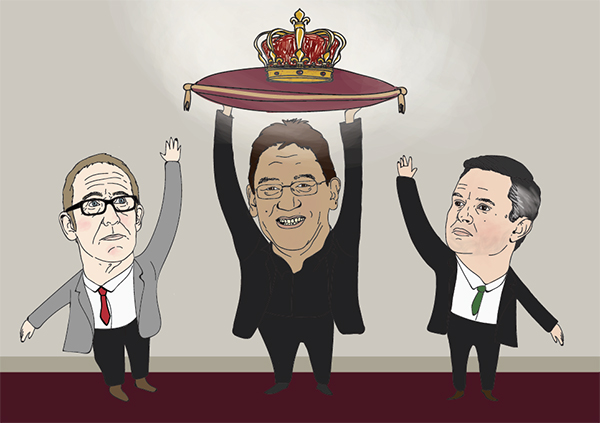 Now, I'm going to put my neck out there by relying on some polling numbers. And I'm going to run some scenarios that may never come to pass because a butterfly in India flapped its wings.
But here goes.
Interest.co.nz runs the Curia poll of public polls on our site, so I'm going to use these figures. I'm going to assume David Seymour and Peter Dunne are returned in Epsom and Ohariu. I'm going to assume they would agree again to a coalition with National and the Maori Party.
On current polling, and with the current Maori seats being held by their incumbents, this is what Parliament could look like *:

National/Maori/ACT/UF would have 61 seats of a 122-seat Parliament. Labour/Greens/NZF would have the other 61.
But changes are afoot. The Maori/Mana alliance is designed to allow Hone Harawira a shot at beating Labour's Kelvin Davis in Te Tai Tokerau. It is also set to give most of Labour's other Maori MPs a run for their money in the other six seats.
Based on the combined Maori/Mana votes in 2014, the two extra seats the Maori Party has a chance in are Te Tai Hauauru and Tamaki Makaurau.
Let's leave Harawira to one side for now and let Kelvin Davis hold it (you'll see why soon) and show what would happen if the Maori Party nicks those two seats from Labour:

Labour would have the same number of seats in Parliament based on its party vote. So would the Maori Party. We're still tied at 61-all.
Throw Harawira into the mix. He wins Te Tai Tokerau from Labour. From Bill English's point of view – if he doesn't want to have to go with Peters - the Maori Party would require five seats (winning four off Labour and holding one). This would give the current government 53 seats in a 125-seat Parliament: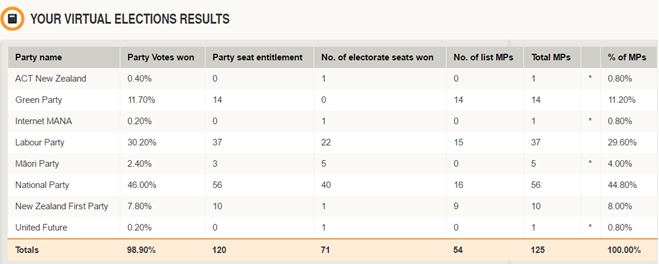 I'm sure English and the Maori Party would love that. But based on current numbers it doesn't look like it's going to happen.
What could? The central scenario of the Maori/Mana alliance based on combined 2014 electorate vote results sees Harawira win, and the Maori Party winning those two extra seats – ie Labour loses three:

National/Maori/ACT/UF again would hold 61 seats. But this time it would be in a 123-seat Parliament.
A Labour/Greens/NZF/Mana coalition could hold power. They would get an extra seat from Harawira winning while holding their overall number of seats as Davis is replaced by a list MP due to Labour's party vote.
It sounds odd, but the Maori Party's agreement with Mana could work against National's chance of forming a government without Peters after the election. It would give Andrew Little a sniff at forming a government.
The cost would be Labour losing one of its strongest MPs.
---
* For the National/Labour electorate seat wins, I have divided the remaining seats not allocated to NZF, ACT and UF as 60/40 between the two major parties as this is their respective share of their combined vote. I've given Northland to NZF, Epsom to ACT and Ohariu to UF.