Two instances of the government wrongly defending its Auckland First Home Buyer track record has Alex Tarrant warning: Beware Ministers bearing affordability data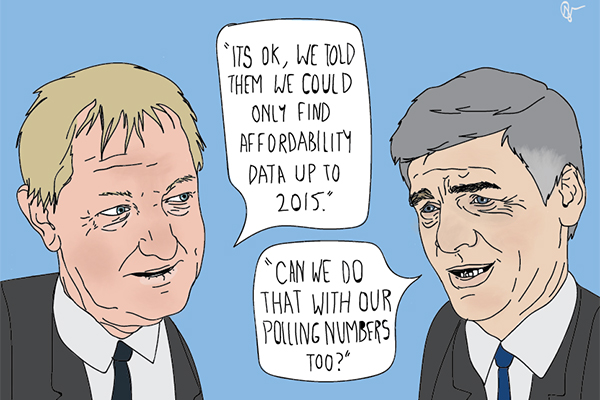 By Alex Tarrant
Beware Ministers bearing data. Particularly if they're using it to defend the government's track record on how Auckland First Home Buyers (FHBs) are faring.
Two instances involving Building & Construction Minister Nick Smith and Prime Minister Bill English caught my attention this week. Arguments used in support of greater affordability and government measures to help first home buyers need clarifying.
The first was during Smith's interview on Radio NZ Tuesday morning regarding Auckland's Special Housing Areas. Presenter Guyon Espiner threw Auckland's median house price at him - $865,000.
"What deposit do you reckon you need for that?" Espiner asked. Before Smith was able to get into his answer, he continued: "$175,000. Do you think that's affordable?"
Smith's reply is the questionable part of the conversation: "Well, with the Welcome Home Loans that we have, then a 10% deposit would be for $86,000."
The Welcome Home Loans scheme is a key part of the current government's 'affordable housing' package. It allows banks to shift the risk of default onto Housing NZ's balance sheet for mortgage customers they wouldn't otherwise lend to.
But there are some checks in place to try and ensure it doesn't get too out of hand. One of them is a house price cap. You can't access the Welcome Home Loans scheme if the house you want to buy costs more than the regional cap.
In Auckland, it is $600,000 for existing properties, and $650,000 for new properties. You can't buy a median-priced house in Auckland using the Welcome Home Loan scheme. For Smith to suggest the scheme could help someone in that situation is simply wrong.
In fact, you can't even buy a lower-quartile house in Auckland with help from the Welcome Home Loan scheme – in May that came in at $655,000. That's ridiculous.
And lower quartile pricing is what I want to discuss next for the second instance of concern.
In defending its record on housing affordability, the government has been turning to the most recent Massey University Home Affordability Report as showing affordability is better in Auckland than 12 months ago.
Disclaimer: Interest.co.nz has a competing affordability publication – our Home Loan Affordability Report. Now, the Massey report is released quarterly (the last one used February figures) and, importantly, uses median house prices.
The problem I have is that comments from Ministers referring to the Massey report are often in response to questions about affordability for First Home Buyers, particularly in Auckland.
Do not listen to them if they wheel this one out.
As part of Interest.co.nz's Home Loan Affordability series, we run a First Home Buyer report. And we don't assume FHBs are trying to buy a median-priced house. We estimate the proportion of take home pay required to service a mortgage that has been used to buy a lower-quartile house by a couple aged 25-29 earning the median wage for their age group.
It's not an exact science. But the latest figures show that in May, such a couple would have required 45.2% of their take home pay to service their $591,679 mortgage. That's up from 40.3% a year ago. First Home Buyer loan affordability in Auckland is worse than it was a year ago.
Don't just take our word for it on using lower quartile prices. Nick Smith's own Building & Housing officials within MBIE agree. When developing their Housing Affordability Measure (HAM) with Stats NZ, MBIE decided that first home buyers typically purchased "modest" dwellings.
"Based on data from CoreLogic on the behaviour of first home buyers, the definition of a modest dwelling is set as the lower quartile of the housing market in the area (territorial authority, or ward for Auckland) in which the household resides."
Now, MBIE uses Corelogic data rather than REINZ. That's fine – it's nice they're allowed access to it. The bureaucrats also have free access to various Stats NZ 'IDI' address data and IRD income data which we don't have. In theory, theirs should be the gold standard first home buyer affordability measure.
In practice, they botched the release, used the wrong mortgage interest rate and the results had an 18-month lag. We're told it will get better. Perhaps to a six-to-nine-month lag. Hallelujah.
This means Nick Smith cannot turn to his own Ministry when defending the government's track record for Auckland First Home Buyers, unless he wants to talk about how it got worse between 2013 and mid-2015.
On the flip-side, it puts Ministers in the position to pick and choose how best to defend their track record on Auckland First Home Buyers.
Beware Ministers bearing affordability data.
*This article was first published in our email for paying subscribers. See here for more details and how to subscribe.