First Union's Morgan Godfery on the black and blue Greens, raging against the system, getting deep with GoT, winter chills put heat on hospitals, Winston does a Don, a great Kiwi feed and more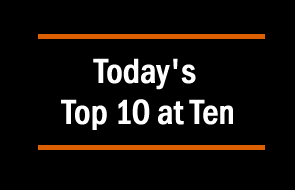 Today's Top 10 is a guest post from Morgan Godfery the communications and media officer for First Union.
As always, we welcome your additions in the comments below or via email to david.chaston@interest.co.nz.
And if you're interested in contributing the occasional Top 10 yourself, contact gareth.vaughan@interest.co.nz.
See all previous Top 10s here.
1. Dual citizenship, not voters, turf out Green senators in Australia
First, it was Scott Ludlam, the Palmerston North-born senator who discovered his New Zealand citizenship prevents him from taking his seat in the Australian senate, and now it's Larissa Waters, the Green senator with Canadian citizenship. The double-disqualification tops off a horrendous month for the Australian Greens who are dealing with internal dissent after Senator Lee Rhiannon openly criticised the party leader in what some see as a split between the party's left wing and its "apolitical" environmental wing.
2. Depending who you ask, the New Zealand Greens have had a great month, or a terrible one
According to the Herald's former chief political commentator, John Armstrong, Green co-leader Metiria Turei's admission that she misled WINZ in an effort to feed her daughter was a self-interested admission. That's unfair and reflects how Armstrong views the world: politics is a game – people make moves, they do things out of self-interest or self-advancement – rather than out of a genuine belief, whether personal, ideological or otherwise. Turei's admission was no doubt heartfelt, but the important story is not her motivations, it's the system that forces people to lie to feed their families.
3. Speaking of the system, Matt Taibbi's fiery take is out
"Taibbi wrote "The Divide" to demonstrate that unequal wealth is producing grotesquely unequal outcomes in criminal justice. You might say that's an old story, but Taibbi believes that, just as income disparities are growing ever wider, so, too, are disparities in who attracts the attention of cops and prosecutors and who doesn't. Violent crime has fallen by 44 percent in America over the past two decades, but during that same period the prison population has more than doubled."
4. Then again, things aren't all bad – Game of Thrones is back
Before you switch off, let me assure you: GoT isn't just about blood, battles and sex. It's an intellectual experience as well. For the best breakdown of each week's episode see The Atlantic's GoT "roundtable". Three writers discuss each week's episode including the political manoeuvres, the societal implications of, say, mining dragonglass and even what each episode might say about the world today.
5. Speaking of TV, Jane Campion's Top of the Lake is back
Patriotic New Zealanders will be disappointed Campion has taken the action to Australia, but the show, Top of the Lake: China Girl, promises the same neo-noir, the same deeply unsettling story and another powerhouse performance from Elisabeth Moss, star of the Handmaid's Tale, whose New Zealand (or Australasian?) accent is the best since Anthony Hopkins in The World's Fastest Indian.  
6. TV is great during a cold snap, but look out for winter ills
 Hospital emergency departments are struggling to cope with people, many of whom cannot afford a GP visit, checking in for diagnosis or treatment. According to Council of Trade Unions economist Bill Rosenberg "the Health Vote in the 2017 Budget is an estimated $215 million behind what is needed to cover announced new services, the pay equity settlement for care and support workers, increasing costs, population growth and the effects of an ageing population, compared to the 2016 Budget." Are these facts, overcrowded hospitals and underfunding, related? I'd say "yes".
Labour leader Andrew Little, flanked by his MPs outside of the Kilbirnie Medical Centre in Wellington, announced a Labour government he leads will inject an additional $8 billion into the health system over the next four years. The first question is "would this violate the party's own 'budget responsibility rules' (BRRs)"? Well, according to consultants from BERL, no. The party could increase health spending while remaining within the core Crown spending to GDP ratio the BRRs set.
8. Winston Peter's does a Don Brash
Aside from fiery denunciations of neoliberalism, Winston Peters is also promising a referendum on the Maori electorates. In a speech to the party faith Peter's promised New Zealanders would get their say on the "tokenistic" seats. However, it's hard to imagine either Labour or National agreeing to the "bottom line". National quietly dropped its opposition to the seats and now says the decision to abolish them belongs to Maori voters. Meanwhile Labour's Rino Tirikatene has a Private Members Bill in the ballot that would entrench the seats, just like the general seats.
9. In other news, former PM John Key receives another accolade
Key is set to become an honorary companion in the Order of Australia, the highest "order of chivalry" in Australia, for his outstanding contribution to Trans-Tasman relations, though a part of me feels as if this is simply Malcolm Turnbull recognising his personal political hero. Then again, other honorary companions from New Zealand include former Prime Minister Geoffrey Palmer and opera singer Dame Kiri Te Kanawa, so it's not like the Order of New Zealand where there can be only 20 living members. Everyone has a shot at an Australian honour…
10. Finally, for lovers of New Zealand cuisine
Some people say New Zealand lacks its own cuisine, and that might be true. What we know as New Zealand cuisine – mince on toast! – is sometimes a British rip-off or at the very least British-inspired. But this culinary tribute to Matiu/Somes Island in Wellington is Kiwi as.