Ardern seeks to keep Shaw's bunch under her Green thumb, turns attention to the centre; English focuses on 'solid' policies of building roads and hospitals to attract deep-down Nats; TOP's Morgan continues Winston infatuation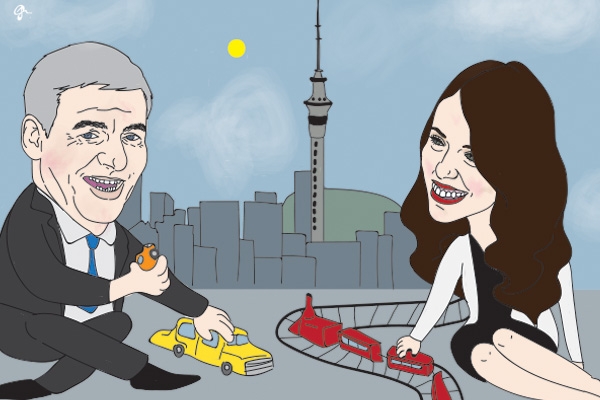 By Alex Tarrant
Ending poverty, cleaning up our rivers and tackling climate change – the nukes of our generation.
Not a James Shaw Greens-to-arms – although you'd be forgiven for thinking it. Rather, Jacinda Ardern rallying Labour's troops with a cry intended to cement 'watermelon' Greens early on during the campaign while also signalling a move for the centre.
Labour's campaign launch Sunday certainly got the coverage the party was hoping for. A full Auckland Town Hall, Don McGlashan, Helen Clark and an overflow room needed to house all the willing grass-roots party faithful.
I wrote on Sunday morning that Ardern would spend the campaign trying to cement the middle class voting block with nice urban soundbites like clean rivers, free university education and the like. She didn't disappoint. We even got some talk about inclusion of cow emissions under the ETS – existing policy but this time not being said by Andrew Little, so it might as well be new.
Meanwhile, I wrote that National would be focussed on trying to grab back a few percent of deep-down Nats who are leaning towards New Zealand First, with a handful of meaty, populist policies designed to attract this very specific voting bloc.
And indeed, Prime Minister Bill English, Transport Minister Simon Bridges and Hastings Mayor Lawrence Yule on Sunday announced $10 billion for new Roads of National Significance. Four-lane highways so we can get produce from our regions to our export markets more quickly, while also improving our standard of living by being able to drive around easier in our cars from place to place.
You know Labour's press release writers are in heaven when they can claim National's announcing a policy that lacks a business case and that Labour would spend taxpayers' money more wisely. Unfortunately, Labour voters are not the core crowd the policy was aimed at.
It's a good, solid announcement that won't excite too many people other than Mr Hastings-to-Napier who may have "had enough" as Winston Peters' billboards put it, albeit in question form – "Had enough?". National will be hoping the reply is: 'we may have, but you might go with Labour so we're voting for Bill and Larry.'
National over the weekend also moved to look like they are doing something forward-looking to tackle what is being described as a health crisis, with English and Health Minister Jonathan Coleman announcing Dunedin will get a shiny $1.4 billion new hospital. Another solid move. Talk in billions and say you'll build something. Hospitals are probably worth more points than roads, but both fit the profile.
Labour's health spokesman David Clark should take the announcement as an acknowledgement of how well he has performed since taking over the portfolio from Annette King only a few months ago. Clark is a Dunedin MP who has increasingly been landing blows on Coleman during Parliament's Question Times – or at least making the Health Minister look overly confident, a bit smug and without a solid grip on his Ministry and director-general.
Under my (Green) thumb
The Greens meanwhile are announcing a "game-changing" transport policy for Auckland later Monday. I'm sorry guys but the train has already left the station on that one. You may well have kicked things off on earlier rail to the airport, and the Auckland-Hamilton-Tauranga link, but anything Auckland transport-wise has been taken over by Labour now.
In fact, everything the Green Party has struggled so hard to get into headlines these past few months, Labour under Ardern has just swanned along and taken over. Labour's plan appears to be to keep its MoU partner under its Green-thumb.
Just read these lines from Ardern's campaign launch speech on Sunday:
"for me it's simple: I want to build a country where every child grows up free from poverty, and is filled with hope and opportunity."
"the gap between rich and poor is just getting more and more entrenched."
"we have nearly 300,000 kids living in poverty…we will change the Public Finance Act so that every budget, you don't just hear about surpluses and deficits, you will hear about how many kids we have lifted out of poverty."
"[Climate change is] the challenge that defines my generation…This is my generation's nuclear free moment, and I am determined that we will tackle it head on."
"We will clean up our rivers. We will do it for the next generation. And we will do it together."
James Shaw doesn't have to write his next speech – he can just lift that one.
Labour on current polling still needs the Greens to have a hope of forming government in a three-way agreement that also includes New Zealand First. About 5-7% would be welcomed by Labour's campaign managers – that means the other 10% of voters who had previously leant Green are hopefully in Ardern's pocket now. And hopefully not over at TOP.
On Gareth Morgan's bunch, on Sunday they announced their party's only bottom line. No government TOP is a part of would be allowed to get rid of the Maori seats. This is a blatant continuation of Morgan's infatuation with Winston Peters. It's still looking more likely that Peters will hold the balance of power though.
There's still a lot of work to do for Labour to get above National even though the gap has narrowed to potentially four or five points since Ardern took the top job. Both parties have earmarked extra votes they can potentially picked up – see more on that here.
'The Economy'
For Labour, having taken ownership over the Greens' sound-bites, Ardern showed signs of how she will now focus on the centre. Free university education, improving productivity, a focus on wellbeing over GDP, and: "you will never hear me question the importance of a strong economy."
"The economy" is a topic (sorry, political term for 'confusing stuff with numbers that you should just trust us on') National will try and hurt Labour on. Gerry Brownlee spent a good deal of time during Parliament's adjournment debate last Thursday talking about how we'd never hear Ardern talking about the economy – essentially implying she doesn't understand what she'd be talking about if she did try mention it.
Ardern had a line ready on Sunday: "the major point of difference on economic issues this election is not how long either leader has spent working with Treasury – it's what we use as the signs of success. I will always maintain that a successful economy is one that serves its people. Not the other way around. And that means judging success differently."
English is certainly someone who has spent much time working with Treasury (and even in it before his political career). Where Ardern talks about wellbeing over GDP, rail over roads and climate change over growth, expect to see a lot of pictures of English this campaign in machinery workshops, discussing export markets, resilience, and talking in billions of dollars for building solid things like roads. Things we can see and touch so we can feel good that "the economy" is progressing.