Esther Woodbury calls for national planning standards that take into account the housing needs of disabled people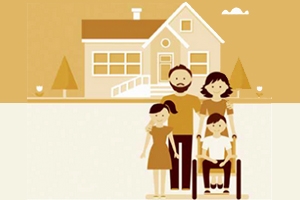 The following article is the sixth chapter from Progressive thinking, ten perspectives on housing, a Public Service Association (PSA) publication. Interest.co.nz is publishing all 10 chapters from different authors on various aspects of housing.
By Esther Woodbury*
When I was 19, I was battling constantly with my parents. I couldn't move into my friends' flats – I often couldn't even get to their front doors. So in an attempt to salvage our fierce love for each other, my mum found a disability unit behind a student hostel. The hostel was for students from outside of Wellington, but my mum – ever my advocate – persuaded them, and I moved in for one year.
It wasn't really accessible; there was a large step up to the door that was too high for me to safely navigate on a path that was a wind tunnel and slippery when wet. I didn't say anything though, I took my chances: I had limited movement, easily broken bones, and couldn't get up if I fell – but I was lucky that year.
When my friend moved to Wellington and couldn't find a wheelchair accessible flat, she stayed with her new boyfriend in an upstairs flat. He carried her up and down a flight of stairs multiple times a day; except one time he dropped her. At ED, my friend was told she'd broken ribs, and was asked if she was being abused: "No, but I can't find anywhere accessible to live." The staff were sorry, but there was nothing they could do.
There are many ways that housing can be inaccessible for disabled people. The most obvious (very common in Wellington) is physical inaccessibility: steps and paths, narrow doorways where wheelchair users can't get in the door. But getting through the door is just the beginning; even houses I've been able get into, I haven't been able to use the bathroom.
In New Zealand, we build houses that exclude people, with steps up to the front door and toilets that can't be used by someone in a wheelchair. But disabled people with other impairments face a variety of barriers to safe, appropriate housing: fire alarms that only emit noise, risking deaf people's lives; unfenced properties where an autistic child who bolts can run straight onto the road.
In a country where only a small set of houses are appropriate for many disabled people, we also face discrimination from landlords and property managers.
People with assistance dogs – working dogs that support blind, Deaf, mobility impaired, epileptic, autistic and diabetic people, among others – struggle to find houses due to 'no pets' policies, and misunderstanding of what legally constitutes a pet. For landlords who worry that a wheelchair would damage their floors or doorways, it can be easier to fill their properties with non-disabled tenants.
Some houses can be modified to meet disabled people's needs. A Deaf person can instal vibrating and visual smoke alarms. Showers over a bath can be replaced with a shower stall; a set of steps can often be replaced with a ramp. But disabled people can generally only do these things if they own the place they live in.
Disabled people in the rental market often cannot always make the modifications they need to live safely – even comfortably – and don't have the security of tenure (or government funding) that make it financially manageable.
Even where landlords allow modifications and funding is available – or finances allow – tenants can be asked to leave with as little as six weeks' notice, or three weeks' notice if their year-long lease has come to an end.
The housing crisis and the inaccessibility of the majority of housing come together in ways that are… difficult to navigate. Add to this the fundamental contradiction that in order to make modifications that will make homes liveable, disabled people are better off if they own their own homes.
But the way our society is organised keeps disabled people poor. Almost two-thirds of disabled adults earned less than $30,000, while half of nondisabled adults do. Fewer than twenty percent of disabled people earn over $50,000, while more than a third of non-disabled adults do. Discussions of the housing crisis raise the difficulty of buying a house, even if your income is significantly higher than $50,000; no one even talks about owning your own home if you earn less than $30,000.
An ageing population will also mean an increase in the number of disabled people, as people acquire impairments at a much higher rates as they age – the current figure of 1.2 million New Zealanders identifying as disabled is likely to rise to 1.8 million in the next 20 years.
If nothing changes, it's just going to get harder and harder for disabled people to exist in New Zealand; to have a place to eat, to wash, to sleep.
I've heard it said that to get by as a disabled person requires two things: luck and love. It was love that got me into supposedly accessible university housing and love that carried my friend and her wheelchair up and down stairs. But I have also been lucky: I own my own home now and have been able to modify it to meet my needs.
But it's not okay that disabled people can only access safe, appropriate housing if they have good luck, money, and/or people fighting for them. And it doesn't have to be like this – we could organise society so that disabled people can access safe, appropriate housing no matter what our bodies are like. But much needs to change.
New Zealand needs strengthened tenancy laws to support long-term tenancies, so that those who cannot afford to own universally designed houses or retrofitted ones, can get the support they need to modify the rentals they live in, and to stay in homes that work for them.
We need National Planning Standards that take into account the housing needs of disabled people, so that housing developers don't continue to exclude significant portions of society. Given the proportion of the disabled population and the ageing population, and the lack of accessible houses, at least 25 per cent of all new builds (not just social housing) need to be built to universal design principles – it's been done overseas and could be done here.
And lastly, we need to directly lift disabled people out of poverty, because poverty is what creates the most barriers for disabled people, to appropriate housing, and to being able to participate in society.
Otherwise disabled people will have to continue to rely on luck and the people who love us – and we will end up in ED with broken bones when love and luck run out.
---
*Esther Woodbury joined the Disabled People's Assembly in 2016. She has previously worked as a disability advisor for government agencies, and spent a long time studying at various universities and working as a tutor and researcher.
Note: The views expressed in Progressive thinking, ten perspectives on housing belong to the authors and do not necessarily represent the view of PSA members or the organisation.
The foreword is here.
The first chapter is here.
The second chapter is here.
The third chapter is here.
The fourth chapter is here.
And the fifth chapter is here.